Whenever a person is outdoors, they need to protect their eyesight as much as possible. Sunglasses provide some great coverage, but they do not all of them are built for sports. Below is a look at the best sunglasses for beach volleyball.
These are five options that one should consider when trying to find sunglasses that provide great coverage, while also feeling extremely lightweight. The best beach volleyball sunglasses should barely feel like they are even there.
Sunglasses for Beach Volleyball – Top Picks
Considerations when looking for the beach volleyball sunglasses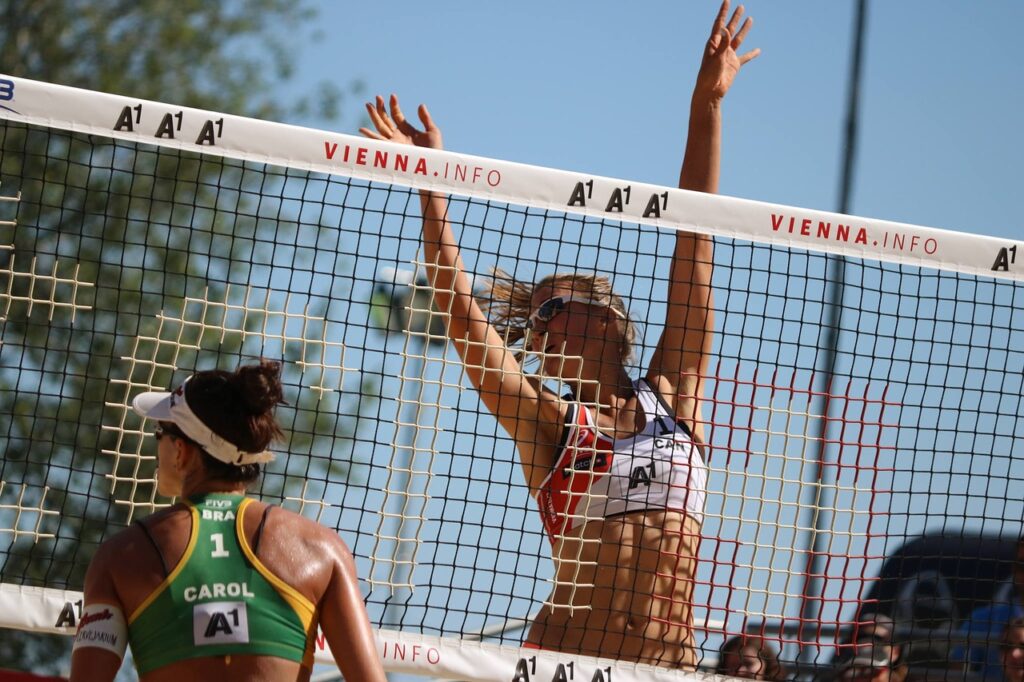 Frame and lenses tech
A sturdy, durable frame and scratch-resistant lenses are a must when using sunglasses for outdoor sports. This becomes especially important considering that sand is very abrasive. On some surfaces, all it takes is rubbing a few grains of sand on it for it to be permanently scratched.
Frame sturdiness is another important aspect. Your sunglasses need to be able to resist as much as possible to be thrown in sports bags, impact with players and even stepped on.
UV protection
When playing volleyball outdoors, you are constantly going to be looking up at the sky and therefore the sun. Besides the discomfort of looking up on a sunny day, our eyes are exposed to UV radiation and this can be harmful in the long term. The vast majority of sunglasses include some degree of UV blocking to protect your vision.
Why are polarized sunglasses better?
Polarized sunglasses reduce significantly the amount of glare, reflection, and sun haze in bright environments, such as a beach or a park. Minimizing reflections and visual disturbance is essential when you need to focus and track a single object in a sunny environment, such as a volleyball
Price, and why non-brand is better for sports
Brand eyewear can be costly, and more so when we require lenses to be polarized. A pair of polarizes sunglasses from Oakley can easily cost more than $200. This is a relatively high price when you consider that they might be scratched, stepped on and even lost easily in the sand when playing beach volleyball.
Generic or non-brand polarized sunglasses can be had for as little as $15. It's a reasonable investment and you won't be afraid to play at your best level because of fear of dropping a $300 pair of sunglasses to the sand or dirt.
Best Sunglasses for Beach Volleyball Reviewed
Here some of the best volleyball sunglasses available in the market. Various factors such as UV protection, frame sturdiness, UV protection, and user reviews have been considered. Take a look below!
Duduma Polarized Sports Sunglasses
This pair is a direct competitor with the Hulislem Blade option above. They are both very affordably priced, have the same design and bring virtually the same specs to the table. Is there a definitive best option? Not really, but they do differ slightly.
For one, there are more color choices from Duduma. Most people appreciate the opportunity to customize their look a bit. These are also slightly lighter, although it is pretty hard to tell when they are being worn.
Hulislem does win with a slightly clearer lens, but again, it's very close. There is a reason these are two of the most highly rated options in this style. Since both companies offer money-back guarantees, it might be worth trying both and seeing what feels best.
Hulislem Blade II Sport Polarized Sunglasses
With great reviews, a very affordable price point, and different color options available, this is one of the best pair of sunglasses for a player on a budget. Despite the low price point, they definitely don't cut any corners with the technology they provide.
Players will love the lightweight polycarbonate frame used on the sunglasses. They are intended for active lifestyles, and they have enough stress resistance that they won't break under pressure.
The best part? The sunglasses are polarized and come with an AcuTint coloring system so the players see all colors naturally. A lot of athletes complain about how sunglasses can sometimes distort things, but that won't be the case wearing these.
KastKing Hiwassee Polarized Sport Sunglasses for Men and Women
After picking them up just once, it's a surprise to many that these sunglasses are so affordable. Built like premium models from top-end companies, players don't have to worry about abusing them on the volleyball court day after day. They are built with durability in mind, yet somehow stay very lightweight.
Where these sunglasses really make a name for themselves is their lenses. They offer a 1.0 mm polarized lens that is rarely found at this price point. Customers will never experience any type of optical distortion when wearing them, as reduced glare and comfort is put at a premium. Sunglasses should never be a hindrance to anyone playing volleyball, so it is nice to see.
They even offer different tints for players who might play during different weather conditions. They are easy to swap in and out, or some people even buy multiple pairs since they are so affordable.
Duduma Polarized Sports Sunglasses with Tr90 Unbreakable Frame
For a slightly different style, these sports sunglasses from Duduma have become popular over the years. They have a lot of different color options to choose from, and some people like the frame going all around the lens.
The polarized lens are capable of taking impact, and they are completely scratch resistant as well. Those who play on the beach know how easy it is to scratch up a pair of sunglasses after just a diver or two. There's no reason to worry about anything with these.
Finally, the company offers a lifetime break warranty on the frame and lens. It doesn't really get better than that. If something does go wrong while playing volleyball, it's easy to reach out to them and start a case. They stand by their product and even offer a 30-day money-back guarantee if a person doesn't feel like they fit their style.
SUNGAIT Men's Polarized Sunglasses
Sungait does a great job marketing their sunglasses in a way that makes them appear premium, without a ridiculous price tag attached. The packaging and case included all appear designer, but this is still a working man's type of sunglasses for sports and outdoor adventures.
The HD polarized lenses are superb on these. Arguably the best in its class. They provide excellent coverage for volleyball, and they never wobble around inside the frame. You can pop them in and out for those who want to change up tints.
Some people really like the lightweight metal frame, because it feels very sturdy on the face, even when moving around. Others have complained that the sunglasses can sometimes feel a little warm, so keep that in mind if the courts are super hot all the time.
Final thoughts
Protecting your eyesight is extremely important when playing outdoor sports, especially when playing a sport such as beach volleyball where our eyes will be frequently pointing at the sky and receiving sunlight directly.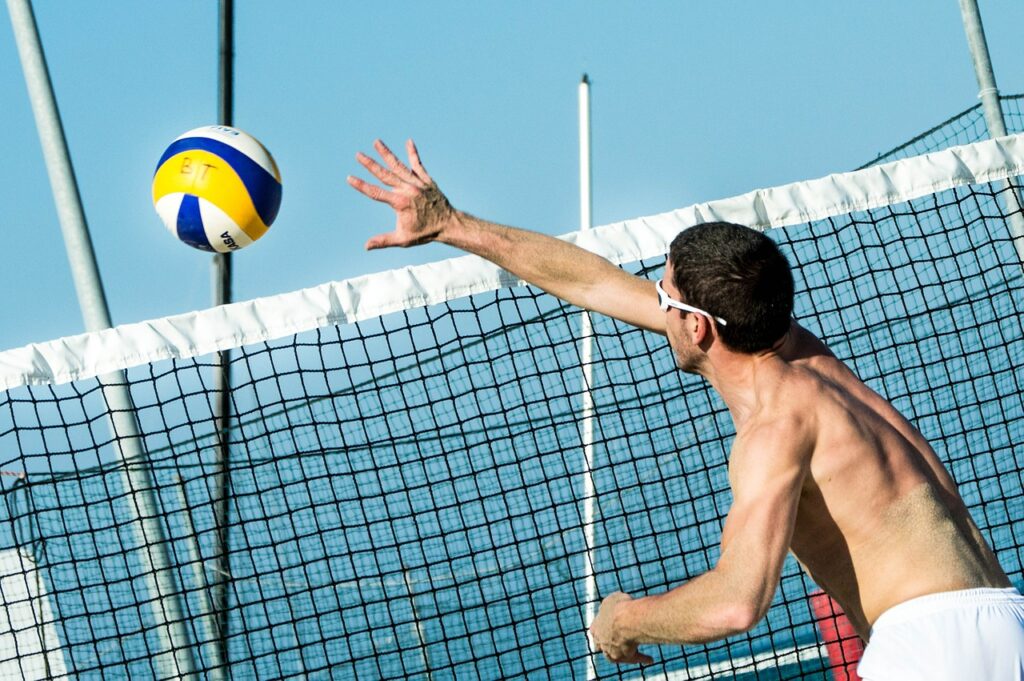 Our recommendation is to opt for a pair of polarized sport sunglasses, such as the Duduma Polarized Sport Sunglasses. It's a pretty affordable pair of sunglasses that will help you take care of your eyes and minimize sun damage and glare.