Disc Golf is amazing on a nice summer day. Visibility is key for a good game of disc golf, you need to be able to see where you're shooting.
No need to be discouraged though. Playing disc golf at night is an awesome experience with the right accessories. Everything from the baskets to our drive can be equipped with LED lights to give your disc golf gear that extra visibility needed at night.
Playing Disc Golf at Night – Top 3 Accessories
Disc Golf Golf Night Lights & Other Accessories Reviewed
MVP Discs Lunar Module Disc Golf Basket LED Light
MVP's Lunar Module for Disc Golf baskets is a compact package with LEDs, that you can place on top of any disc gold basket to illuminate it fully at night.
It can be controlled at distance via the included remote and has a variety of colors that you can set it to. The Lunar Module is powered with AAA batteries that are easy to come by.
All things considered, having an illuminated basket is the most crucial element when playing disc golf at night, you need to be able to see where you're shooting.
MVP LED Disc Golf Night Lights (10-pack)
The MVP LED Disc Golf Night lights features 10 flat light packs that can be attached with tape to any drive you own. Each one of them has 3 LEDs, capable of giving your drives that visibility needed at night.
For best results, you should attach two or three of these to a single disc. One is enough to give it just basic visibility but if you want them to truly stand in the night sky then more is always better.
Nite Ize Flashflight LED Light-Up Disc Golf Drive
As its name implies, the Flashflight disc features a lighting system that illuminates the entire surface of the disc. While you might think that installing LED lights on your discs may give you the same result, the patented lightning system of the Flashflight ensures that every single piece of the disc is illuminated with a constant intensity.
This disc has a fiber-optic array that extends all the way to the rim of the disc, and this is what differentiates it a regular disk. The potent LED then beams light to this array and it ends up distributed evenly throughout the whole disc surface.
While this disc might sound toy-ish, the Flashflight has been designed by pro-level players so it is balanced. It truly flies beautifully, with nothing to envy from the regular drives you are used to.
The Flashflight is offered in driver, putter, and mid-range variants, to satisfy the needs of every player out there. You could also order the 3 pack to get them all together for a great value.
Glow in The Dark Tape
Fuze Ultra Glow tape is the simplest solution if you need to add some visibility to your drives. No need to worry about taping LED lights to our drives or replacing batteries on them. All we need is some glow tape and a strong flashlight to recharge the tape.
While this glow tape if not specially made for use in disc golf drives, it provides much stronger lightning than other glow-in-the-dark accessories for your drives due to it being thicker and with more capacity to retain light.
The main downside is your disc aerodynamics will be slightly affected if you place it on the top part, and due to its straight shape your best bet is arranging two pieces in an "X" pattern.
UFO Glow Disc Golf Tape Rings
The "UFO" Tape Rings are specially made for disc golf drives. They're made of a thin material that glows in the dark and doesn't interfere much with the disc air-flow, making it ideal if we want to affect our drives performance as minimum as possible in long throws.
Another great characteristic of the UFO glow tape is that its made in a circular shape that goes quite nicely with any drive.
The only disappointment with this pack of glow tape is that the glow itself doesn't last long. According to the manufacturer, is it supposed to be able to glow for around 50 minutes before needing to be "recharged", but users report it lasting a lot less than that. This may be due to the ultra-thin design of the tape used, as not enough energy can be stored to make the ring glow for extended periods.
MVP Disc Sports UV Flashlight for Disc Golf
If you're considering getting any accessory that glows in the dark, you'll need something to recharge them. The MVP UV Flashlight for Disc Golf does exactly that with 12 UV LEDs.
A traditional flashlight might do the job just well enough, but if you want the best performance out of your glowing discs, or glow tape then a UV flashlight is what you're looking for. The phosphorescent materials of glow in the dark react to UV light strongly and that's what makes them glow. Therefore, a UV flashlight won't only help you recharge your glow in the dark accessories but it will make them easier to find.
What to consider when playing disc golf at night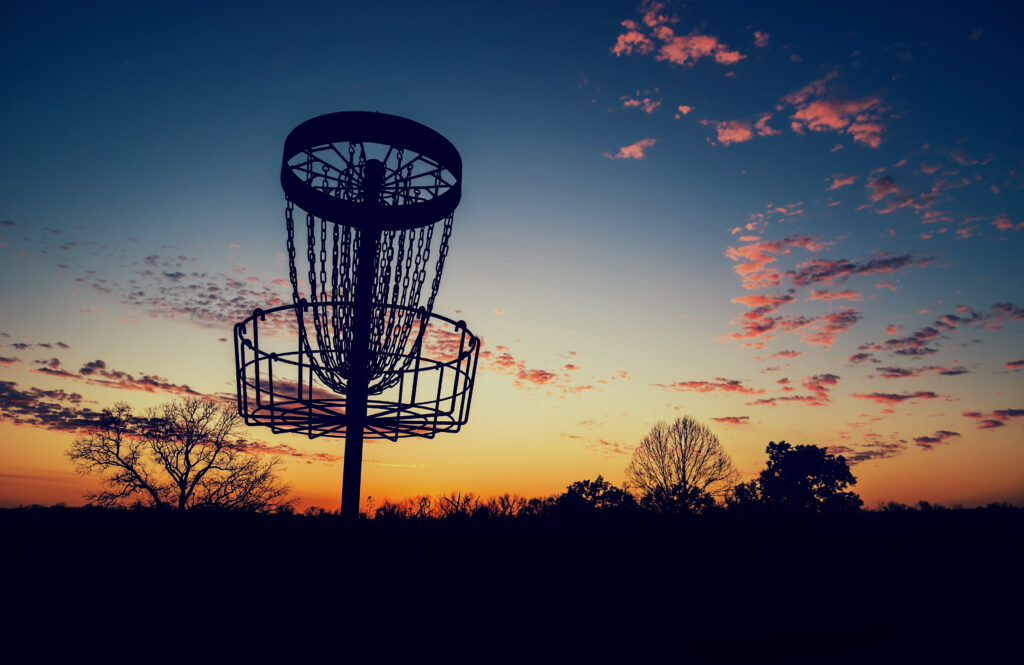 Your drives will be harder to find
We all have been frustrated at one point for not being able to find one of our drives… in plain daylight. It could have landed in a tree or a bushy area, even we track it closely, it can end up in landing in an unexpected place. Now imagine this happening when it's completely dark outside. A lot of times it will be better to just wait until the next day to start your rescue mission.
If you don't equip every single one of your disc golf discs with LED lights, retrieving your drives in the dark will be a difficult task. It's not like the LED lights are going to make every one of your discs visible from miles away, but once you get relatively close to one of them it will be easy to retrieve it.
Trees are the enemy
When playing in pitch dark environments, trees can blend in with the night very easily and we won't even notice they are in the path of our throw, or close to it. This can lead to drives unexpectedly hitting trees and getting stuck on high branches that are hard to reach.
Related: Disc Golf Retrievers
Distance perception at night changes
Our eyes are used to playing during the day, and our throw strength adjusts according to that. Even when playing in a golf course we're familiar with, the lack of illumination surrounding the LED-illuminated basket can trick our eyes and make it seem like it is at a different distance than in reality.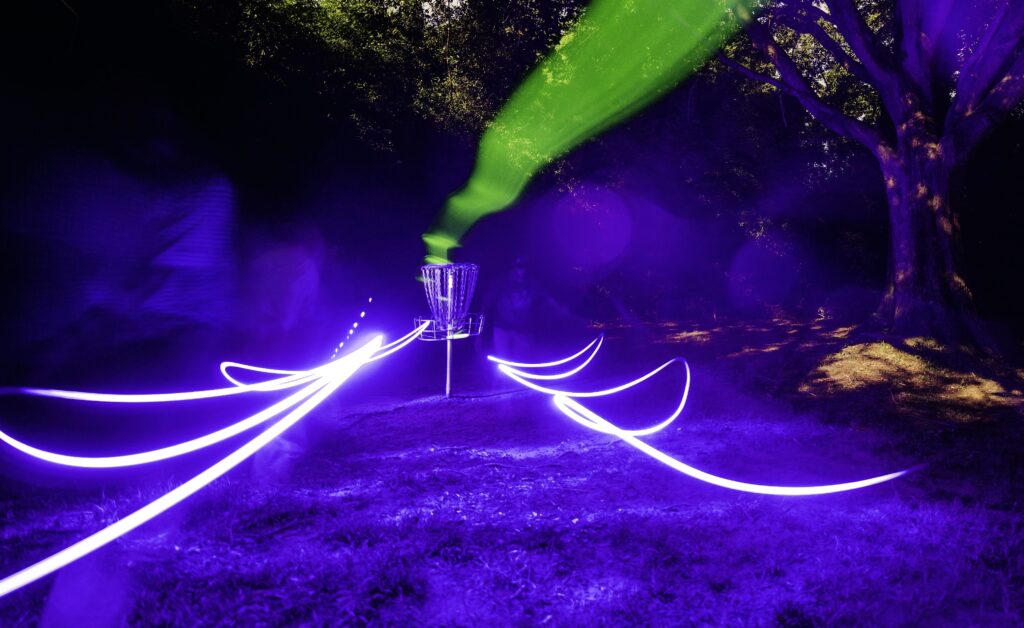 After a few putts, the vast majority of players become used to the dark conditions and adjust their throws accordingly, but it is completely normal for our first few throws to be really off from their intended destination.
Our final thoughts
When playing disc golf at night, it's essential to equip both the targets and our drives with LED lightning. The glow of the discs, while they travel through the darkness of the night, is an awesome sight.
The most basic accessory we recommend is the MPV Discs Lunar Module to give you disc golf basket the visibility needed at night.