A good volleyball can make all the difference in the world. It might not seem like a huge investment, but if the right one is found, your game will improve dramatically. There are various balls on the market aimed for indoor playing, outdoor and beach volleyball.
Not sure where to shop? Take a look at our review of the best volleyball ball options. Coming from well-known, trusted brands, customers should feel confident purchasing any of them.
Best Volleyballs – Top Picks
Factors to consider when looking for the best Volleyball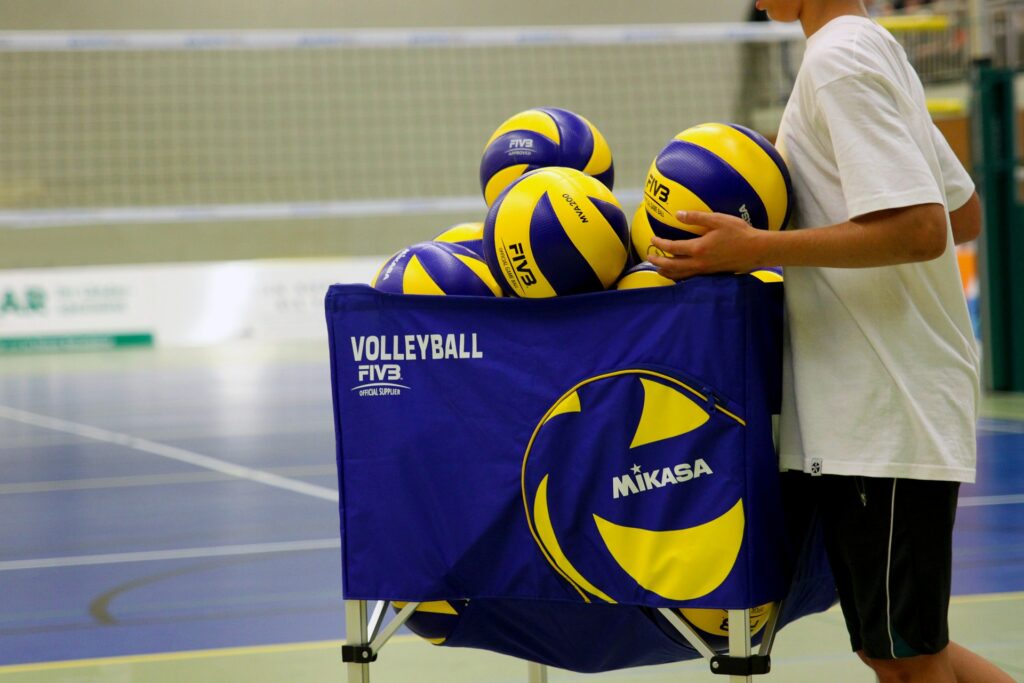 Materials
The innards of most volleyballs share a very similar structure and materials. A rubber bladder is widely used to hold air in the middle of the ball, and the vast majority use this same design.
However, the surface of each ball can differ greatly, based on the type of usage, skill level and where it's going to be used. The most common cover materials are leather, microfibers, and PVC. Leather and microfibers are used in official tournament balls while PVC is used in balls for casual entertainment.
Official Volleyball Size
Just like most sports, there are regulatory agencies in charge of setting rules, including official sizes for balls. Here are the official size and weight for different types of volleyballs:
Circumference in
cm (inches)
Mass in
grams (ounces)
Indoor volleyball
65-67 (25.5-26.5)
260-280 (9.2-9.9)
Youth indoor
63-65 (25-26)
260-280 (9.2-9.9)
Beach volleyball
66-68 (26-27)
260-280 (9.2-9.9)
Indoor vs outdoor use
Most volleyballs are designed for either indoor or outdoor play. While you could easily use an outdoor ball to play indoors and vice-versa, using an indoor ball to play outdoor is not recommended as it may deteriorate quickly and suffer from punctures unexpectedly.
Best Outdoor and Indoor Volleyballs – Top 10
Take a look at the top 10 volleyballs reviewed. We've taken into account several factors to help you make an informed decision that best conforms to your needs and usage.
Molten Pro Touch Volleyball – Best Professional Volleyball
Quick Overview
Official Volleyball USA ball
Regulation/official size
Japanese leather cover
2-year warranty
Available in red/blue/white and solid white
As its name implies, Molten's Pro Touch Volleyball is an excellent performing indoor ball trusted by many sports associations around the world. The Pro Touch is the official USA Volleyball used in practice and tournaments, and it has proven that it withstands the hard demands of competitive play.
It features a cover of premium Japanese leather for a reactive and predictable touch. The nylon-wound construction makes a solid structure for the best possible ball control and long-term durability.
Overall, this is a great choice for players looking for an indoor ball that professional players trust and play with. Plus, the 2-year warranty gives you the peace of mind and it assures that the ball is manufactured to high standards.
Wilson Soft Play Outdoor Volleyball – Best Volleyball for Outdoor play
Quick Overview
SoftPlay technology for increased comfort and control
Butyl rubber bladder for best air retention
Synthetic leather for excellent durability
Sponge middle layer for soft touch feel
Available in five colors
This ball, built for the recreational player, comes from one of the most well-known sporting goods brands in the world. Wilson has several volleyball ball options for indoor and outdoor play, and this is the perfect option for outdoor recreational use.
Available in five colors, it's soft enough for novices to handle. The softer feel caters to beginners, but advanced players can still hit the ball with speed and control.
The cover is durable for outdoor use, and the construction is about as great as one will find on a ball priced this low. It's hard to find a ball with this value.
Mikasa MVA200 Indoor Olympic Volleyball – Best Volleyball for Indoor play
Quick Overview
Microfiber ball
Official game ball for the 2008, 2012 and 2016 indoor Olympic games
8-panel swirl design improves passing and control
Microfiber dimpled pattern for improved ball flying
Blue and yellow pattern for best visibility
The indoor volleyball for the Olympics might just be the best ball on the market right now. It's a bit on the expensive side, but it has the best technology, the best feel and a modern look that makes it stand out.
The eight-panel swirl design gives players more contact area on the surface when playing with the ball. This helps all aspects of the game since it adds another layer of control.
The microfiber outer also has dimples to help with the ball flight. Players will notice a very true rotation every time.
Finally, although superficial, this volleyball just looks high end. Mikasa took some risks with its design, but they have received some great reviews overall. Indoor players who want the best should give this ball a shot.
Wilson AVP Official Beach Volleyball – Best Volleyball for Beach
Quick Overview
Official Volleyball of the AVO tournament
Premium composite leather is resistant on many surfaces
Related: Best Sunglasses for Beach Volleyball
Wilson makes a great outdoor recreational ball (as noted above), but what about for the serious beach volleyball player? They are the official supplier of the Association of Volleyball Professionals, making a ball that holds up match after match.
It's hard to tell the difference between an indoor and outdoor ball by going off pictures online, but when held, the outdoor ball is noticeably lighter. It is also slightly bigger, preventing the ball from travel quite as fast.
The outer layer of the ball can also hold up outdoors thanks to the more durable microfiber composite leather. It helps handle dirt, moisture and more that it collects on it throughout the match.
When serious about outdoor volleyball, this is the only ball worth considering. It is on the more expensive side, but nothing else compares.
Molten VBU12 Light Volleyball – Best Volleyball for Youth and Children
Quick Overview
Intended for players age 12 and under
Soft microfiber cover
Lightweight
Approved by USA Volleyball and USYVL
Six distinct color patters available
Related: Best Volleyball Knee Pads
When looking for a Volleyball for a kid, a light ball with soft materials is important. Having a heavy ball can make it hard for children to play comfortably, as passing it over the net might require more strength than what they currently have at their age. Materials that are rough can also make playing uncomfortable due to the sensitivity of children's skin.
The Molten VBU12 Light Volleyball for kids features a soft microfiber composite cover, specially designed for the delicate skin of children. Furthermore, at just 8 ounces, it features a very appropriate weight for use by children. This ball is also USA Volleyball and USYVL Approved, it assures that conforms to professional standards despite being light and soft.
Overall, this Volleyball is an excellent buy for young athletes that are ready to get serious about Volleyball.
Spalding King of the Beach Volleyball
Quick Overview
Designed for competitive outdoor play
Official size and weight
Durable composite cover
Withstands play on rough surfaces
Spalding doesn't have the same type of sponsorship backing, but it is the official ball of King of the Beach. This outdoor ball is made up of a lot of similar materials as the Wilson one above, and usually a decent amount cheaper.
While it comes close from a performance standpoint, it's a little harder than it probably should be for an outdoor ball. Some prefer that feel, but when coupled with the ball feeling a little light, it leaves it difficult to control. All that being said, it's still a great option for a professional level ball at an affordable price. Just spend the extra money for the Wilson ball above if you want the best of the best.
Tachikara Sensi-Tec Composite Volleyball
Quick Overview
High-performance composite volleyball
Sensi-Tec colored leather for improved visibility
More than 20 color variations available
Tachikara is a Japanese world leader in sports balls manufacturing. They develop their products based on constant research and improvement in the manufacturing processes.
The Sensi-Tec Volleyball features an advanced loose-bladder construction with high-visibility leather that improves ball flight, ball visibility, and touch control when playing. It is a ball definitely on top of cutting-edge design and technology and it is refreshing to see a manufacturer investing research and development in something that seems so simple as a ball.
Overall, this is a solid choice with an immense amount of color options, although we'd like to see the manufacturer offering a warranty with the product as its common nowadays.
Molten Super Touch Volleyball
Quick Overview
Official Size and Weight
Cover made with Premium Japanese Leather
Indoor ball
Uni-Bladder construction
NFHS Approved
2-year warranty
The renewed Super Touch volleyball by Molten is the official volleyball of the NCAA Championships and many associations and sports clubs around the world.
It features a uni-bladder construction, wrapped in cotton that provides a consistent, predictable touch with every single contact. For best grip and feeling, the ball is wrapped in premium leather instead of the composite materials that other less expensive volleyballs use extensively.
Molten reassures you they are one of the leading brands for Volleyball products by offering a 2-year warranty.
When looking for a pro-level indoor volleyball, the Molten Super Touch is a solid choice that will satisfy the most demanding players.
VETRA Soft Touch Official Size Volleyball
Quick Overview
Premium PVC cover
All-purpose volleyball for outdoor and indoor play
Official weight and size
Soft-touch
Available in two color variants
The VETRA Soft Touch Volleyball is aimed for casual players who want a multi-purpose ball that compromises little on features and quality but is also available at a very accessible price.
Its cover is made with high quality PVC, that is easy on sensitive skin, provides a fair amount of touch grip and control and most importantly is durable enough for outdoor use for playing on rough surfaces.
Despite being a ball meant for casual players that are just looking to have fun once in a while, this ball conforms to official size and weight regulations, which is great for if you want it to resemble a professional ball in some ways.
Overall, this is a ball offered at a very attractive price point targeted to casual players that play once in a while rather than athletes in a team.
Molten FLISTATEC Volleyball
Quick Overview
Indoor use
FLISTATEC technology for better flight stability
Official Volleyball of NCAA Championships
2-year warranty
Three distinct colors available
Looking for one of the best balls on the market today? The Molten FLISTATEC volleyball is the official game ball of the NCAA Championships. Built for indoor use only, it has a professional feel that is noticeable with every shot.
The micro-fiber composite cover provides great touch. It also has flight stability, making sure that the ball moves in the air as it should. The only thing a person needs to do before each match is properly inflate the ball for it to perform at a high level.
The volleyball might be a little too expensive for the casual player, but it does come with a 2-year warranty. It is the only ball a serious player needs for indoor use.
Frequently Asked Questions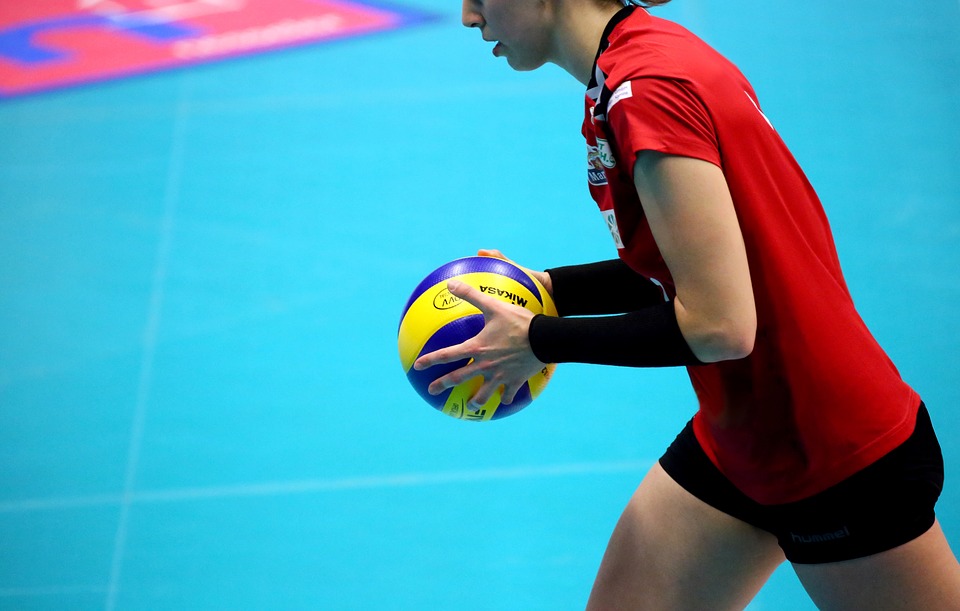 Do Volleyballs come inflated?
When purchasing a brand-new Volleyball, you'll notice the ball will come partially or completely deflated. This is done for various reasons:
Save on transportation space: A deflated ball will take up much less space than a completely inflated ball.
Prevent ball deformation when stored: While stored or during transport, heavy objects may be placed on top of the boxes containing the volleyballs for long periods. If the balls are inflated they may deform severely.
What do I need to inflate a volleyball?
To inflate a brand new volleyball, you'll need a ball pump with a needle attachment. These are easy to find and most households have one handy, as they are also used to inflate bicycle tires.
Final thoughts