Outside of a uniform and shoes, perhaps no piece of equipment is as important as a good set of knee pads for volleyball players. Competitive players must make diving shots at a moment's notice, and that can tear up unprotected knees in a hurry.
What are some of the best volleyball knee pads currently on the market? Below is a closer look at some of the best. They not only provide quality protection, but they are lightweight and comfortable.
Best Knee Pads for Volleyball – Top Picks
Why padding is crucial in Volleyball
A big part of the sport is diving. A player that is afraid to dive to catch a ball is competitively inferior to a player that tries to save every ball even if he or she has to dive to reach it.
We've all been afraid of diving at some point. Diving means we get dusty, our knees and elbows can suffer and less importantly our shoes get dirty. However, when wearing knee pads, a big part of the fear of diving goes away.
Best Volleyball Knee Pads Reviewed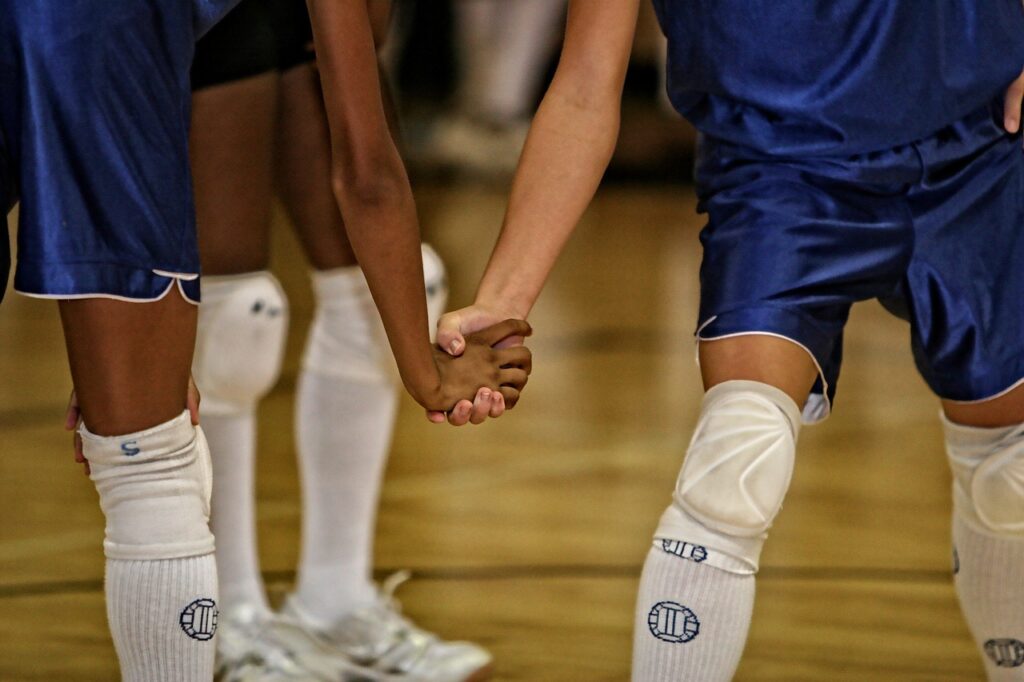 Nike Essentials Volleyball Knee Pads
Nike is a very trusted sports company, so it should come as no surprise that they have some great knee pads for volleyball. This option is more on the lightweight side, so don't expect the most amount of protection. This is for players who might dive occasionally, but they want extreme comfort and no added weight to their knee area.
The brand always does a great job with style, and these pads are no different. Part of playing well is looking good on the court, and these are very sleek options to depend on.
Mizuno LR6 Volleyball Kneepad
Mizuno sells several volleyball kneepads, but these continue to be one of their most popular. In fact, they are one of the most popular kneepads in all of volleyball. Looking at them, it is pretty easy to see why.
A lot of people just want nice, dependable kneepads that don't try to do too much. This option provides 6 inches of protection, and it uses Mizunos D.F. Cut technology to offer superior movement. Available in three colors, every single player out there can easily match the uniform with these pads.
Adidas Women's Volleyball Elite Knee Pad
Adidas takes a similar approach as Nike when it comes to volleyball knee pads. Instead of trying anything too crazy with the design, they are pretty straightforward.
These pads do everything well, but nothing outstanding. They don't provide the most amount of coverage, and they aren't the most lightweight option available. However, they are very well rounded, and high-quality. These pads last a long time as long as players clean them consistently.
Under Armour Unisex Armour Volleyball Knee Pad
Out of all the options on this list, these volleyball knee pads from Under Armour might be the best at controlling sweat and moisture all match long. They are lightweight, yet still, pack enough protection to help with dives on hardwood floors or sand.
It helps that each pair of pads comes with a specific left and right option. This ensures a customized and close fit, and helps to control sweat by targeting the right areas. If there is a drawback, it is that they are currently only available in white. Some people don't like how quickly they show dirt and grime during a match.
ASICS Unisex Slider V. Kneepad
Some people like having as much coverage as possible in the near area. Depending on the person's style of play, it might make a lot of sense to have coverage extends beyond the knee a bit. That is where an option like this one from Asics comes in the play.
This is a 9.5-inch sleeve that provides a lot of padding and protection. They are a little bulkier than some of the other options highlighted in this list, but they are perfect for those bouncing back from minor injuries. Having just a little bit of extra protection can make a player feel a lot more confident in the match.
Asics currently states that one size fits most, so anyone who has legs that are extremely skinny or large might need to try these on before fully committing.
ASICS Jr. Knee Pads – Best Knee Pads for Kids
Starting the habit early with knee pads is essential for any volleyball player. For them to work, the design must be for smaller legs. Asics has a great option for those younger players.
With 9 inches of protection, parents and coaches should feel very confident about the level of coverage. They are lightweight and comfortable, but they do have a little more padding than most sleeves for older players. This is by design, because younger volleyball players might be a little more prone to injury.
These pads are affordable and a great option for those just starting. There is no reason to skip out on a very important piece of equipment for the sport.
Luwint Volleyball Knee Pads
At first glance, many people look at these pads as great options, but perhaps a bit bulky. While they do provide some of the thickest amounts of padding out there, they are surprisingly not that bulky at all.
The secret from Luwint is that they use a high-quality, high density strengthened foam. This allows them to provide complete knee protection without being that much different than the competition.
All it takes is one dive on the ground to feel the difference of that extra padding. Any player frustrated with their current padding should consider all that this set up has to offer.
This is another pair of knee pads that are great for those who want a lot of protection out on the court. Anyone prone to diving multiple times a game can save their knees a bit by wearing sleeves like these.
One of the great things about these knee pads is that they not only help with injury prevention, but they do a great job of helping with recovery as well. The elasticity of the sleeves helps keep the muscles warm all match long.
Like some of the other knee pads with a decent amount of padding, it does take a little getting used to. The added protection is usually a trade-off people are willing to make.
VolleyCountry Volleyball Knee Pads
These are very simple volleyball knee pads that do the trick without ever getting in the way. They are very comfortable, and a lot of that has to do with the materials used. Most companies do not put bamboo in their knee pads, but it provides stability as well as comfort players have enjoyed for a while.
This also provides some great coverage, which is great for those people who might be a little more prone to injury. There is 100% knee protection when wearing these, so no one should ever feel like they are in a vulnerable position.
MAIBU Protective Knee Pads
Out of all the budget options for volleyball knee pads out there, MAIBU has really made a name for themselves. They offer a lot of protection for the knee, but what they excel at is helping with muscle recovery and pain relief.
This is perhaps the best option for those looking for compression, and the added padding makes sure that there are no additional injuries along the way.
The knee goes through a lot in volleyball, and game after game can stress some people out. Don't be afraid to invest in just the right protection to improve performance.
How to choose the best volleyball knee pads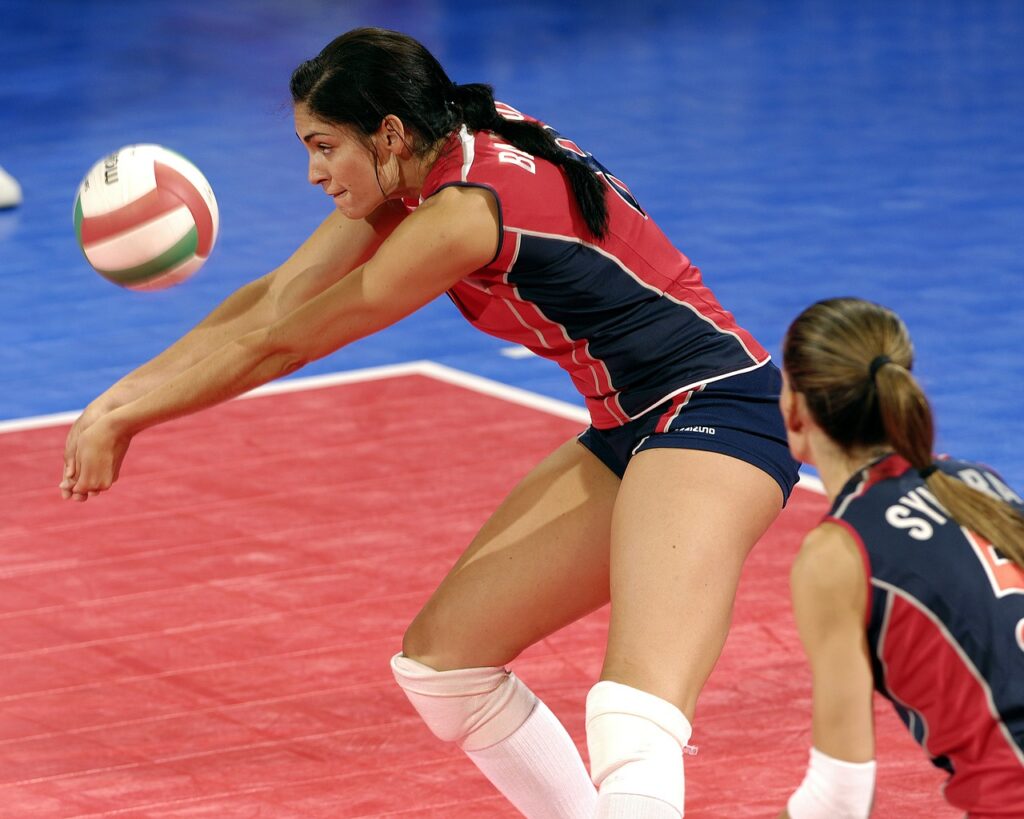 Padding
Not all knee pads offer the same level of protection and padding. The level of padding and shock absorption really comes down to the thickness of the padding material.
Having the maximum amount of thickness possible might sound like the greatest idea, however, you have to remember that thicker padding means increased profile and increased weight, and these can affect your agility and comfort negatively during the game.
So, how much protection you really need? It comes down to your personal liking, what you're comfortable with but especially your style of play. If you play in the back, you'll be doing a less diving than someone playing in the attacking half. Plus, you'll need the extra agility to move around quickly and save those balls thrown further back.
A key point to have into account if you're a Volleyball beginner is to get over the fear of diving. If you're afraid you're gonna hurt yourself when diving, opt for thicker, more protective kneepads. Getting used to diving and feeling comfortable with it is a key to improve in the game.
Knee pad size
Volleyball knee pads are designed to cover the entirety of your knee and the surrounding area. Some extend even further than that and cover your knee and a big area around it.
Having knee pads that fit right is key when looking for the best volleyball knee pads. They need to adjust properly to your leg shape and your knee size for best results. Having a small, tight knee pad will lead to discomfort and not enough protection. A big, oversized one will lead to them falling mid-game and need constant readjustment.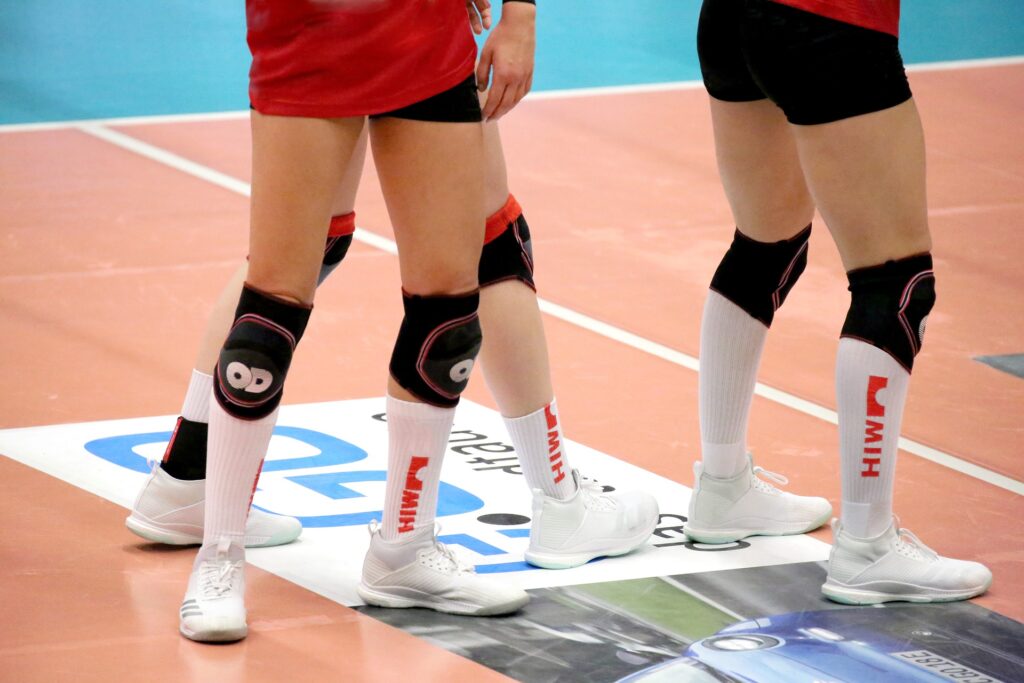 Follow the manufacturer's size chart and reviews to see which size would be the most appropriate for you. Not all brands follow the same size specifications and a "small" or a "medium" size of differents brands may have huge size differences between them
Comfort and ventilation
When looking for comfortable knee pads that will help you stay cool, materials are key. There's really nothing more uncomfortable when playing than a set of knee pads that get hot and make your whole knee sweaty and heavy.
Look for materials with high ventilation, such as Spandex and synthetic fabrics, as these are not only highly breathable but are also comfortable in the skin.
A comfortable inner lining is key as this is what is going to be in contact with your skin for many hours straight. It not only needs to be comfortable but also help prevent slippage as our knee pads should stay in place for best performance.
How to wash your volleyball knee pads
The anti-microbial material can do wonders minimizing bad odors coming from your knee pads after a sweaty game. However, these still need to be cleaned thoroughly from time to time to keep them looking clean and fresh.
You have to be careful as these are not just any regular piece of clothing. The padding material needs special washing care if you want them to last as long as possible. Use a washing mesh when possible, this will prevent them from getting stuck in other clothing and possibly deform the padding material.
When drying, simply place them on top a folded towel indoors and let them dry for a few hours. You can also hang them and leave them outside if want them to be as dry as possible. Do not put them in the dryer. The excessive heat and movement of machine drying can weaken the fabrics and deform the internal padding.
Key areas that need protection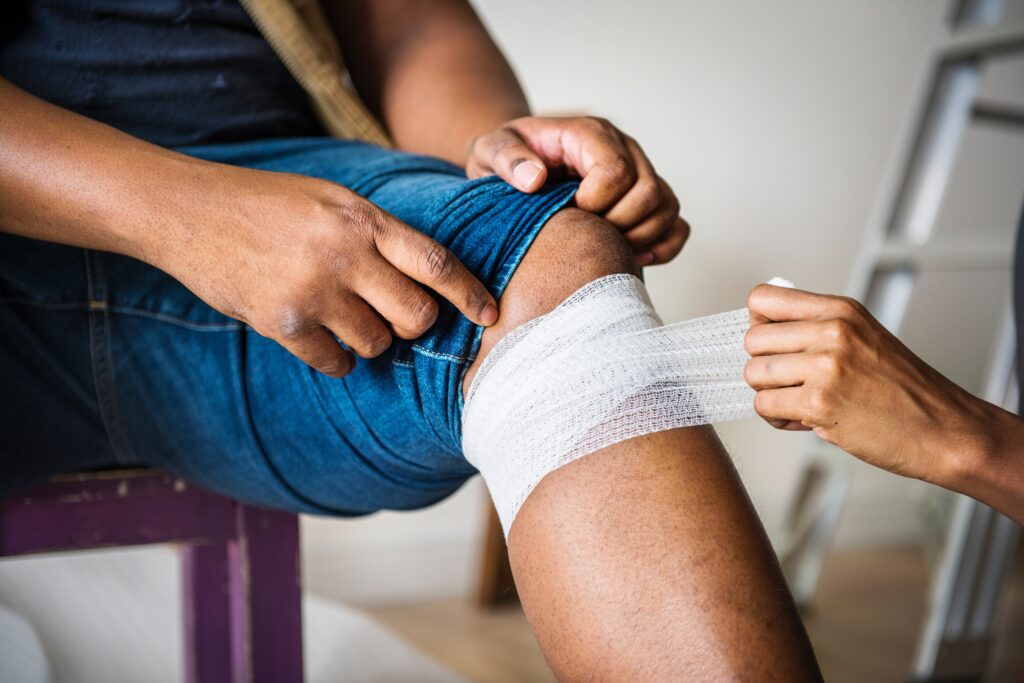 The "knee" as we commonly call it actually consists of various sections that need protection. The most important ones are the following:
Patella
The patella bone, or kneecap as we commonly call it is a semi-triangular bone that moves as the knee bends. It increases the force generated by the quadriceps muscle. A patella injury or fracture will lead to difficulty when moving the knee.
Another important function of the patella is protecting the whole knee joint from trauma. It receives the vast majority of impacts to the knee area.
The medial and lateral section
The medial refers to the side of the knee that is closest to your other knee. Both of your medials would touch when you place your knees together. The lateral is the side of the knee that faces outwards. That is the side of the knee farthest from the other knee.
Both limit lateral movement of your knee joint. In simple terms, they keep your knee movement straight so that it moves left and right as little as possible.
Some final thoughts
Knees are more delicate than we think, and a bad impact on a hard floor can cause an injury when least expect it. In a sport like Volleyball, the constant diving and falling can put quite a bit of trauma into them. Even when your diving is controlled and you know what you're doing, knees can get sore and the pain can endure for a few days.
We recommend a pair of knee pads that is practical to wear and still offers solid protection, like the Under Armour Unisex Volleyball Kneepads.
Any questions or recommendations? Please let us know below and don't forget to have fun out there.