It doesn't take a lot of equipment to start a game of volleyball, but everyone needs a net to get the game going. The good news is that there are a lot of affordable options out there, and they should last a long time as long as you properly treat them.
It mostly comes down to identifying where you intend on playing most of the time, and what the level of play is to narrow down all the choices out there.
Best Volleyball Nets – Top Picks
Considerations when looking for the best volleyball net
Volleyball system or net
One of the first things any player needs to figure out is whether they only need a net itself, or an entire net system. How to figure this out? Well, where are the matches held? If the plan is to play volleyball at a local park that has a volleyball set up mostly in place already, you need only a net to attach.
Playing somewhere that does not have a volleyball area already will need a complete volleyball net system. Not only will it provide support the hold the net up, but most of the systems will have a way to mark off volleyball boundaries as well. This all-in-one solution is perfect to take on the go at any time.
An entire volleyball net system is going to cost more money, but it allows for more freedom of play in virtually any open space. If you only need a net, you can usually spend a little extra money and purchase a higher quality net that might last longer in the long run.
Indoor vs outdoor nets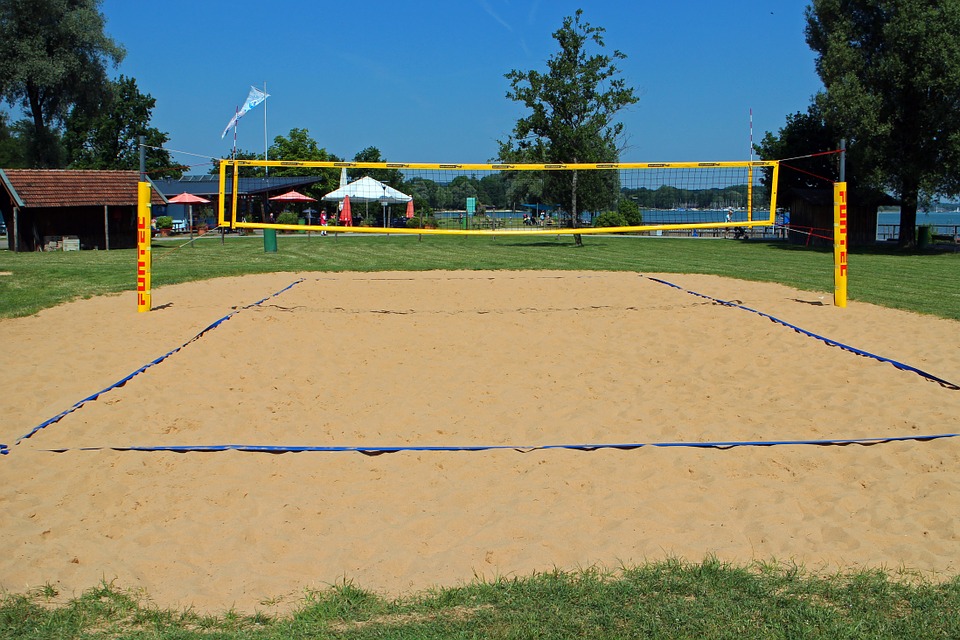 Indoor volleyball and outdoor volleyball might be similar at its core, but there are a lot of differences. Not only is the game different, but the equipment used needs adjusted as well.
Most volleyball equipment sold online to individuals will be for outdoor use. The best outdoor volleyball net options need to be much more durable, and also resistant to the outdoor elements. It's not advised to keep outdoor nets outside at all times, but sometimes they get stuck in the rain, wind or even snow. When shopping, make sure to always find nets on the more durable side if playing outdoors.
Portability
There are some people who have enough room in a yard to put up an in-ground volleyball system. For those who don't have that kind of space, or just want the flexibility of moving things around, portable volleyball net systems are the way to go. They usually tear down very quickly, and the materials are lightweight enough that one person can carry them.
It's worth investing in something portable because things can always change. Having the flexibility to play anywhere and set up a court is worth it to most players.
Ease of set up
The easiest set up for volleyball is going to a park that already has an area designated for the sport. Even if it doesn't have a net up, it takes a few seconds to attach the net and get started.
It's more important to look for reviews on complete volleyball net systems. Some of them are a little more complicated to put together than others. No one wants to spend a lot of time trying to piece together their volleyball net when everyone is eager to play. You should find something that sets up in under 10 minutes.
Pro vs amateur systems
There is no such thing as one-size-fits-all for volleyball. Make sure that when purchasing a net or net system, it is for the proper skill level. Pros are playing with regulated net options that fit the standard for that level. That usually means a higher and wider net, so if looking for just recreational play, look for something marked for the proper level. Otherwise, the height of the net could be a challenge to not only you, but everyone else playing.
Make sure to review the regulation height for volleyball nets when setting up your court.
Best Outdoor Volleyball Nets Reviewed
Baden Champions Series Volleyball Set
Related: Sunglasses for Beach Volleyball
If you're looking for a complete volleyball system that includes every single piece of equipment needed for an outdoor game, the Baden Champions Series Volleyball set is exactly what most players need.
It includes a Baden Match Point ball, regulation size volleyball net, ball air pump, two adjustable steel poles, and even boundary lines. This volleyball set even includes a carrying bag to conveniently transport all the elements around.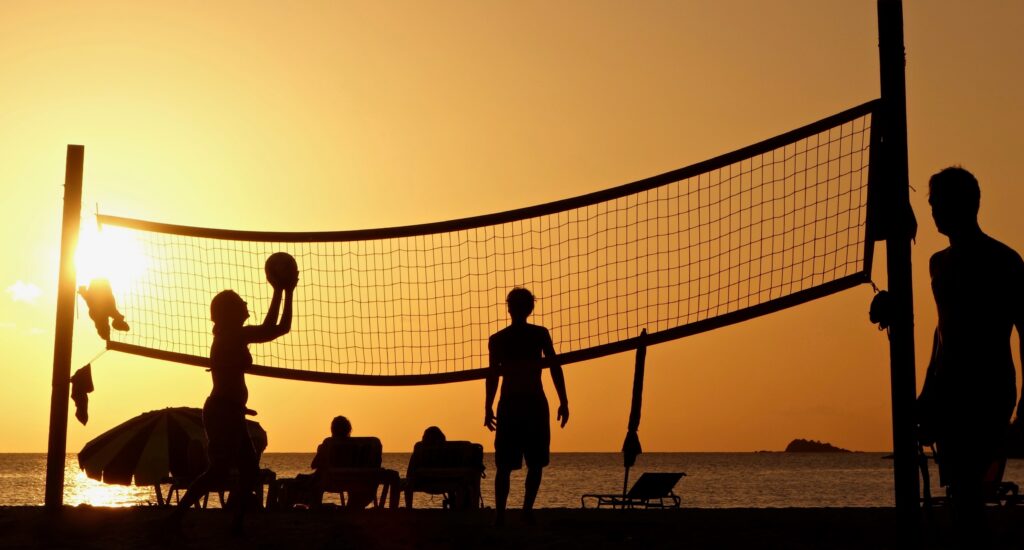 Apt for both grass and sand terrain, this makes it versatile enough to set up quickly almost anywhere. The manufacturer says that it takes just a few minutes to fully set up or disassembly.
Despite looking like a volleyball net just apt for casual playing, the Baden volleyball net is built to regulation size, and the heavy-duty steel poles assure that the whole net is stable and stays upright round after round.
Park & Sun Sports Portable Professional Outdoor Volleyball Net System
The Park & Sun Sports Portable Professional Volleyball Net for outdoor provides an outstanding combination of portability and a pro-level volleyball system.
It includes a regulation-size net, two aluminum poles, boundary anchors and all the cords needed to set up the net to the desired height easily. The nylon net features reinforced corners and side sleeves for all-around even net tension and to reduce unwanted movement.
Easy height adjustments make it very versatile. By pulling down the guyline to one of the pin locks, the net height can be changed between official men's, women's and COED heights.
Just like other volleyball sets, this one includes a polyester zippered bag to conveniently carry the whole set around.
Related: Best Volleyballs
Champion Sports Official Tournament and Olympic Sized Volleyball Net
If you already have a pair of volleyball poles and are looking to replace your old net or still don't have a net to complete your set, the Champion Sports Official Tournament net is durable, rip-resistant and is offered in both Olympic and Tournament dimensions.
The 3mm knotless nylon is strong and tear-resistant. It will stand constant use in any environment, both indoor and outdoor. Two 38′ steel cables running across the top and bottom further increase stability and support, much needed as you want the net to move as little as possible.
Durable side pockets with dowels help keep both sides of the net straight and without deformation.
Overall, this net is a great addition to your volleyball set if you already have a pair of volleyball poles or you know a place with permanent poles, such as a public beach.
Park & Sun Sports Volley Sport Combo Set
A great way to complement an afternoon of Volleyball is with a few rounds of badminton. The Park & Sun Volley Sport Combo Set features an extensive amount of parks.
Here's the complete inventory of what's included:
Steel poles
Volleyball/badminton net
4 aluminum badminton rackets
3 badminton nylon shuttlecocks
Inflation pump with inflation needles
Soft Touch volleyball ball
6 steel ground stakes
The set is sturdy and easy to set up in any terrain. The included ground stakes can be used to provide the net any extra stability if needed. The Soft Touch volleyball ball, badminton rackets, and shuttlecocks are an excellent addition and it assures you won't need any additional products for a casual game of either volleyball or badminton.
The included net is not regulation-sized, but it still has excellent stability, more than appropriate for volleyball games purely for entertainment. This is an excellent set for players looking for casual play sessions on the backyard, park or beach, and it guarantees many hours of fun outdoors.
Verus Sports Expert Volleyball Set
The Verus Sports Expert Volleyball set combines the practicality of having an entire Volleyball Kit ready with competition-level equipment.
This Volleyball Set includes a regulation-size net, everything you need to set it up also an official size ball with a ball pump to inflate it. A boundary marker is also included for those games when keeping the right score is a must.
A nice addition to this volleyball net is the built-in scorekeeping. The bottom of the net has a score tracker that can be moved by either team whenever a point is scored. Keeping an accurate score becomes straightforward with this net.
The included ball is made of synthetic leather, it is nothing special and it isn't the best ball out there, but it's good to have it as a backup if you forget or lose your main ball.
Cobra Guy Wire-free 3-in-1 Volleyball System
This incredibly versatile net system includes accessories for three different sports. Its main focus is Volleyball and it includes everything necessary to set up a volleyball net outdoor, but the attractiveness of the Cobra Guy Wire-Free 3-in-1 is the included implements to also play badminton and beach tennis.
The net features adjustable height and, pole pads and regulation size dimensions. Boundary lines with ground stakes to keep the lines attached to the ground can also be used.
Unfortunately, a volleyball is not included but we consider this overall a solid volleyball system that is versatile enough for various games at the park or beach such as badminton.
Gared Mongoose Wireless Volleyball System
The Gared Mongoose Wireless Volleyball System has a net system with no wires, making it extremely easy to set up and eliminating the hassle of dealing with wires to set up a Volleyball court.
It can be set up either outdoors or indoors with the patented two-stake inground plate system that can be attached to sand wedges when playing at the beach. If using it indoors, the steel plates are placed on the ground to provide a stable and sturdy base for the steel poles. When taking it to the beach, simply fill the included sand wedges, and attach them onto the base plates to create a stable playing experience.
Vermont Portable Volleyball Set
To finalize, we have the Vermont Portable Volleyball Set. It is offered in both Pro and Pro Beach variants, depending on the intended use you have for it.
Both the Pro and Pro Beach variants feature adjustable posts that can be set to three distinct heights: men, women and mixed. The net is regulation sized to meet FIVB specifications and the 45 ply twine makes it durable to stand year after year of use. This set comes with a court line, ground pegs, anchors and even a durable carry bag to transport the accessories around with ease.
The Pro Beach variant includes an additional sand anchor kit to ensure the poles remain stable in a beach environment.
Conclusion
Don't think of buying a volleyball net as too complicated of a process. There are a few factors people need to consider though. Above all else, most just want a volleyball net that entertains years to come.
There are many solid options available in the market, but if you are unsure and just want an excellent net with an excellent review score great reviews online, the Baden Champions Series Volleyball Set is one of the best outdoor volleyball nets available.