The highest levels of competitive basketball around the world are played indoors on hardwood. However, even professionals at one point played on outdoor courts. Millions around the world play casually on courts at local parks, schools, and even the backyard.
The outdoor game is different in a lot of ways. Players need to accommodate for wind, sun conditions, court inconsistencies and of course the much harder court material itself.
Outdoor courts, typically made of cement or asphalt, are much tougher on shoes. That is why people who play outdoors a lot should be looking for the best outdoor basketball shoes to purchase. Outdoor basketball shoes are going to have a very specific makeup, and buying the right pair can save a person a decent amount of money.
Best Basketball Shoes for Outdoor Use – Top Picks
The Best Outdoor Basketball Shoes – Reviews
Adidas Men's Dame 5 Basketball Shoes
Quick Overview
Bounce cushioning enhances comfort and flexibility
Rubber outsole with herringbone pattern offers extraordinary grip
Soft suede upper for increased comfort
Midfoot banking barrier for lateral stability
Dame Lillard shoes continue to evolve. The Dame 5 Basketball Shoes are made specifically for Damian Lillard's signature game style.
Built with a breathable textile-upper portion, the Dame 5, also called D Lillard 5, provides extraordinary comfort and breathability while keeping things light. The high-traction outsole boasts a wavy tread pattern to help you stay in the flow of the game.
Its stable herringbone outsole lets you move in any direction with incredible agility and confidence while maintaining your foot stable and properly cushioned.
The use of an upper FushedMesh is a customized fit that adapts to your movements on the court.
Under Armour Men's Curry 3
Quick Overview
Reinforced mesh upper for durability and breathability
Lace-up closure for easy adjusting
Charged Cushioning midsole allows for increased energy return and responsiveness
OrthoLite sock liner adjusts to the shape of your foot
Adjustable heel stability
Even though these pair of shoes won't guarantee you'll match Sheph's playstyle, they will definitely make you play better with increased confidence and even look better on the court.
The charged cushioning midsole allows for an increased return of energy for those rapid plays when we want explosiveness and responsiveness.
An anti-microbial OrthoLite internal sock liner will adjust according to the shape of your foot and be fully comfortable after just a few uses. Don't be upset if the shoes don't feel comfortable at first, let the OrthoLite liner do its job and fully adjust to your feet and movements.
For increased durability, the mesh upper is reinforced to prevent chances of it tearing, especially if your style of play is explosive.
Overall, these are great sneakers for outdoor playing, the outsole provides excellent traction for any surface, a Charged Cushioning midsole allows for a rapid style of playing and the anti-microbial internal liner is a great touch that helps keep both your shoes and your feet fresh.
Nike Air Versitile Ii Basketball Shoe
Quick Overview
Air-Sole heel cushions and softens impacts
Fly-wire cable technology provides increased stability and lockdown
Soft textile provides comfort around the heel
Features rubber outsole with special herringbone pattern
No, it is not a typo. The Nike Men's Air Versitile are a great versatile pair of shoes as their name implies.
The herringbone pattern of the outsole provides great traction on any surface you can image, although we find the rubber material is not as durable as most sneaker alternatives out there.
The Air-Sole heel is great for providing that extra support and stability that is needed sometimes and helps soften hard impacts. Additional padding around the ankle further increase the shoe's stability and overall it can easily be said that its one of the most stable shoes out there.
Internally, the shoe provides a decent amount of breathability and comfort, due to the upper mesh and padding around the ankle.
Nike Lebron Soldier XI Men's Basketball Shoes
Quick Overview
Sole made with synthetic composite materials ensure durability
An innovative support system to keep your foot locked in.
Four hook-style adjustable straps
Lightweight, breathable mesh upper
Zoom Air cushioning for high comfort on hard courts
Lebron is the King for a reason, and Nike Men's Lebron Soldier XI lives up to this reputation. They perform well in the court and the attractive design also functions as a casual shoe.
The first thing we notice is the lace-less characteristic of the shoe. No laces are included. To keep your foot locked in, there are four hook-style adjustable straps. We find this design excellent and wish more footwear would incorporate it. It makes not only adjusting your shoe easier but also cleaning it becomes painless
Lebron Soldier's basketball shoes for outdoor feature a sole made out of synthetic composite materials, which means it will last longer for players out there who tend to drag their feet often and move around in ways that wear out the shoe more quickly.
Just like most Nike basketball shoes, the Lebron Soldier incorporates Zoom Air cushioning technology that improves comfort and reduces the strength and severity of impacts on your body.
Adidas Men's Streetfire Basketball Shoe
Quick Overview
Breathable and durable mesh upper
Easy-on and easy-off with the hell pull
Ultimate fit due to extra padding around the Achilles
Cloudfoam technology for superior insole cushioning
Adiwear rubber outsole offers high durability
As the name implies, the Adidas Streetfire Basketball shoes are designed with street and outdoor use in mind, featuring durable materials and solid cushioning for playing in concrete and other hard, rough surfaces.
Its breathable mesh upper its great for keeping fresh after extensive sessions of playing and its ease to clean is appreciated. Very rarely we see shoes that are exclusively designed for the needs of players that frequent outdoor courts.
Adding to its outdoor court characteristics, Adidas Cloudfoam technology provides hard impact protection, especially important for outdoor playing. This will lead to less fatigue and reduced foot sole pain for players who make high jumps frequently.
Last but not least, the Adiwear outsole offers the high sole durability we need when playing outdoors. This rubber sole will also provide great grip on almost any surface.
Nike Men's Air Jordan XXXII Basketball Shoes
Quick Overview
Nike's Flyknit helps the shoe adjust to your foot
Integrated laces
FlightSpeed technology helps maximize responsiveness
Low-profile Zoom Air cushioning for maximum comfort
Durable rubber outsole that provides high traction on any surface
The Air Jordans continue to be one of the signature Men's Nike Shoes. They're still not only a symbol of in-court performance but also a fashion statement, and the men's Air Jordan XXXII continues this legacy.
Improving on the previous iterations, the XXXII's provide even greater performance with an attractive design that looks good and is comfortable and out of the court.
Flyknit technology provides increased breathability and flexibility to help the shoe adjust to your foot accordingly and be comfortable to wear from the very first few uses.
Zoom Air cushioning helps absorb hard impacts and the Air Jordan XXXII feature an updated cushioning layer that is thinner and lighter compared to other shoes released in the past. It's a statement to the incredible advancement in shoe design that Nike has pioneered.
Its final touch is FlightSpeed technology, which increases responsiveness for those looking for shoes that help them develop a quick style of play.
Overall, these are great shoes, that continue to be some of the best outdoor basketball shoes due to the multi-surface traction sole and superb cushioning.
Under Armour ClutchFit Drive 3 Basketball Shoes
Quick Overview
ClutchFit technology ensures high breathability and foot support
External heel counter helps deliver high stability and support
Bear-trap lacing connects the laces to the tongue for a solid fit
Additional padding and comfort around the heel due to the Achilles pillow
OrthoLite sock liner molds according to the shape of the player's foot
The ClutchFit Drive 3 by Under Armour is the latest model, featuring updated Under Armour ClutchFit technology. It has improved breathability, support, and comfort compared to the past versions that were already impressive on their own.
An strong external heel counter delivers high support and keeps your foot in place even in high energy movements. The back of the shoe also has some degree of cushioning that the manufacturer calls an "Achilles pillow", which is meant to provide comfort and reduce fatigue on the back of your foot.
The bear-trap lacing system connects the shoelaces snugly connected to the tongue, helping to keep them in place without slipping.
Adidas Men's Crazy Explosive
Quick Overview
Dual-mesh upper provides comfort and breathability
Optimal ankle support due to its high-top design
Boost cushioning for optimal energy return and performance
Rubber outsole for durable traction and reduced slippage
Once again, Adidas manages to deliver another amazing pair of sneakers that are both fashionable and provide great performance for any basketball player.
It's high-top design provisions optimal support at ankle level for added stability and reduced risk of a painful ankle twist. This is ideal for players looking for that increased peace of mind.
What gives these shoes their name is the Boost Cushioning technology developed by Adidas. As its name implies, it provides an excellent level of cushioning to absorb the most out of hard impacts and transfer the least amount of energy to your feet and body, lessening trauma and fatigue.
Boost Cushioning also provides an exceptional return of energy to get incredible performance in explosive plays, making you feel more powerful and agile.
Nike Men's KD Trey 5 V Basketball Shoe
Quick Overview
Foam and mesh upper for increased breathability
Zoom Air helps with responsiveness
Rubber, articulated outsole for maximum grip and versatility
The KD Trey 5's are an incredibly comfortable pair of basketball shoes appropriate for almost any use. Adding to the versatility of them, they could also be used as a fashionable pair for casual use on the street.
Focusing on the basketball qualities of this shoe, its mesh upper section helps the shoe be breathable and fresh on the inside, even on extended play sessions. Don't expect them to be air-conditioned-like but we've found these are some of the most breathable shoes available out there.
Nike's Zoom Air technology helps to increase responsiveness in quick movements and also helps soften strong impacts, such as when landing off high jumps.
Its rubber sole is durable enough for use in outdoor courts and other street surfaces. The deep articulated pattern on the sole allows a high degree of traction on almost any surface, further adding more versatility to these pair of shoes.
Under Armour Men's Team Drive 4 Basketball Shoe
Quick Overview
Full-length bootie design for greater support and stability
Reinforced lace loops for maximum durability
Great traction on any surface
External heel counter keeps your foot in place
Improved forefoot flexibility due to the toe wrap
Under Armour's Team Drive 4 shoes feature a full-length boot design that provides increased support and stability to reduce the risk of an ankle injury and also help with the recovery of it.
That said, the strongest feature of the Team Drive basketball shoes is its traction. The sole features a herringbone pattern that helps to get an amazing grip on any outdoor surface and even indoor slippery hardwood. The thickness of the sole also helps to be durable enough to stand wear and tear even on rough asphalt.
The external heel counter helps to keep the rear part of your foot in place as it reinforces the back of the shoe to prevent sliding and keep your shoe from moving around inside.
In conclusion, Under Armour has once again proved that they can make affordable basketball footwear while still providing quality and features present on shoes that are much more expensive.
What differentiates a great outdoor sneaker from a regular indoor performer?
At first glance, even high-level players might not notice much of a difference between great indoor and great outdoor basketball shoes. They do share a lot of similarities, but upon further review, there are a few things to look for when shopping for something that is built for outdoor play.
Rubber durability
This is probably the biggest difference between a shoe designed for indoor or outdoor use. The rubber soul needs to be extremely durable for a shoe to hold up outdoors. You can have the best materials on the upper, amazing cushioning and more, but a lightweight rubber sole won't stand a chance outdoors for very long.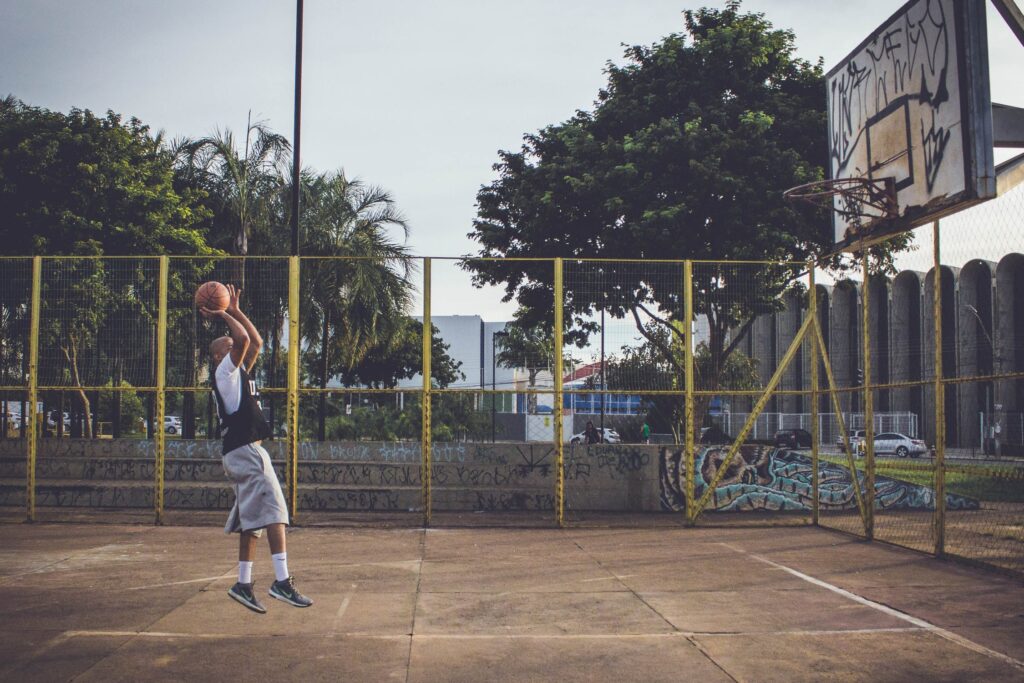 The rubber needs to be very durable, and also hard. This is going to protect the player's foot, and also allow for the soul to be worn down over time. Even the best outdoor shoes are going to wear out eventually, but a softer rubber soul can start showing smoothing after just a few hours of play.
Wide, deep traction pattern
It is hard these days to find two pairs of basketball shoes with the same exact traction pattern on the sole. While some companies do try to be a little bit creative with their sole designs, they also serve a purpose. Generally speaking, a wide traction pattern is ideal for outdoor use. The grooves also need to be deep. This is going to allow for the shoe to not smooth out as quickly as other options. It also is going to keep this you performing well even when it starts to wear down.
A traction pattern that is very shallow is simply not going to be able to hold up on outdoor courts. A lot of people prefer the touch and low to the ground feeling with shallow patterns, but they really only work indoors.
It's easier to slip and slide around with bad traction indoors. That's why a more intricate pattern makes sense. A pretty simplistic herringbone pattern, or variations of that, usually makes the best outdoor shoe.
Cushioning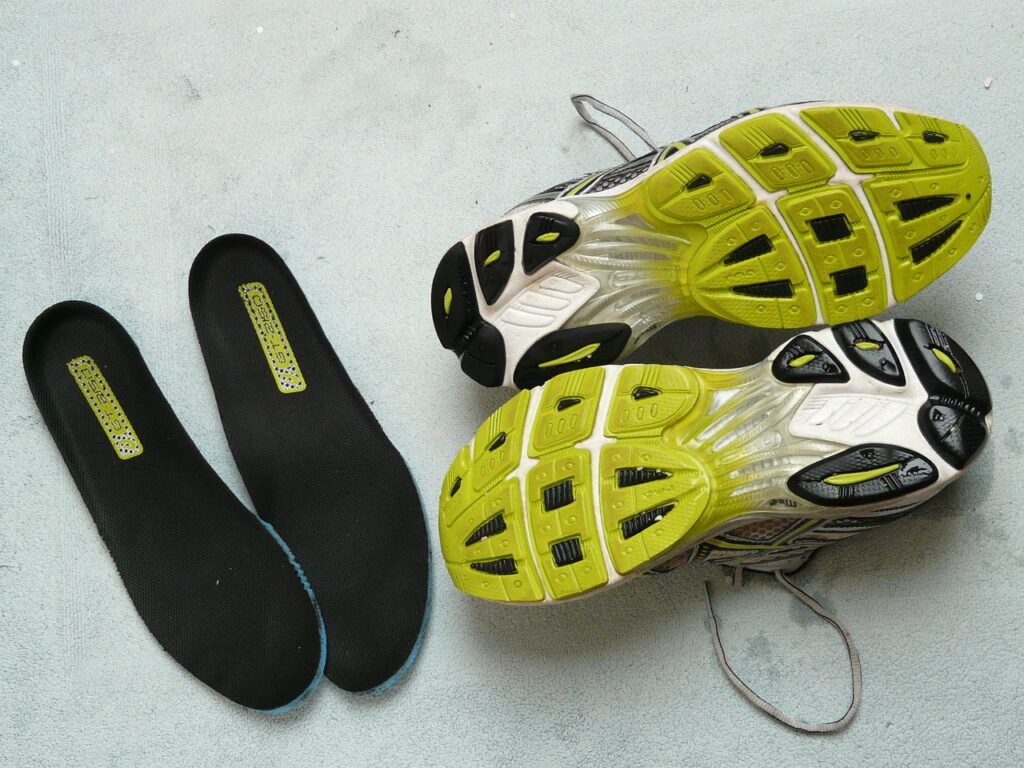 Outdoor courts are hard on shoes, but they are also hard on the body. In fact, a lot of older players will refuse to play outdoors simply because their body can't handle such hard and rough surfaces
Asphalt and cement have no give whatsoever. To protect the feet, and the entire body for that matter, cushioning is extremely important. The best outdoor shoes will have better cushioning and shock absorption players can rely on. This usually makes the shoe a little bulkier, but most are willing to make the trade-off.
Shoes eventually lose cushioning over time. That's why it usually pays off to invest in the best cushioning possible for outdoor use.
Price
Outdoor basketball shoes tend to be cheaper than indoor options. Paying a lot of money for outdoor basketball shoes is not smart, as they simply will not last as long.
Another reason why indoor basketball shoes are more expensive is that all the pro signature models are designed for indoor use. They can all be used outdoors as well, but it doesn't make a lot of financial sense if they constantly need replacing.
Save the best shoes for indoor play. For outdoor basketball, find shoes that have the qualities above, and don't be afraid to purchase a cheaper model.
Final Thoughts
Proper footwear is essential for all sports. Basketball players specifically are very prone to injury with all the running, jumping and cuts throughout the game. Investing in footwear for outdoor use not only keeps players safe, but it can improve performance too.