A few decades ago, it was extremely rare to find anyone wearing a mouthguard when playing basketball. While they have been used in sports like football and boxing for a long time, they are pretty new to basketball.
As more and more NBA players started to use a mouthguard, it quickly trickled down to other levels. Now, it is very common to see multiple people on the court at a time wearing mouthguards. In fact, many youth teams are even making them a requirement.
Best Basketball Mouthguards – Top Picks
Impact Custom Professional Sports Mouthguard
Custom-fit mouthguard
High comfort and exact fit
Excellent heavy impact absorption
Considerations when looking for basketball mouthguards
Before putting money down for a mouthguard, there are a few things to consider. It might seem like a fairly simple piece of equipment, but there are different brands as well as different types of mouthguards to consider.
Types of mouthguards
All mouthguards have the same goal: protect your teeth and skull from strong impacts. However, not all mouthguards are created equal. There are three different styles of mouthguards, with varying cost, comfort, and quality.
Custom-fitted
These type of mouthguards are made from an impression of your teeth to especially fit your mouth. These will adjust perfectly to your bite structure and are extremely comfortable to wear. Custom-fit mouthguards are also light and easy to speak with but they can be particularly expensive.
A dental clinic can charge up to $500 for the whole process of producing a mouthguard for you. This is a significant amount of money but it's worth it as a jaw or teeth injury is more expensive in the long term, not only financially but can also cause pain for many years.
Fortunately, now there are companies that offer ways to take your own mouth's impression and home and send it to a lab. With the Impact Custom Mouthguard kit, you can get a custom-fitted mouthguard delivered to you without ever stepping into the dentist. All for a significantly lower price than what a dental clinic would offer.
Boil-and-bite
As the name suggests, these types of mouthguards are made from special materials that get softened with high temperatures. Once the mouthguard is softened in boiled water, the person bites it strongly and uses their fingers to create a snug fit that adjusts to the teeth and mouth proportions accordingly. While not as comfortable as custom-fitted ones, the modern materials used in these adjust surprisingly well to any user's mouth.
Another benefit of this type of mouthguards is they can be re-boiled several times to change the shape of it and gradually find the mold that adjusts the best to your mouth and provides the most comfort. Of course, boiling it also disinfects it as we would want for anything that we're gonna be using in our mouth.
Stock mouthguards
While they are cheap and very affordable, they come in predetermined sizes and shapes and cannot be adjusted in any way like the boil-and-bite type.
Stock mouthguards still do a decent job at protecting our teeth and jaw from impact, and it's better than not wearing anything while playing, but they're impractical for basketball as they can fall out of the mouth easily and are not comfortable during long sessions.
Talking and breathing with your mouthguard
Basketball involves a lot of talking on the court with teammates. A mouthguard makes it difficult to speak clearly. Not only that, but it can effect breathing when first wearing a mouthguard.
In time, most players get used to wearing a mouthguard and make adjustments. A lighter and more comfortable mouthguard is going to hinder speech and breathing much less. Basketball mouthguards seem to be lower profile compared to ones used for football, boxing and other sports. Getting a custom-fitted mouthguard will make communication and speech easier.
Protection
Speaking and breathing with a mouthguard is important, but the mouthguard still has to provide enough protection to actually hold upon impact. A basketball mouthguard can help redistribute impact from the basketball, an opponent's elbow or any other type of hit to the mouth area.
Simply having any type of mouthguard designed for sports is going to significantly reduce the chance of a dental injury. A mouthguard protects athletes from chipping their teeth and even suffering from smaller cuts in the mouth.
Durability and Reusability
For a piece of sports equipment that is relatively inexpensive, mouthguards are very durable. They do need some proper care to increase their lifespan, but a basketball player can rely on one mouthguard for an entire season.
Anything that goes in the mouth should be cleaned on a regular basis. That's just good hygiene practice. It also keeps the mouthguard working properly and not showing its age. Rinsing and/or brushing a mouthguard off after every use only takes seconds. After it is cleaned off, store in a case and it will be clean and ready to go next time.
NBA players have the luxury of being a little more carefree with their mouthguards. Some of the best players in the world tend to let their mouthguard dangle out of their mouth a lot, drop to the floor and more. That doesn't really work for a lot of basketball players, because they can get pretty expensive having to buy a new mouthguard on a frequent basis.
Do all NBA players use mouthguards?
There are still some NBA players that can't play with a mouthguard, but a lot of the top players in the league realize the importance of protecting their teeth. Not only does it cut down on injury prevention, but it reduces the chance of their smile being ruined with just one wrong hit.
Big men adopted the use of mouthguards first, since play get physical down in the paint. Guards held out for a long time, since they have to call out plays and talk more in general. From Lebron James to Stephen Curry to Kevin Durant, the stars of the league aren't afraid to wear one during play these days.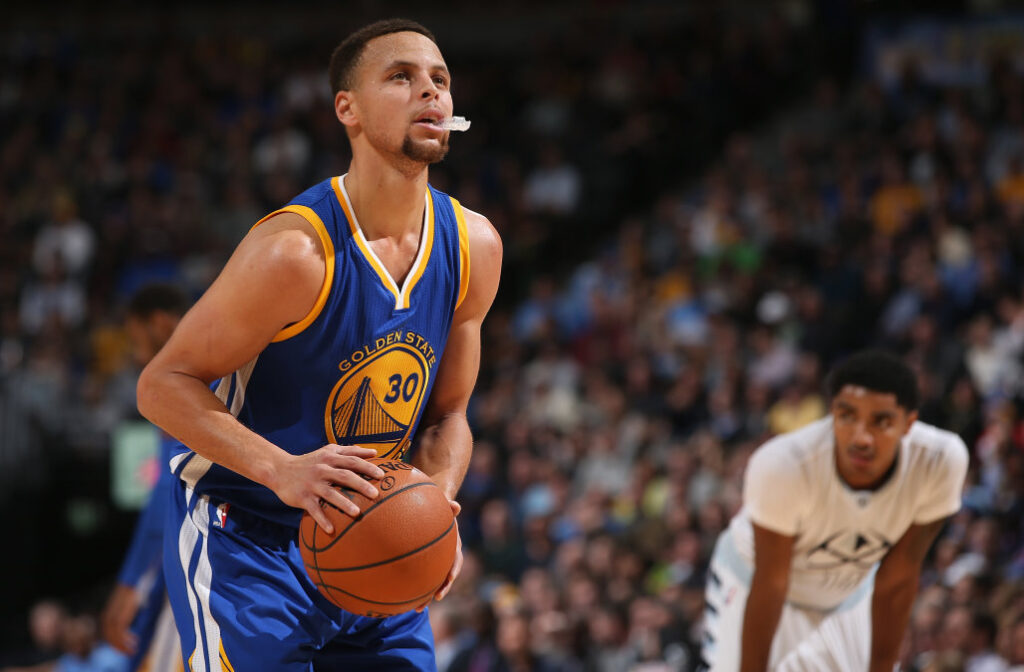 Unless the league passes a mandatory rule down the road, there will never be a time when every NBA player wears a mouthguard. There will always be players with an old-school mentality, labeling mouthguards as "soft."
The Best Mouthguards for Basketball
Impact Custom Professional All Sports Mouthguard – Best Custom Mouthguard
Quick Overview
Custom-fitted mouthguard
Unbeatable comfort and exact fit
Excellent heavy impact absorption with 5mm
Easy to communicate with
Perfect for any sport
Great value. A fraction of the price than what you would pay at a dental clinic
Normally when you wanted a custom-made mouthpiece, the only to get it was visiting your dentist, paying several hundreds and then hoping that their mouthpiece was durable enough to stand game after game.
The Impact Custom Mouthguard for professional sports changes that, for the better. For a much more accessible cost you'll get a fully custom made mouthguard. The best thing is you'll never have to step in the dentist to get it.
The Process:
When you order this product, Impact Mouthguards will send you a dental impression kit. The process is very straightforward, they include instructions and you can do it right at home. Don't be intimidated by this, if you have any doubts you can check YouTube instructional videos on how to do it. This process takes about 2 to 3 minutes to complete.
Once you have your mouth impression, you send it back to Impact Mouthguards using the prepaid mail label. They will process your impression, manufacture a custom mouthguard that matches your mouth exactly and provides incredible protection with little to no discomfort.
Our thoughts:
The Impact Custom Mouthguard its a great way to have a mouthguard made especially for your mouth and dental shape. It's superior to boil-and-bite mouthguards due to how well it adjusts in the mouth so and it is much more cost-effective than visiting your dentist to get a similar product.
SISU MouthGuards NextGen Aero Guard – Best Thin Mouthguard
Quick Overview
Boil-and-bite mouthguard
Thinnest boil-and-bite mouthguard available
Great for non-heavy impact sports like basketball
Air channels make breathing and communicating easy
Available in a wide array for colors
Backed by a $35,000 one-year dental warranty
At just 1.6mm thick, the ultraslim design of the NextGen Aero Guard is half as thin as most mouthguards on the market. The SISU Aero thinness makes it one of the most enjoyable mouthguards to wear.
This mouthguard comes as a completely flat piece of plastic, and few would recognize immediately its functionality. To bring the NextGen Aero Guard alive, place it in hot water for a minute. It will become soft and easy to adjust to the profile of your teeth and jaw.
The SISU Aero also boasts perforated air channels that make breathing and talking easier when compared it to other bigger, more intrusive mouthguards.
While its thin profile might have you worried about its protective capabilities, SISU has made extensive research to develop a material that is thinner while maintaining resistance. With Diffusix technology, the impact force is distributed and absorbed over a larger area, and this means that less impact force is transferred to your teeth.
In case you are still in doubt about the Aero mouthguard and want the maximum protection that a SISU mouthguard can offer, check out the SISU Max NextGen. The Max NextGen is built on similar technology, but it has a thickness of 2.4mm. It's designed for higher-impact sports such as Football but can provide you that extra peace of mind even when playing basketball.
SISU really stands for their products and offer one of the best warranties with their products. Their mouthguards are backed by a $35000 one-year limited dental warranty, which is a great addition in case something goes wrong.
Shock Doctor Mouthguard Sport Mouth Guard – Best Heavy-Duty Mouthguard
Quick Overview
Gel-fit silicone liner adjusts to your mouth
Integrated breathing channels
Heavy-duty frame that absorbs hard impacts effectively
Available in 16 different colors
Excellent for high impact sports
As their name implies, Shock Doctor is a well-known brand of protective sports gear. The Gel Max is made from a sturdy frame lined with a Gel that molds according to your teeth, providing comfort and high protection.
Just like boil-and-bite mouthguards, the Gel Max liner becomes soft that becomes malleable to fit your mouth when hot. It can be re-boiled to readjust it multiple times until you are comfortable with the way it adjusts to your mouth. You should bite hard and use your fingers when you do this to get a good adjustment.
The Gel Max Mouthguard is also offered in a flavored gel, which might not be to the liking of everyone but its great if you have a kid who refuses to wear mouthguards.
Overall, this is a great mouthguard if you're looking for the maximum protection possible at a relatively low cost. The main downside is its bulkiness. Its thick frame can make difficult to keep your lips completely closed, which can be a significant annoyance for some players.
Sparkling White Smiles Professional Sport Mouth Guard
Quick Overview
Boil-and-bite design molds to fit any tooth shape
Low cost, great value
2-pack. Two mouthguards are included.
Includes a carrying case
The Sparkling White Smiles Mouthguard is clear boil-and-bite mouthguard, meant to be as little noticeable as possible.
As the name implies, it is made from a see-through material in contrast to the more traditional, and very noticeable dark-colored mouthguards. It's thinner than most mouthguards, offering a design similar to custom-made ones at an incredibly low cost.
Overall, we recommend the Sparkling White Smiles Mouthguards for players looking for a low-profile, thin mouthguard that offers a moderate, but not very high amount of shock protection.
Redline Sportswear Mouthguard with Case
Quick Overview
Easy to use boil-and-bite design
Very affordable
Includes carrying case
Available in 8 different colors
Bulkier than other offerings
The Redline Mouthguard has a similar design to the Shock Doctor mouthguard. It features a strong plastic case with a gel liner that softens when placed in warm water. Be aware that this mouthguard shouldn't be placed in boiling water. If the water boiled, let it cool for a few minutes before placing this mouthguard in it.
It's a relatively bulky design, excellent for sports with high impact and basketball players more concerned about increased protection than having the lightest mouthguard possible. A nice addition to this product is the inclusion of a case for carrying it around. It definitely helps to keep it clean and ready to use.
Some final thoughts
Mouthguards used to be largely ignored in basketball. Now, athletes participating in any contact sport are realizing the importance of wearing one. Better technology has made wearing a mouthguard easier than ever, and NBA players are making them cool to wear for a younger generation.
Make sure to do research on a few different types before committing. A mouthguard for basketball should be very lightweight, and easy to talk with while playing the sport.