Need to up your game to the next level? Listening to music while warming up or casually playing is a great mood booster. LeBron does it, almost all the big players do. Bluetooth is a must as wires get on the way and slow down your game. Sweat and waterproofing are important as well to guarantee the intenal electronics don't get any moisture in them.
So what are headphones most appropriate for playing sports? Let's take a look at the best headphones for basketball:
Best Headphones for playing basketball – Top Picks
Headphones basketball players wear
Which headphones NBA players use? We all know LeBron is a big Beats by Dre fan, but what about the rest of the stars?
Curry, along with Heat's Justise Winslow like to wear the JBL Everest Elite 300. However, these are probably better for casually listening to music at home or on the go rather than when you're warming up in the court.
James Harden, Kevin Durant, and Steph Curry are seen frequently sporting PowerBeats by Dre. These are proper sports earbuds that are completely wireless, feature long battery life and sweat resistance.
Damian Lillard has mentioned that the JBL Everest Elite 700 are his favorite headphones. These are similar to the Everest Elite 300 we previously reviewed, but add a few extra features, improve sound and of course, they come at a more expensive price.
Best Headphones for Basketball
Beats Studio3 Wireless Headphones – Best Wireless Headphones for Basketball
Quick Overview
Over-ear headphones
Wireless Bluetooth connectivity
Up to 12 hours of playing time
Fast-fuel charging. A 5-minute charge can give you 1 hour of playback.
Active noise cancellation
Sweat and water-resistant
Weight: 1.9 pounds
The Beats Studio3 Wireless headphones are great all-round over-ear headphones with Bluetooth connectivity and even wired playing for when you run out of battery.
Basketball stars such as Lebron are big fans of Beats by Dre. He's often seen in the court warming up using these. Honestly, if they're good enough for Lebron, it means they're one of the best headphones for basketball out there. Other big names that have been seen using these include Kevin Durant and Blake Griffin.
The way they adjust to your head and stand constant movement without falling off makes them great not only for warming up but also playing casually.
Another great feature is their excellent noise-canceling capabilities, although you might want to turn that feature off when playing in teams, as it can make communication difficult.
JBL Everest Elite 300 NXTGen Bluetooth Headphones – Best On-ear Headphones for Basketball
Quick Overview
On-ear
Up to 10 hours of wireless playing time
Bluetooth 4.0 connectivity
NXTGen active noise cancelation
Sculpted ear cushions for best comfort
JBL is a very recognized name in the audio industry. If you've ever listened to music from a portable speaker, there is a very high chance it was a JBL.
The JBL Everest Elite 300 NXTGen are Wireless headphones with incredibly good audio and active noise cancellation. TruNote Audio calibration makes every note sound clear and defined. Sculpted ear cushioning makes them great for long periods of use.
Overall, these are great headphones with excellent audio quality. The only downside is the lack of sweat resistance, which is a weak point if you intend to use them more than just for light warmups.
AUKEY Wireless Earbuds, Key Series B60 – Best Earbuds for Basketball
Quick Overview
In-ear earbuds
8-hour battery life
Bluetooth 5.0 connectivity
USB-C charging
IPX6 water and sweat resistance
Deep bass, rich and clear sound
The Key Series B60 are Aukey's latest sport in-ear earbuds. They feature Bluetooth 5.0, the latest in wireless connectivity and 8mm drivers, for deep rich bass.
IPX6 water and sweat resistance make them ideal for sports. No need to worry about sweat damaging them, you can wear them up to 8 hours straight when playing without fear of damaging the internal components. The ear hooks ensure they won't fall off your head even in quick movements.
USB-C charging makes them practical for charging, as more smartphones and laptops are adopting this connector and making it easily available.
In conclusion, these are the best in-ear earbuds for basketball in the market. They don't feature noise-canceling but the low price makes them an excellent value pick.
JayBird X3 Sport Bluetooth Headset
Quick Overview
In-ear earbuds
8-hour playtime
Bluetooth connectivity with multi-point feature
Sweatproof
Compact design
When we talk about sports earbuds, JayBird comes to mind. The X3 Sport Bluetooth headset feature a compact design, that makes the earbuds as small as possible without sacrificing sound quality.
As their name implies, they're sport-oriented and with that comes sweat proofing. Hydrophobic nano-coating keeps humidity away from crucial electronic components.
8-hour battery life puts them right in the average endurance of in-ear wireless earbuds, still more than plenty for a few days of play sessions.
Bose SoundSport Pulse Wireless Headphones
Quick Overview
In-ear earbuds
Bluetooth & NFC connectivity
6-hour battery life
Built-in heart rate sensor
StayHear+ provide a secure fit and adjustment
IPX4 sweat resistance
The Bose SoundSport Pulse are excellent sport earbuds with some of the most advanced features seen in wireless earbuds.
NFC technology makes them quick and easy to pair with your phone. The built-in heart rate sensor is a very smart addition if you not only use them for basketball but for cardio workouts. We would like to see more sports headphones with heart rate sensors.
A nice addition to the sporty qualities is the StayHear+ ear tips. These ensure they won't fall off your ears during quick movements.
The only downside of these earbuds is the lower than average battery life. 6 hours of endurance is more than enough for most people but at this price point, we'd expect it to last longer.
Jaybird RUN True Wireless Headphones
Quick Overview
In-ear earbuds
Fully wireless
Up to 12-hour battery life
Sweatproof, water-resistant
Includes charging case
Quick charge. 5 min charge means 1 hour of playtime
If you're looking for truly wireless earbuds, with absolutely zero wires (like Airpods), the Jaybird RUN True Wireless Headphones must be considered for if you're going to use it for sports.
When the earbuds are fully charged and the charging case is fully charged, you can enjoy up to 12 hours of battery life on the go. The case acts as a portable battery that keeps your buds topped up.
The truly wireless nature of these earbuds makes them great for basketball and any sports activity in general. They're remarkably light and absolutely no cables will get on your way.
Sweat and water resistance let you stay worried about performing at your best without fear of damaging your headphones.
Anker SoundBuds Slim+ Bluetooth Headphones
Quick Overview
In-ear earbuds
Bluetooth 5.0 wireless connectivity
Up to 10 hours of battery life
Slim and lightweight build
IPX7 sweat and water resistance
Very affordable
With 10 hours of playtime, the Anker SoundBuds Slim+ are the slim and light earbuds with the longest battery life we've reviewed.
Other headphones might match the 10-hour battery life of these, but they often are bulky over-ear headphones not nearly as portable as these, especially important when looking for the absolute best headphones for basketball.
Bluetooth 5.0 ensures great connectivity so that you're able to leave your phone in your bag while you freely move around the court without fear of losing the connection.
Overall, the low price, rich bass and slim design of these make them an excellent candidate when looking for headphones truly oriented for sports.
Powerbeats Pro by Beats
Quick Overview
In-ear earbuds
Totally wireless
Up to 9 hours of listening time, 24 hours with charging case
Powered by Apple's H1 chip
Secure-fit ear hooks keep them in place no matter how hard you go
Sweat and water resistance
The Beats Powerbeats Pro Totally Wireless Earbuds are earbuds for athletes with a great endurance due to the included charging case.
With up to 24 hours of play-time when carrying the charging case, they are easily the longest-lasting wireless earbuds we've reviewed. When you don't have the carrying case in hand they are able to last up to 9 hours of playback, which is still a very respectable figure.
Apple's H1 chip makes them extremely easy to pair and with iPhones, for a hassle-free experience.
As expected from headphones oriented for sports, these offer sweat proofing and water resistance.
Plantronics BackBeat FIT 500 On-Ear Sport Headphones
Quick Overview
On-ear headphones
Bluetooth wireless connectivity
Wired listening option with the included cable
Up to 16 hours of battery life
40mm drivers for rich, deep sound
Nano-coating sweat resistance
If you prefer on-ear headphones, the Plantronics BackBeat FIT 500 Sport Headphones offer great rich sound, amazing battery life and sweat resistance at a very affordable price.
40mm drivers and advanced acoustic design provide a deep, rich listening experience that rivals much more expensive headphones.
The 16 hours of battery life are pretty impressive. They can last a few long sessions of playing without even worrying about them dying when you need music to stay motivated and on top of your game. If this battery endurance is not enough for you, these include a cable for wired listening as well.
Anker SoundBuds Curve Wireless Headphones
Quick Overview
In-ear earbuds
Bluetooth 5.0
18 hours of continuous playtime
Adjustable ear-hooks for a secure fit
IPX7 sweat and waterproof casing
With a design that resembles very much the PowerBeats, the Anker SoundBuds Curve are in-ear buds excellent for intense warmups or plays, as the ear-hooks keep them adjusted to your ears consistently.
Perhaps the most impressive spec of the SoundBuds is the 18-hour battery life. That is definitely their strongest feature, especially considering their low cost.
Overall, these are solid earbuds if you care more about battery life than lightness or attractive design.
Considerations when looking for the best headphones for basketball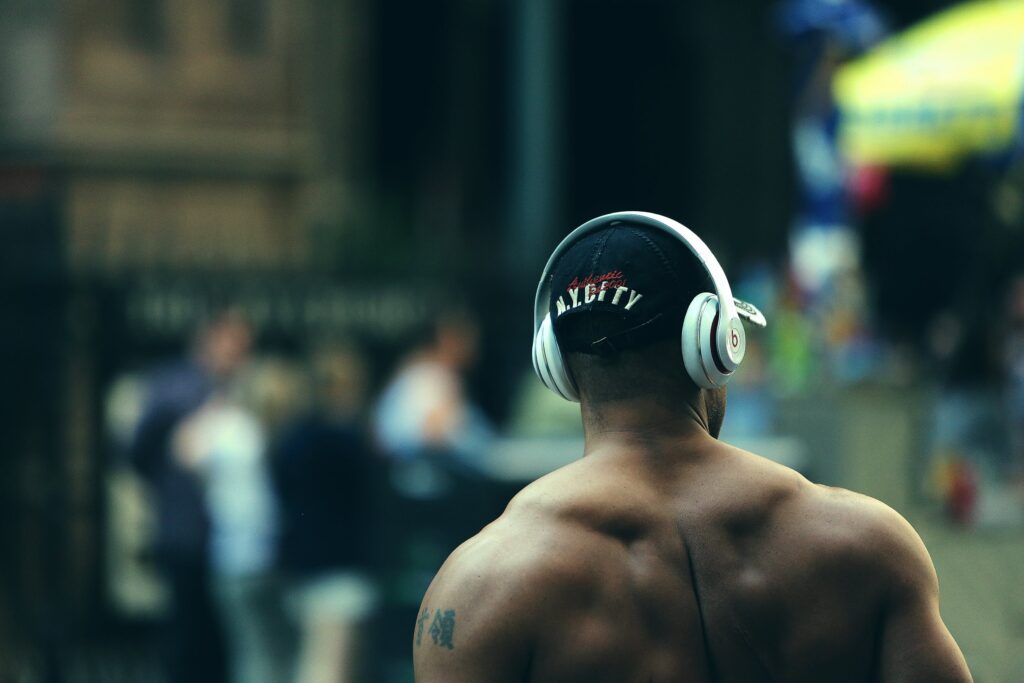 Sweat resistance
Possibly the most important factor when looking for the best headphones for sports. We need them to resist hours and hours of sweat in the most intense workouts.
Noise cancelation
Noise cancelation feels like magic sometimes. It truly isolates you from your environment. This is great if we're just playing by ourselves, perfecting our 3-pointers.
However, when playing in a team you'd want to turn this feature off. Active noise canceling can really impair communication as it muffles the voices of those around you.
Wireless capabilities
Along with sweat and water resistance, this is a crucial feature for headphones that are going to be used for basketball. Having cables get on the way not only slows you down but you also risk damaging your headphones and even your phone.
Ease of cleaning
After many sweaty basketball games, we'd eventually want to clean our headphones. Ear wax can build up quickly if you're using in-ear earbuds while playing sports or working out and the sweat could make them smell bad.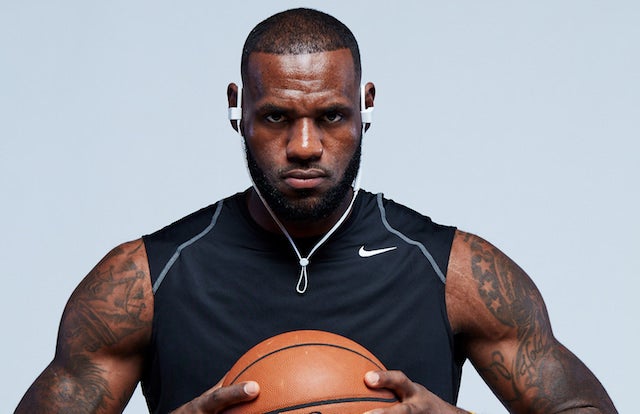 Clean them with a light cloth and some water. Do not submerge any headphones or earbuds in water even if they're water-resistant, this doesn't mean they are waterproof.
Playback controls
It's a good idea to leave your phone on the ground or on the bench when you're playing. It not only makes you more agile as there's less bulk on your pockets but you also don't risk dropping your phone.
Final verdict
A great pair of earbuds can really improve your basketball warmups. Nothing like pumping your favorite beats while practicing 3-pointers. It really makes you more inspired and energetic.
If you're looking for a truly sporty pair of earbuds that won't break the bank and still, the Aukey Key Series B60 Wireless Earbuds are remarkable and one of the best options in the market.