It's a beautiful day out and you're enjoying a great round on the disc golf course. You're about to make another great shot but, bam. Another pair or running shoes is teared up.
Like other outdoor sports, disc golf is well known for eating up shoes. Playing with regular running shoes might seem like a good idea but the constant rotation, dragging and planting that our feet endure while out in the course can quickly wear and even destroy regular pair of shoes. After a few rounds, fabrics will start coming undone, and the thread will begin to wear unevenly.
If you're enthusiastic about disc golf, it may be about time to consider a shoe designed to endure uneven terrain and constant plant rotation. Not to mention the improved stability that such type of shoe can provide.
Best Shoes for Disc Golf – Top Picks
Best Disc Golf Shoes Reviews
1. Adidas Terrex Swift R GTX
We shall first review the Adidas Terrex Swift R GTX. Manufactured by the mainstream brand Adidas, this product is one of the most popular shoes for hiking and trekking, due to its robust, rigid construction.
The Adidas Terrex Swift R GTX has a midsole adiPRENE insert which gives you the right level of support and comfort so to comfortably wear this shoe all day. The interior material is soft and easy on the skin. The manufacturer says this piece of footwear can even be used with no socks. To further increase the level of comfort, they feature a molded sock liner. The midsole also helps in the absorption of shocks or sudden jerks that might happen while playing. It also has a lining of GORE-TEX, which provides extended comfort to the player.
As far as the outsole is concerned, it is made out of Traxion rubber, which provides a good level of grip, which is another determining factor for choosing the disc golf shoes. It is also durable and lasts for a long time as compared to other disc golf shoes. It's another pertinent feature is that it is one of the most lightweight shoe and suitable for playing in every climate and location.
To sum up, Adidas Terrex Swift R GTX is a lightweight, durable shoe which provides a good grip and best fit to the layer. It also provides enhanced comfort level to the player making it one of the best disc golf shoes.
2. Latitude 64 Chain Wear T-Link Disc Golf Shoe
Next on our list is the Latitude 64 Chain Wear T-Link Disc Golf Shoe. This shoe is manufactured by the famous brand of Disc Golf accessories Latitude 64; therefore, it is designed specifically for the needs of disc golf players.
The outsole of these shoes has a rough sole. This sole can work on every surface, be it gravel, concrete, mud, or grass. Having a durable outsole its very beneficial for toe draggers, but any disc golf player can be thankful due to the nature of the sport and the feet movements that are involved when throwing a disc.
Lets now move on to the insole part. A comfortable insole is very important if wearing the shoes for extended periods, or if running and walking long distances. This pair of shoes has midsole support. The interior material is comfortable; we find that this product delivers for players looking for comfortable shoe specifically designed for disc golf.
Another advantage of this pair of shoes is that they are entirely waterproof. It features a middle-layer between the outside and the inside of the shoes that help keep the inside of the shoe completely dry. So don't let wet, muddy grass ruin your day at the course again. These shoes will provide you with all the protection you need from the elements.
They're available in different sizes, but we noticed the size selection is limited when compared to the offerings of more mainstream brands like Adidas.
In conclusion, Latitude 64 Chain Wear T-Link Disc Golf Shoe has a rough sole which can work on any surface and is very soft and comfortable to wear. They are waterproof, have lots of grip, and are specifically designed for disc golf players.
3. PUMA Men's Titantour Ignite Hi-Top Se Golf-Shoes
Inspired by Ricky Fowler, an American professional golfer, this cleated shoe offers a modern look with its hi-top silhouette. The shoe is designed in such a way which provides a tight fit around the whole foot of the player.
PUMA Men's Titantour Ignite Hi-Top Se Golf-Shoes is made up of full-grain leather upper that is waterproof and lightweight. The manufacturers provide a 2-year waterproof warranty. It is available in two colors giving the customers an option to choose.
It has a hi-top design and support collar around the ankles which gives it a tight fit at the top even. To ensure that the player has the best fit. Another significant advantage and a unique feature of this product are that it has a synthetic sole and perforated pigskin lining, which offers a supple touch against the foot with creating a breathable foot environment.
Adding on to the list of unique features, the product has an IGNITE foam which offers responsive energy return and comfort. Also, the Duoflex in the shoe improves natural movement and provides support.
Overall it may be said that PUMA Men's Titantour Ignite Hi-Top Se Golf-Shoes provides a good fit and is waterproof. This product provides comfort and support to keep your feet happy and your performance at its top.
4. KEEN Men's Saltzman Waterproof Hiking Shoe
KEEN is one of the official partners of the Disc Golf Pro Tour, so despite the name of the shoes suggesting that they are hiking shoes, KEEN accessories are recommended for disc golf players. It is a shoe with toe cap or a toe guard, by whatever name it may be called for the protection of the toe, making it a comfortable shoe, especially for the toe-diggers.
The Keen's waterproof breathable membrane which makes it a good option for the disc golf players to invest their money on. It is also durable. Its rubber sole provides comfort to the players.
Adding on to the features, it has lugged outsole for traction and grip. The outsole maintains the grip even at the wettest location.
To sum up, KEEN Men's Saltzman Waterproof Hiking Shoe is the best shoes if a player chooses based on the weather and climate. This is because it provides the best grip even in the rainy season. It also has a toe guard which offers additional protection.
5. Adidas Outdoor Men's Terrex AX2R
The last shoes in the list of the best disc golf shoes are Adidas Outdoor Men's Terrex AX2R. It is a perfect combination of high-quality brand name and comfort.
It is a very flexible and stable shoe. The makers of this shoe have kept in mind, the requirement of the target segment. People want comfort, and lightweight is something which adds on to the comfort of the shoes.
The Adidas Outdoor Men's Terrex AX2R has an advanced technology inside it, called the 360wrap, which provides overall support to the foot. It is a round toe which provides a natural fit. It also has a whole new heel construction which provides a phenomenal look and feel.
All things considered, the Adidas Outdoor Men's Terrex AX2R is a high-quality shoe providing a perfect combination of brand name and comfort. It is a lightweight product, very flexible product, and has all-around support.
Factors to consider with Disc Golf Shoes:
Disc Golf is pretty rough on footwear; we are all aware of that. A pair of shoes specially designated for the sport is a good investment that will pay itself due to the increased durability of our footwear.
Comfort is a crucial factor when buying shoes for any sporting activity. However, we must consider two additional factors: stability and durability. Throwing a drive requires having a stable posture and maintaining it while the disc is still on our hands. Shoes with a stable base will help enormously with that task. We also need to remember that disc golf is rougher on footwear than just jogging around, so shoes that can keep their shape on uneven terrains and hard, sudden movements will last a lot longer than just any comfortable pair of shoes.
Other factors you might consider when purchasing a new pair of disc golf shoes may also include weight, water resistance, materials, grip, and sole technology. Lighter shoes are easier on your feet when worn over long periods, but we must not compromise stability and durability for the sake of a slightly lighter shoe.
Water resistance is a must for more players, as grassy disc golf courses can often be wet from the rain from the night before. Playing an entire game with wet shoes and wet socks is far from being a pleasant feeling. Unless we explicitly point out the lack of it, the shoes we recommend all have some degree of water resistance.
Hiking shoes vs. golf shoes: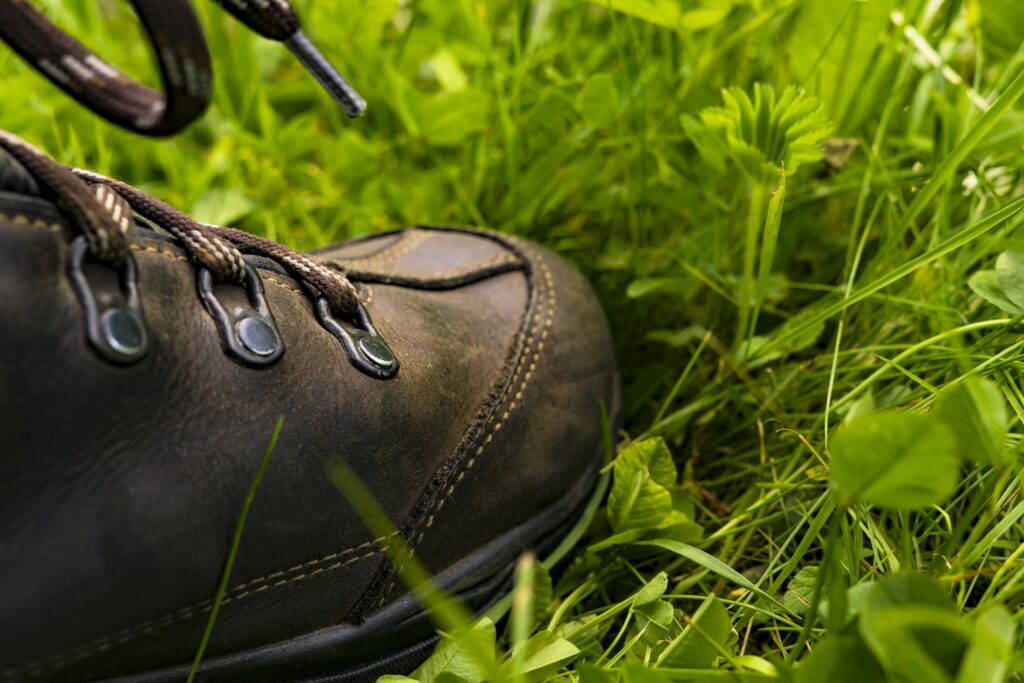 Shoes designed specifically for hiking and running on trails are built to withstand abuse and generally considered the roughest shoes around. They are designed to get dirty, wet, and your feet won't suffer as much when playing on rough, rocky terrains. Not to mention they are always waterproof.
On the other hand, golf footwear is built lighter and from more breathable materials, which helps if playing in hot and humid as our transpiration from our skin won't be trapped in the shoe. The downside of breathable materials is they are not as water resistant as synthetic fabrics, so they might not stay completely dry on dewy grass.
It's a good idea also to consider the environment you play in when looking for new shoes. If you live in the south-west, it might be good to prioritize breathability over water resistance, as dewy, humid mornings are not a common occurrence. On the other hand, if living in the north-west or the south-east, dewy grass and rain are very usual occurrences so you should prioritize water-resistant shoes over others.
Find a good balance between comfort and isolation from the elements depending on your needs.
The importance of grip:
Balance and stability are essential in disc golf. Proper footwear helps immensely to remain in position while executing a throw. Long distance throws can be challenging with improper footwear or wet conditions. Our body moves rapidly, and if our feet can't maintain grip with the ground, the throw will be less than ideal.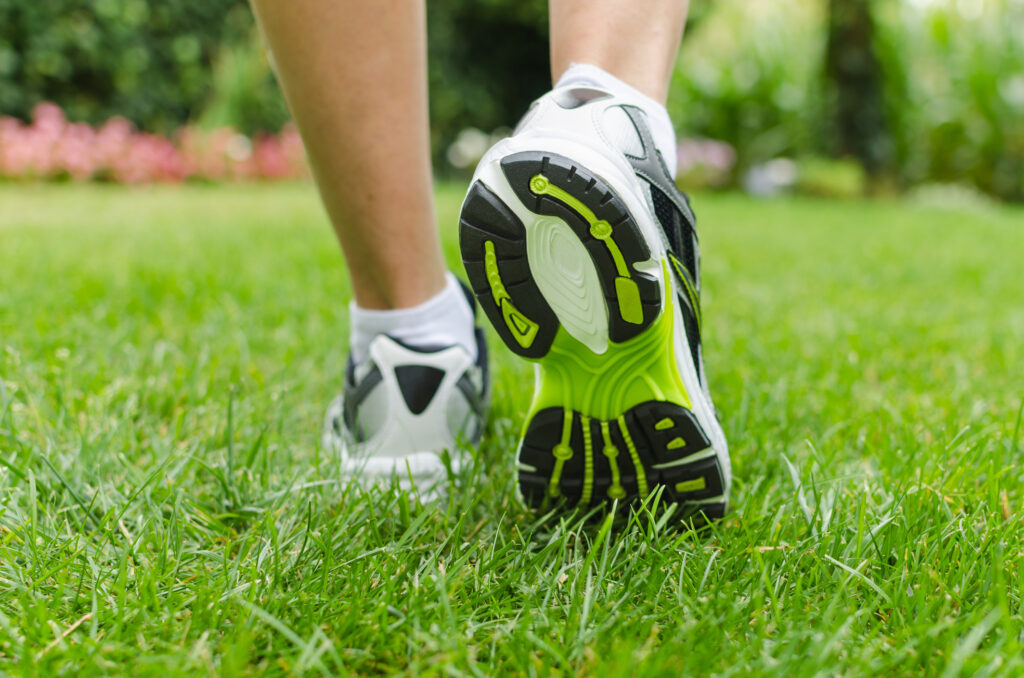 Apart from the added stability, one of the main advantages of having grippy shoes is the added confidence it gives you as a thrower. Being able to throw a drive as far as you want without worrying about tumbling over and falling is a very satisfactory feeling.
Choosing the right size:
Going for your regular shoe size isn't a bad idea. The same size on different brands can variate in size and shape, but we all have a rough idea of what size fits our feet best.
If you're indecisive between two different sizes or even half-sizes, we recommend you go with the smaller size. After all, we want the best stability and support, and the last thing we want is our foot slipping inside the shoe. The right size will make your shoe, and your foot feel connected. This doesn't mean the shoes should feel too tight – overly tight footwear will lead to pain and discomfort over sessions.
What are the best disc golf shoe brands?
Some of the best disc golf shoe brands are what we consider as traditional shoemakers. Even though they aren't necessarily specialized in disc golf shoes, most hiking shoes and golf shoes can be used for this sport.
Here are the best disc golf shoe brands:
Adidas, Puma, Under Armour for sporty-like shoes.
Keen, Latitude 64 if you prefer hiking shoes.
Conclusion
In closing, People have different comfort levels, and they prefer different fits of shoes. Some people like the running style shoes more than the hiking style shoes because they are a little bit lighter on the lower profile.
Choosing the best type of shoe is a personal preference. Depending on the personal choice, one may go through the review of the products mentioned above and choose the best one depending on their need.