Who doesn't love a sunny day on the golf course? Nothing better than spending the day playing a few games of disc golf.
Unfortunately, going to the golf course whenever we want to play is not convenient for some of us. Time, work, friends, family, or events can get in the way sometimes.
As much we'd like to head to the golf course whenever we feel like playing a quick game, it's not always possible.
Disc golf is a very versatile sport, and a is a disc, and a basket (or target). This is when portable disc golf targets or disc golf practice baskets come handy.
Portable disc golf target baskets let us bring the satisfaction of nailing a throw to almost any place, even or backyards! Any open area becomes our training course.
We'll review a few of the best portable disc golf baskets. We'll go over some of their characteristics and note their pros and cons, for those who want to pick one quickly.
Disc Golf Basket Reviews
There is a wide range of offering for targets. They can vary widely in price, weight, and similarity to PDGA approved baskets. Here are five of the best models, find out which one accommodates best to your needs. First, we will go over the best portable disc golf baskets, and then we'll review a few permanent disc golf baskets. Let's begin.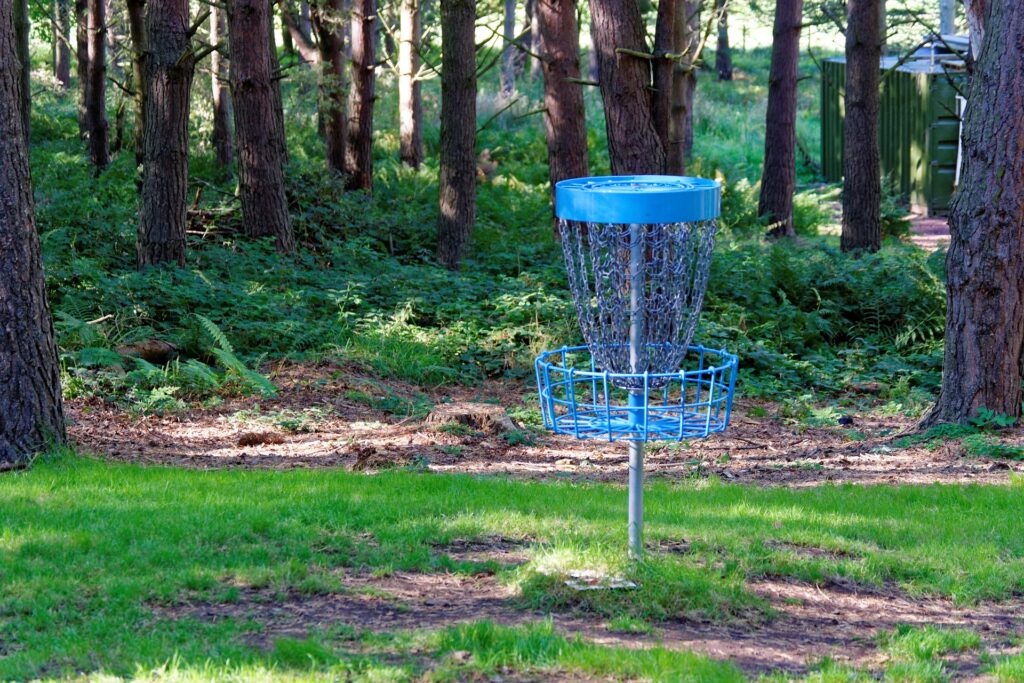 Best Portable Disc Golf Golf Baskets
DISCatcher Traveler Target by Innova
This target is explicitly meant for players looking for portability and ease while traveling. It can easily be set up just about anywhere; it's great for the park, camping areas, or simply your backyard.
Innova's DISCatcher main advantage is that it is collapsible. It won't take much space in your trunk when collapsed.
Another considerable advantage is the light material it is built from. It weighs only 15 pounds, making it lighter than most of the other offerings in the market. However, due to the target's low weight, there can be some wobble when landing quick shot.
Overall, the DISCatcher provides an excellent balance between portability and realism. Despite having only 12 steel chains, most players describe this target as one of the best portable baskets for disc hockey. It's regulation size and solid build provides a close simulation to real targets.
MVP Black Hole Pro 24-Chain Portable Disc Golf Basket
The Black Hole Pro by MVP attempts to emulate a real course target in the closest way possible. It has 24 chains coated in zinc. 12 inner chains and 12 outer chains can reduce cut-throughs and bounces significantly.
This is a portable target but it's designed to feel more like a real basket. It has a very sturdy design, and at 25 pounds of weight, it provides a lot of stability. It's completely made out of metal, and all its joints are welded. It is not foldable, but its durability and high-quality construction more than make up for that.
Despite not being able to be folded, it is a portable target after all, and the manufacturer claims that it takes less than one minute to set up. No tools are required.
It only comes in one color, black. This can be a disadvantage when playing in dark environments or playing in the woods. It doesn't include a wind-revealing fabric or flag.
The only real drawback of this target is the price. It's more expensive than the alternatives but if you're looking for the best possible feel in terms of portable disk baskets, this is your best option.
DGA Mach 2 Disc Golf Basket
This target is as realistic has it gets in terms of fully portable targets. It has the closest characteristics to the regulation targets.
It's almost six-feet high at the top of the flagpole, but it boasts adjustable height to accommodate every type of player. Its diameter is slightly wider than conventional disc golf goals.
The Mach 2 is entirely weather-proof. Being made of galvanized steel provides longevity and durability. The downside of the size and the build materials is its weight. At 40 pounds it can be cumbersome, especially if carrying it longer distances.
It stands by itself on a platform, but if more stability is needed or if you plan on making it a permanent target, it can be anchored to the ground.
Axiom Pro 24-Chain Disc Golf Basket
The Pro 24-Chain Basket by Axiom differentiates itself for its high visibility. It can be had in a wide arrange of colors (8 different colors), and most of them can provide excellent visibility in almost any weather condition or setting.
It provides a very realistic experience with its 24-Chain design. 12 inner chains and 12 outer chains guarantee zero weak pockets, almost eliminating cut-throughs and bounces.
It has fantastic portability since it can be disassembled in a few smaller parts and comes disassembled from the manufacturer. Once taken apart, it fits in a 26 x 8 x 26 inches box. Very convenient for transportation.
According to the manufacturer, it is built to standard PDGA size and height. This assures that the target will provide a realistic feel, closely resembling real targets.
MVP Black Hole Practice 24-Chain Portable Disc Golf Target
The Black Hole Practice Portable Target is another offering by MVP. Its main difference compared to their Pro alternative we talked about earlier is the ability to be disassembled. On the one hand, this makes the target more portable, which is great if your focus is only portability. However, not being soldered can make the target feel less "solid" and not as realistic as a welded basket.
Despite its disadvantages, this is no toy basket. It is wholly built to PDGA height and size standards and offers 24 high visibility zinc coated chains.
For a very portable basket, it provides a very respectable pro-feel without being too bulky or too heavy. In general, the 24-Chain Black Hole Practice is a great basket for beginners.
Yaheetech Portable Disc Golf Basket
Beginners might be looking for a basket that is more than appropriate to use but also leaves them with extra money for other disc golf accessories. The Yaheetech aims to this target segment with a very affordable metallic basket.
Its main downside is the low number of chain strands. With only twelve of them, there is a chance that some of the shots can blow through the chains. However, this makes the target lighter, therefore easier to transport. This target can be disassembled, making it easy to transport anywhere.
Overall, for casual players that are just getting into the sport and don't want to spend a lot of money upfront, this would be a fantastic pick. More competitive players might want to opt for one of the 24 chain baskets that'll do a much better job at catching putts.
Dynamic Discs Marksman Disc Golf Basket
The Marksman by Dynamic Discs is a target oriented for players wanting to be better putters. Its relatively small chain area will force you to get those shots closer to the center of the basket.
Repeatedly aiming for the center of the basket and having reiterated putts over and over can will improve the confidence and mental sharpness of any player. Repetition is the mother of all learning.
According to the manufacturer, the basket is electrophoresed and powder coated for protection from natural elements. Despite being built with weatherproofing in mind, permanent outdoor installation is not recommended as prolonged exposure can compromise the basket's integrity.
Transportation is easy as the pole can be disassembled in two parts. Even a small sedan can carry this basket with ease.
We would like the Marksman being offered in other colors other than black, as dark colors can make visibility harder in environments with trees. However, this target would ideally only be used in close-up distances and visibility won't be a big issue.
Driftsun Sports Portable Disc Golf Basket
Another great alternative for beginner players or families looking to casually play is the Driftsun Sports Portable Disc Golf Basket.
It's made with light-duty steel which gives it a lightweight build without compromising stability or durability. It is also made conforming to PDGA regulation size to ensure it resembles pro targets and your practice is meaningful.
Compared to other alternatives oriented to pro-players, it has a relatively low number of chains at only 12. However, the chains have a heavier gauge, which helps in reducing cut-throughs and bounce outs.
Adding to its highly portable build, this target can be disassembled into two sections for simple transportation.
Best Permanent Disc Golf Baskets
Be aware that the permanent baskets we will go over today are meant to be fixed in one place for most of the time. This doesn't mean that once installed the target cannot be moved to another location; however, due to to their size and weight, it is impractical to be constantly transporting these targets.
Catch 21 Course-Quality Permanent In-Ground & Portable Disc Golf Target
The Catch 21 is a PDGA Championship-Approved 30-Chain Basket. Its the absolute closest a disc golf basket can get to a championship-grade target. Possibly the best thing about is it can either be fixed to the ground permanently, and it also includes a base if you have a vehicle big enough to carry it around.
It's cumbersome and very heavy, weighing 70lbs, but if you are want to bring your PDGA championship-grade everywhere, it can be done.
The 30 strands of chains are made of galvanized steel and tested up to 600lbs. They are arranged as 15 outer chains and 15 inner chains and are exceptionally firm to give you the best possible experience and pro-level realism.
Apart from the chains, the whole structure is hardened steel that has been hot-dipped for maximum rigidity and durability. It can be left permanently installed outdoors without fear the structure rusting or degrading.
Visibility is adequate for any environment. The orange makes it easy to spot virtually anywhere and on any weather conditions.
All around, this is an excellent choice for more experienced players looking for a basket that fully emulates the solidity and rigidity of a professional target. It is heavy and bulky, but this is understandable as its meant to be permanently installed somewhere or only transported every few months.
Dynamic Discs Patriot 26-Chain Disc Golf Target
Another solid target for players looking for a fixed target is the Patriot 26-Chain Disc Golf Basket by Dynamic Discs.
The Patriot Basket is PDGA-approved for championship level games. It features the same quality as their Veteran Basket, boasting 13 inner and 13 outer galvanized chain sets.
Dynamic Discs also offers a portable version of this basket with a wheel base. Unfortunately, the in-ground install variant and the portable variant are sold separately. It would be great to see the portable wheel and the in-ground installation set in the same package for players who are looking for some extra versatility.
To conclude, this is another excellent basket for players that might like to practice with a target commonly found in disc golf courses.
Choosing the Best Disc Golf Basket
Disc golf outside official disc golf courses can vary in characteristics. This depends on the use that is going to be given to it and the needs of the player.
Usually, the more portable a basket is, the less realistic it feels. However, we've found that even the most portable targets generally provide a realistic experience that a lot of people wouldn't expect from a foldable and light basket.
Some factors to consider
Do portable baskets feel realistic?
For the most part, any portable disc golf basket can satisfy the needs of disc golf enthusiasts. Even the lighter models made from composite materials and with only 12 chains are moderately weighted targets, more than appropriate for the needs of most players.
However, if you consider yourself more than just a casual player who picked up disc golf as a hobby, we recommend opting for the "Pro" models as they emulate professional-grade fixed targets such as those found in disc golf courses used in competitions.
Even if you don't opt for one of the pro variants, we recommend you at least choose a 24-chain variant. 12-chain baskets are more than appropriate for casual playing and soft throws, but the "feel" of a drive hitting one of those baskets it's not the same, and the lower chain density can make some harder throws could make the drive pass entirely through the chains. We don't want that in any situation.
Portability
A target with a high degree of portability is built with thin, composite metals and often, plastic in some segments of the structure. This assures the whole structure is light and easily carried by just one person with little effort. Some of these are even foldable to be easily carried in the trunk of a small car. No need to have an SUV or a pickup truck to transport these around.
On the other hand, there are baskets built from the same materials as pro-level baskets. That is galvanized stainless steel. This material is not particularly light, but it offers incredible levels of rigidity, stability, and durability. They can also be attached to the ground if you need incredible stability for powerful shots. If you're looking for the most realistic portable disc golf basket, we recommend going for one of these. These baskets won't offer the best portability but don't let that stop you from considering getting one. MVP claims that their Black Hole Pro 24-Chain Portable Disc Golf Basket can be assembled and disassembled in under one minute.
It's all about finding the right balance between portability and resemblance to professional-level baskets.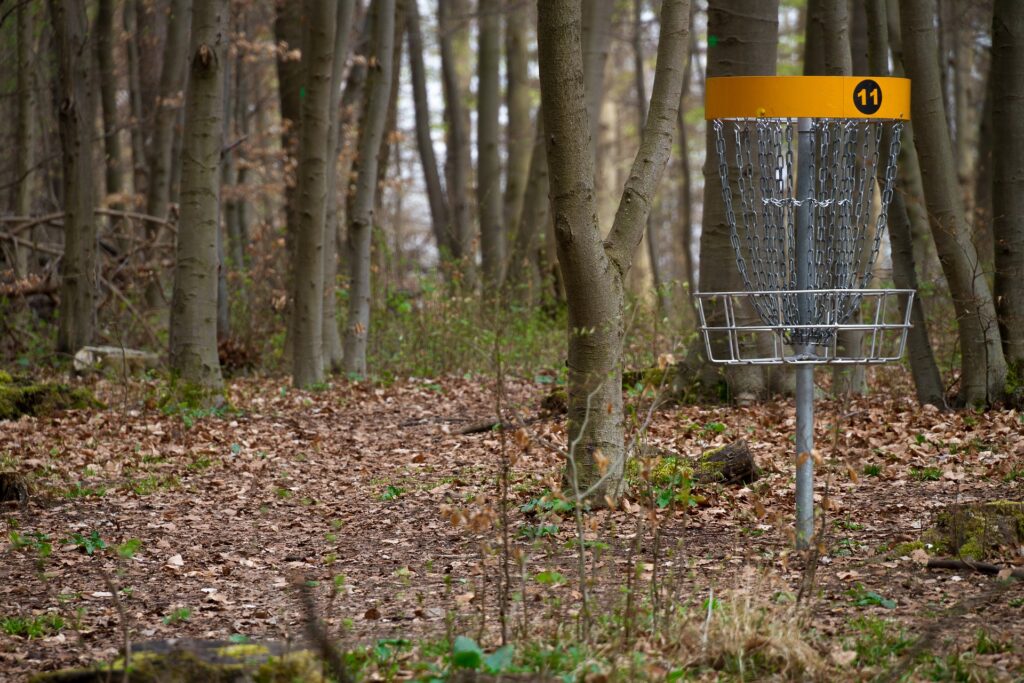 Basket Materials
Baskets manufactured from hybrid materials, such as a mix of lightweight metals and mesh fabric can be very lightweight and easy to transport from one location to other but aren't as durable and resistant to the elements as disc golf baskets made entirely from galvanized stainless steel.
If a basket is manufactured out of pure steel, it also tends to be more expensive. A thick sheet of stainless steel and thick chains is more costly to produce than other baskets made out of composite, lightweight materials.
If you plan on keeping your basket in a single location or if you intend to move it every few months, we recommend you opt for the heavier fully-metallic models. On the other hand, if you plan on using your basket like a truly portable target, to casually play on picnics or camping trips, opt for the hybrid models as they are lighter and easier to transport.
Number of chains
Before anything, we have to have in mind that PDGA standards require baskets to have 24 chains to be considered professional-level practice targets. If we are looking for the most realistic experience, we must opt for the 24-chain alternatives.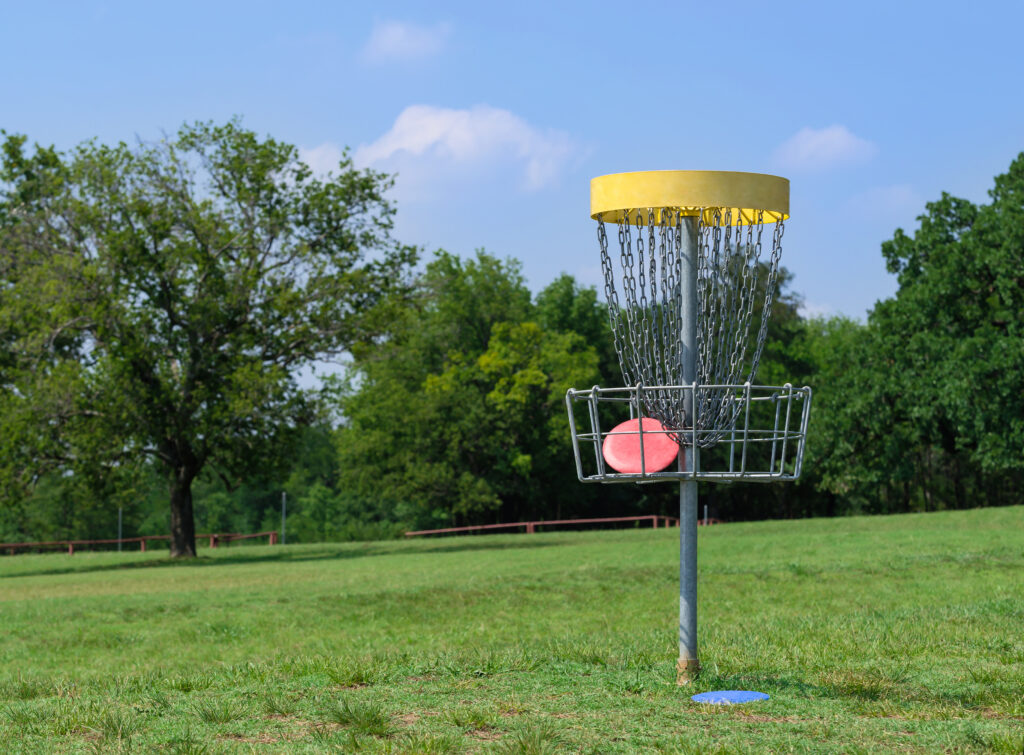 12-chain baskets are a more practical alternative when looking for a truly portable, lightweight targets. They do not offer the same level
If you aren't sure which basket to opt for between the previous two, there are also 18-chain portable baskets. We've found these baskets are an outstanding balance between the portability and practicality of 12-chain baskets and the authentic experience that 24-chain baskets offer.
Our final thoughts
Disc golf is an immensely enjoyable game. Nothing better than a full day in the course under the sunshine and calm winds. Unfortunately, this is not always possible. Responsibilities can take over, and not everything in life can be disc golf.
Portable disc golf baskets let us enjoy the disc golf experience virtually anywhere as long as the weather permits. There is a wide variety of them. Some are extremely portable as they can fold and are made of light materials; however, this compromises realism and stability. Others compromise portability favoring a very realistic experience that gets close to professional-level fixed baskets.
Our recommendation would be to choose the most portable one that is still adequate for your skill level. Getting a very portable one (ex: foldable) to then find out it is not realistic enough for your needs.
Have any suggestions? Know any other excellent baskets not listed here? Please let us know below. And don't forget always to enjoy yourself out there!
Related: Best Disc Golf Bags