As you get more experienced with disc golf, you'll find that your collection of discs will continue and continue to grow. This is completely normal, different discs have different uses and you'll be more likely to value the specialization of each of the drives.
Plenty of players have five, ten, and it's not uncommon to have 15 or more discs in your arsenal. At this point, it's unrealistic to be able to carry all the drives by hand. Two hands can only take so many discs. It's about time to invest in a bag!
Let's take a look at the best disc golf bags and some of the factors you should consider when choosing between different alternatives.
Best Disc Golf Bags – Top Picks
Disc Golf Bag Reviews
We looked at some of the best disc golf bags in the market and we're excited to bring you a quick overview for each one. We'll also tell you about some of the pros and cons of each bag.
Dynamic Discs Trooper Disc Golf Bag
Pros
Material quality is top-notch
Highly spacious
Has various compartments for different uses
Cons
Only one beverage compartment
The Trooper Disc Golf by Dynamic Discs continues to be one of the most commercially successful disc golf bags.
It features double vertical pockets. The main storage area is placed horizontally, and it has a capacity of up to 18 discs, and the second one being a smaller pocket, ideal for a raincoat or other accessories.
Moreover, there are also two additional storage areas on the sides. One is a regular pocket, ideal for keys, wallet, and other small valuables, and the other one is a beverage compartment, ideal for a water bottle.
Innova Champion Discs Standard Disc Golf Bag
Pros
Great value for your money
The bag is compact and light
Impressive carrying capacity despite the small size of the bag
Cons
Shoulder straps can be uncomfortable over long periods
This bag best suits individuals who are searching for an affordable medium-sized bag which can keep an adequate number of discs. People who prefer mobility and comfort to the carrying capacity will love Innova's simple design, lightweight and properly-padded shoulder straps.
This bag can carry over twelve discs and provides ample space for a broad category of items like snacks, beverages, and scorecards. It also comprises of eye-catching and effective color patterns which give it the stylish design.
Athletico Power Shot Disc Golf Backpack
Pros
Insulated Pocket Cooler
Three drink compartments
Large interior capacity
Sturdy and durable design
Cons
Slightly higher price than the alternatives
With a capacity of 20+ discs, the Power Shot Disc Golf Bag by Athletico is one of the highest-capacity and most complete bags in terms of features we've reviewed.
It features one big main pocket with a large capacity of up to 20 discs. Discs can be arranged both horizontally and vertically. It's main attractive comes from the many side and front pockets that the bag features.
On the front, there is a quick grab pocket for commonly-accessed items and an easy-access organizer. Each side features an XL-sized bottle holder, perfect for large bottles we might be carrying around the field.
A unique feature of this bag is the inclusion of an insulated pocket cooler. Apart from the drink compartments on both sides, the left side of the bag features an entirely closed off pocket with thermal insulation. This is a perfect addition for individuals who might be in need of a small cooler. It's certainly not the same as a dedicated portable cooler, but if you have a couple of cans you want to keep cold while out in the field, this is a very welcome addition to the bag.
Discraft Weekender Disc Golf Bag
Pros
It has the shape of a traditional school bag
Thick carrying strap for ultimate comfort
Cons
If you want the best disc golf bag, this bag will come in handy. It is lightweight and can carry up to 6 golf discs. Besides it also allows you to store your personal belongings and water bottle inside the bag.
It weighs about 9 ounces and is available with the elastic upper that offers you a snug fit. You will not have to break the bank to get this bag. This product also features a black shade. Additionally, it comprises of the cup holder, and you adjust the strap.
Discraft 12 Disc Tournament Golf Bags
Pros
Utilitarian design
PVC wet-proof bottom
High build quality
Cons
Straps could be more comfortable
The 12-Disc Tournament Disc Golf Bag by Discraft is another accessory aimed for pro-level players. It features a very traditional shoulder strap design with a medium-sized interior capacity and pockets on the front and both sides.
While Discraft advertises this product as being able to fit up to 12 Discs, users mention that they can fit 15 discs comfortably, and snuggly fit even 17 drives.
The right side has a dedicated storage area for drinks where two soda or beer cans can fit comfortably, and the left side has a zippered pocket for sensitive items. The front features an easy-access compartment for items we might need to access frequently.
All around, we find it is a lightweight, compact bag with enough storage for most. The shoulder strap design is the only notable limitation as most players might find it not as comfortable as a backpack style bag when carrying it over long periods.
Factors to consider – how to choose the best disc golf bag

An excellent disc golf bag will improve our experience when playing. They're a worthy investment for someone who often plays, competitively and even someone who is just starting out.
Many options in the market cater to different needs and preferences, they're all solid options but everyone has different needs and distinct playing style so here are some of the factors you must consider when determining which bag is best for you.
Disc Capacity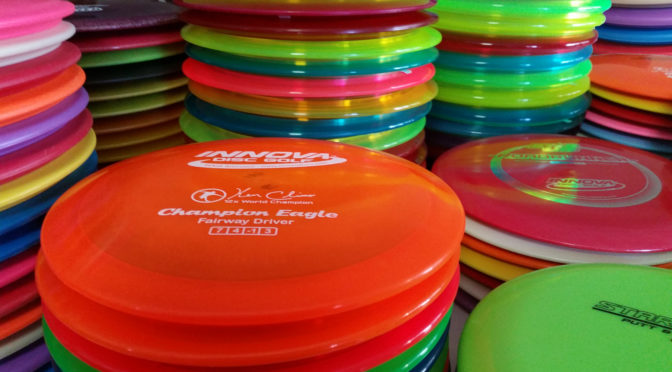 This depends on the type of game you intend to play, the course and the distance we want to throw the discs from. If we're practicing 500+ feet throws, we don't want to be walking to be basket every five shots to retrieve the drives, then walking back another 100 feet to get back in position. For this sort of game, we preferably want the bag with the largest disc capacity. Retrieving discs every 20 throws is a lot better than having to retrieve them every five shots.
If we intend to play at close distances, the disc capacity of the bag becomes less critical. Walking ~50 feet to retrieve our discs is not as big of a deal as its just a few steps. In terms of bags, the bigger, the better but when we're close to the target, this isn't as important. We only want to be carrying a massive bag if it's absolutely necessary. The extra weight and bulk are not needed for quick short-distance sessions.
Waterproofing
Most bags have some degree of weatherproofing. It could be the outside layer, the inside layer or even both for maximum water resistance. The advantages of this are pretty obvious, but take in mind that waterproofing is not the utmost priority of a disc golf bag manufacturer. A bit of water won't harm out discs or almost any of our accessories.
If you intend to carry delicate objects, documents that should not get wet for any reason, we recommend you look for bags that explicitly say they are entirely waterproof.
Materials
We want our bag to be not only functional but also be long-lasting and look good whenever we're in the course.
The material which the bag is manufactured from becomes very important. If we're looking specifically for completely waterproof bags we're most likely going to find plenty of bags made from synthetic materials such as polyester.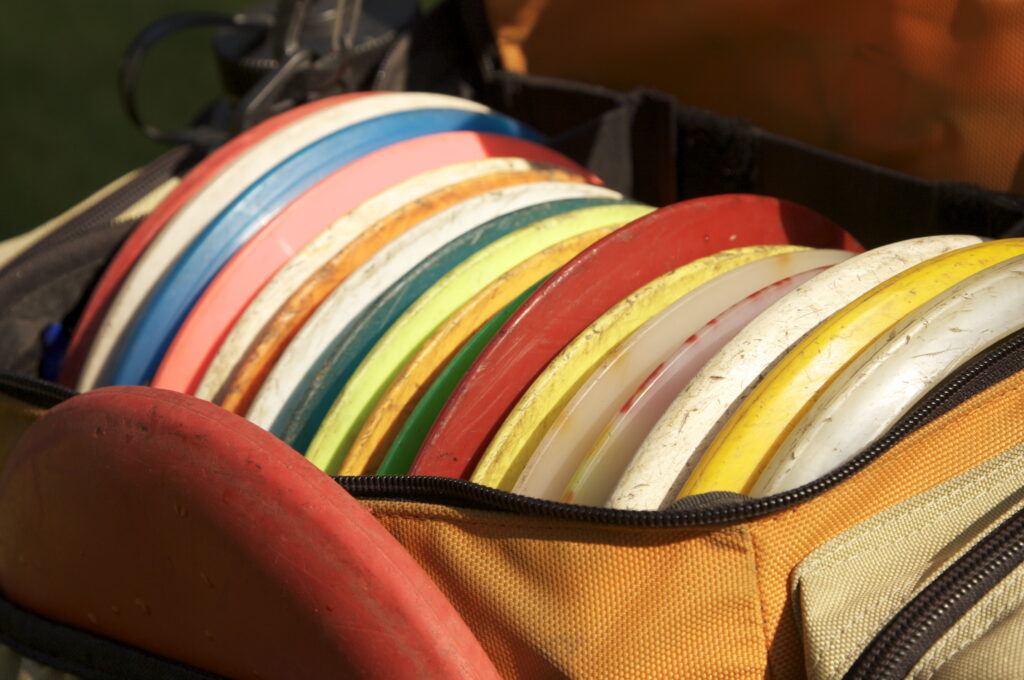 On the other hand, non-synthetic materials may have a better feel in our hands as it's a more traditional look and less plastic to the touch. The downside of materials like cotton and wool are they're harder to keep clean, wash and may not be as strong as other bags made from polyester, for example.
Extra compartments
The vast majority of bags have additional storage apart from the main compartment that is usually dedicated only for discs. These extra compartments can range from just a quick access pocket to a thermally-isolated pocket that can be used as a small cooler.
Not every person needs to carry a lot of extra items when out in the field, and don't expect their bags to be able to carry everything from a set of keys to a small binder. Our recommendation for most people would be to get a bag with at least a bottle storage compartment and a small pocket for other accessories like sunglasses or a set of keys.
Drink Capacity
Very related to the last point, we also have to consider the drink carrying capacity of each bag. Unless explicitly noted, all of the bags we listed here boast a compartment for beverages. After all, this is an outdoors game and its better to stay hydrated at all times, so why not throw a couple of bottles of water in there to have while we're on the course. Nothing is stopping you from throwing a couple of beers in there too!
There are also bags in the market with built-in mini coolers. While it sounds like a great idea, we consider this adds a lot of weight and bulk to the bag. It's a bit overkill.
Shoulder Straps vs. Backpack Straps
When choosing the type of shoulder strap we want, it comes down to personal preference. Some of us are more used to the traditional strap style that most backpacks have as these can be more comfortable when carrying a bag over long distances. Why? Well, the weight is distributed between both of your shoulders instead of just one. Also, these bags tend to have thicker straps that are padded all around so it's always comfortable even when carrying substantial amounts of weight for extended periods.
The downside of the traditional style backpack strap not having quick, easy access to the storage compartments. As the backpack will be on our back, facing backward, if we need to access something located in one of the interior compartments, we will need to take the bag off our back. Taking our bag off our backs isn't a big issue as we intend to use it out in the course while we're playing, so it's better to have your back clear of any weight that might affect your balance and precision negatively.
On the other hand, backpacks with shoulder straps are more comfortable to access when we're on the move. We're only using one shoulder to carry it; therefore, the bag isn't fixed on our back. If we need to access any of the compartments, we can just move it to the side or even the front of ourselves without taking it off our back. The main disadvantage of this type of bag is reduced comfort. Having to support everything we're carrying on a single shoulder can take a toll on our body on days we're playing for extended periods or carrying the bag over long distances.
Our final thoughts
There are plenty of disc golf bags in the market, with diverse designs oriented for different uses. How many discs do you need to carry? Do you prefer a backpack or a shoulder-strap bag? Do you need a bag with a built-in cooler? These are all questions that each individual needs to consider to be able to pick what is the absolute best disc golf bag for their needs.
We hope this guide was useful for helping you find the disc golf bag that fits your needs. Know of any other disc golf bags that should be included here? If you want to recommend a bag we didn't include, feel free to contact us or leave a comment below.
Don't forget to get out there and have fun!