Most people view socks as a pretty simple, straightforward accessory. How much of a difference can a sock actually make? In sports, the right sock can make a huge difference.
Basketball players rely heavily on proper footwork during each and every game. Basketball shoes obviously play a major role, but socks are starting to get their due as well.
Over the last few years, top sports brands have started to invest in dependable options for athletes. Looking for the best basketball socks? Below are the best basketball socks available in the market:
Best Socks for Basketball – Top Picks
Basketball is very involving. The constant running, stopping, shoving and jumping requires special clothing items. One of the critically important items is socks. They cannot just be any kind of socks.
The constant amount of abuse they take requires them to be of a special kind. Let us look at what it takes for socks to be basketball socks, and what to look out for when shopping for a pair:
Best Basketball Socks – Reviews
NIKE Dry Elite 1.5 Crew Basketball Socks
Quick Overview
Nike's Dry-FIT tech wicks away humidity and helps keep your feet cool
Mild arch compression for the best support.
Specific left-right socks for the best fit
Designed specifically for basketball players
Nike isn't the first company to understand the importance of socks built specifically for basketball, but they certainly took over the market in a hurry. They have many extremely popular options, and their Elite Socks are extremely dependable.
The Nike Dry Elite 1.5 Crew Basketball Socks are available in several different colors. They offer a very supportive fit with strategic padding built for the basketball court. The socks are specific for each foot, which ensures players get a perfect fit each time.
Nike's patented Dri-Fit Technology keeps feet very comfortable during play as well. The socks are pretty common to find these days, but there is a reason for that. It's hard to argue that this is a great sock for any level of player.
Overall, this was a great update from the original (see below for more information on the original Elite Socks). It's worth the investment.
Adidas Unisex Speed Mesh Team Crew Sock
Quick Overview
Ultra-cushioned foot and ankle for high shock absorption
Increased sole traction for best grip and stability and prevent internal slippage
Arch and ankle compression for the most secure fit
For the Adidas fan who wants a great sock with a modern design, this is the perfect option. Useable in multiple sports, there are enough colors to match any type of shoes or cleats a player might wear.
What stands out the most for this option from Adidas is that they do a great job of protecting not only vulnerable foot areas, but the Achilles as well. It's nice to have a sock provide arch, ankle, toe and Achilles protection at all times.
The socks are lightweight and capable of being worn all day long. Some colors are a little more expensive than others, but most find these to be very comparable to Nike elite socks.
Nike Elite Versatility Crew Basketball Socks
Quick Overview
High arch compression for best fit and comfort
Extra padding around sensitive areas for increased protection
Dri-FIT technology helps your feet stay cool and dry
There are a lot of similarities between the Nike Elite 1.5 Socks and the Nike Elite Versatility Socks, and it is hard to go wrong with either. These socks offer a bit more padding, and they are 93% polyester compared to just 61% polyester in the 1.5 options.
The top of the sock is also cut a little differently, which is a topic of debate for some basketball players. Some like the traditional cut, while others like this more modern look from their socks.
Cost is a little higher for Nike Elite Versatility Socks, and they don't come in quite as many colors. If possible, try both of them all before committing to one over the other. They both are great socks, especially when they are found at a great price.
Under Armour Men's HeatGear 3-Pack
Quick Overview
Affordable 3-pack
Moisture transport system to help keep your feet dry
Anti-odor technology helps keep bacteria growth controlled
Contoured "Y" heel for best comfort and fit
Under Armour is still a relatively new player in the basketball world, but with Stephen Curry and a slew of other NBA players signed to the brand, they have upped their game. These are pretty standard socks, available in basic colors to go perfectly with under armor basketball shoes.
They are a little bit thinner than some of the other basketball socks on the market, which is a positive for some. They also do a great job of handling moisture and odor. The biggest selling factor is that they are pretty inexpensive for performance socks. Due to 3-pack value, they're definitely an excellent value for performance socks.
Nike Elite Basketball Crew Socks
Quick Overview
Cushioning in key areas helps absorb soft impacts and prevent injuries
Tight arch band offers increased support
Forefoot area features ribbed traction pattern to prevent slippage
Basketball sock technology has grown over the years, but the original Nike Elite Basketball Sock is still as popular as ever. The 100% polyester sock changed the game in a big way when it was released in 2008. Although there are plenty of variations these days, many still worship it.
Since this model is a little older, the price is cheaper as well. A lot of people like the simplicity of the design, and there is something to be said for relying on a dependable option as well. Finding the right size or color is not always the easiest, but Nike still has a lot of fans with this sock.
NIKE Performance Cushion Crew Socks (6 Pairs)
Quick Overview
Great value 6-pack
Premium fabric blend offers good comfort
Reinforced toe and heel areas for increased durability
Doesn't feature Nike's Dry-FIT technology
Consider this to be the budget option for Nike basketball fans. Despite the cheaper price tag, many people still love what the cushion crew socks bring to the table.
Compared to Elite Sock options, the socks are very thin and lightweight. They are comfortable enough to wear every single day, and they still provide padding and support in the right areas.
In the past, basketball players would wear these and be perfectly fine. There is also the opportunity to wear two pairs of socks at once without it feeling too bulky. This is done by some basketball players who don't want to deal with blisters or anything related to that.
Price is always fluctuating with these socks, but they are usually half the price of Nike Elite Socks. They might not be quite as advanced, but they are still a great option. They have three basic colors available online and in stores. They are capable of matching any shoe out there, and they last a long time if washed properly.
Under Armour Men's Drive Basketball Crew Sock
Quick Overview
Cushion in strategic points delivers good impact absorption and helps with responsiveness
Under Armour's HeatGear tech helps channel sweat away rapidly to stay fresh and comfortable
Anti-bacterial fabric to keep bad odors controlled
This is Under Armour's signature sock option right now, and it is hard to find better cushioning and protection out of a sock. The high density cushioning provides the right amount of support without adding bulk to the sock.
Under Armour does a great job with all their socks when it comes to working moisture away and killing off bad odors. The socks are no different, as they are extremely durable in even the warmest conditions.
The socks are popular enough these days that they are available in several different colors. They don't have anything too crazy available right now, but they are a practical pair of performance basketball socks every player should try out. These pair extremely well with any of the Under Armour basketball shoes currently on the market.
Related: Best Basketball Insoles Reviewed
Considerations when looking for the best basketball socks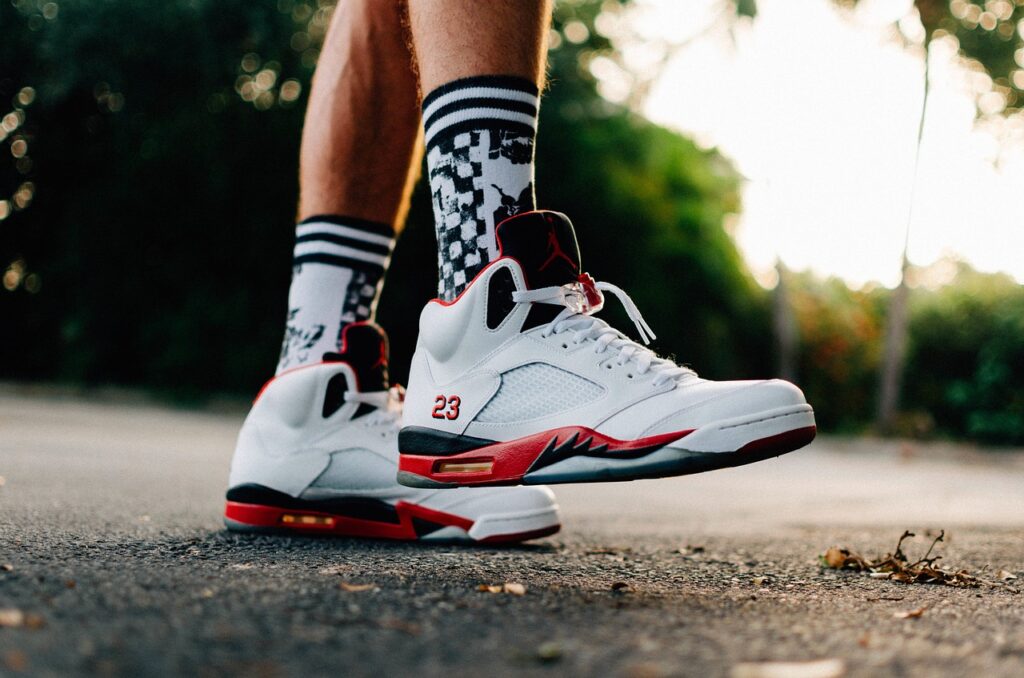 Comfort
It is critically important for the socks to be comfortable when worn. That means providing the right amount of support to the player's feet at the right places. A basketball player is a world-class athlete. His movements on the court exert stress and strains on his feet. He can be hurt as a result. His socks, therefore, need to have extra padding at specific areas.
The extra padding should not, however, restrict his considerable wide range of movements. It should also be foot-specific. To see if it is foot-specific, take note of the shape of the cushion, location of it and feel how comfortable it feels on your foot. Some of the areas for extra cushioning include at the mid-foot, Achilles, ankle, and back of the foot.
Sock material and breathability
The intense activities around basketball games mean sweating comes with the territory. The feet are no exception. They are in very tight, hot and extremely humid environments. Sweat and odor are more than normal. Start with the materials used.
Find out how the materials used help with the sweat problem. Does it absorb it or does it help the sweat evaporate? Some of the popular materials used include cotton, polyester, and nylon. Also, find out how the socks deal with the odor problem. Socks that help evaporate the sweat usually have no problems with odor. Those that absorb it have other means of dealing with it, like by use of microbes.
Finding the right size
A pair of basketball socks made with the right material to tackle sweat and odor, and with the right comfort padding will still be a huge liability to a player if it is not the right size. So what is the right size? Ideally, the right socks should fit snugly. It should not be loose or too tight.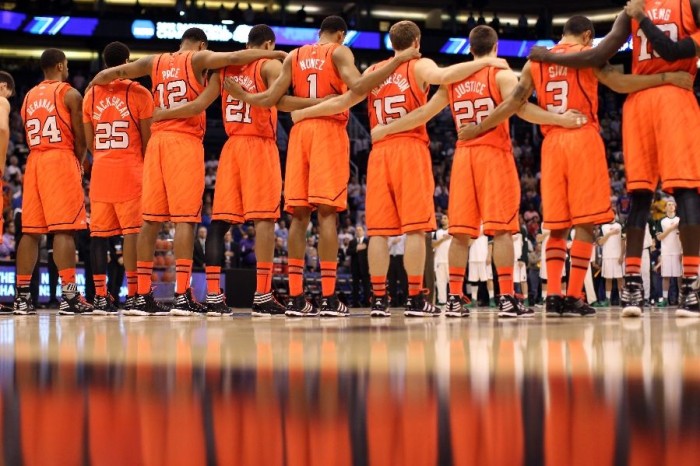 A bit of elasticity is allowed to accommodate the feet tightly. If when removing the shoes, the socks also come out, that is a loose pair. If on the other hand, the socks are tight that one can feel blood struggling to reach the feet, that is too tight.
Sock thickness
The thickness of the socks is another critically important aspect because it directly affects the weight of the socks and the player's sensations when on the court. Too thick and it feels bulky. Too thin and the player feels like he is playing bare feet. The thickness also plays a part in the socks' comfort levels and its ability to tackle sweat and odor. Different materials used determine the level of thickness required. For individuals players, the right thickness is when the socks are worn, the player forgets they are even there.
Conclusion
It's true that you could play basketball with any pair of socks. You could technically use the wool socks your grandma made you years ago, but we all know the better the sock, the better we perform.
A good pair of socks for basketball will provide an excellent level of support to help you perform well and be responsive, an excellent level of traction to help keep your foot from moving around in your shoe and special fabrics to keep your foot fresh and as dry as possible. Nike's Dry Elite 1.5 Basketball Socks are undoubtedly the best basketball socks available in the market and they're a worthy expense to take your game to the next level.