Basketball shorts might seem like a basic piece of equipment, but the right pair can make all the difference in the world. Most players are looking for shorts that are comfortable, breathable and have just enough style to stand out on the court.
What are some of the top go-to shorts to hit the courts in? Here are six options to consider from some of the top brands in the game.
Best Shorts for Basketball – Top Picks
Best Basketball Shorts Reviewed
1. Champion Men's Long Mesh Shorts with Pockets
Quick Overview
Made completely of polyester
More than 20 colors available
Internal quick cord for easy adjustability
9″ inseam
Champion has been a dependable sportswear company for years. They have recently gone through a bit of a resurgence, making these shorts a popular option for basketball players look for an affordable pair of comfortable shorts.
The design is simple, yet effective. Just a small Champion logo on the front left graces each pair of shorts. Available in over 20 colors, the 100% polyester shorts are meant to hit just right above the knee.
Most people are looking for just a basic pair of shorts that can match well with a variety of shirts and jerseys. These shorts can work for rec play, or as part of a team uniform. They aren't too baggy, and the fit is true to size. It's easy to customize the fit a bit with the internal quick cord around the waist.
Depending on size and color, there are a lot of options for under $20 available. This is a great value for a durable pair of solid color basketball shorts from a name brand company.
2. Real Essentials Athletic Performance Shorts with Pockets – 5 Pack
Quick Overview
Drawstring closure
Unbeatable 5-pack value
100% polyester
More than 8 color variations available
9″ inseam
Real Essentials might not have the same brand recognition as other shorts, but they have a lot of positive reviews for a reason. This is another pair of basketball shorts with a simple design that matches a variety of looks.
The best part about Real Essentials is the fact that they offer such an affordable price. Available in packs of five, the shorts end up being under seven dollars per pair. That is simply unheard of price for shorts that have very similar technology to name brands.
These fit about as well as a person can expect for 9-inch inseam athletic performance shorts. The pockets are deep and dependable, and it's always a nice touch to see several different subtle design options depending on what a person likes. Stripes or a design down the side of shorts might not stand out too much, but it breaks up an otherwise basic look if a person wants something different.
3. NIKE Men's Dry Training Shorts
Quick Overview
Dri-FIT technology helps to stay dry and comfortable
Angled side pockets for easy access
Very comfortable waistband
Nike's signature durability
9″ inseam
Nike dominates the basketball market around the world, so their basketball shorts are going to be pretty popular around gyms and playgrounds. These basic training shorts, available in five standard colors, do the job for any type of sport out there.
The biggest stand out feature for the shorts is the way they move around with the body. Nike has rectangular gussets on each leg that keep the shorts from riding up or moving around too much. It's a very consistent feel when wearing these shorts, and there is no need for constant adjustments throughout the game.
4. Adidas Men's Basketball 3G Speed 2.0 Shorts
Quick Overview
Adidas Climalite fabric helps stay cool and dry
Drawcord on waistband for quick adjustability
10 distinct colors available
For a longer pair of basketball shorts, Adidas offers the 3G Speed 2.0 in several different colors. Some basketball players enjoy the baggy look, and the comfort level is not compromised in any way.
The shorts are meant to ride below the knee, but they really don't feel any heavier than shorter options on the market. Adidas uses very lightweight polyester for all their basketball shorts, and it really shows with this pair.
Adidas offers 15 different colors in the shorts, and a variety of sizes as well. Having the option to shop for different body types is a great touch. It ensures that the shorts are going to be long enough and fit how they should for those lean builds.
5. Amazon Essentials Men's 2-Pack Loose-Fit Performance Shorts
Quick Overview
100% Polyester
Great 2-pack value
Internal drawcord for quick adjusting
5 colors available
8″ inseam
Amazon has been doing a pretty good job with their clothing line, Amazon Essentials. Their clothes are meant to be not too flashy, but they do the job as far as athletic performance is concerned. Their shorts are the shortest in this review, going with an 8-inch inseam. This might be a little bit too short for some basketball players, but the trend seems to be going in that direction at the professional level.
A two-pack of these performance shorts are under $20, making them another affordable option for those people trying to save money. The solid coloring for the shorts makes these very easy to match.
6. NIKE Men's Layup 2 Shorts
Quick Overview
Made with imported polyester
Pinstripe knit into the fabric for best durability
Elastic waistband for a secure fit
6 colors available
11″ inseam
Nike makes their fair share of basketball shorts, and the Nike Men's Layup 2 shorts might be one of the most popular lines they have today. With a subtle pinstripe to add some character on the shorts, they have a near-perfect fit for those people wanting shorts that sit right below the knee.
The 11-inch inseam allows for a slightly baggy look, but nothing that is too restrictive. The breathability is great with the shorts, and they don't really show as much sweat as many other basketball shorts out there.
How to choose the best basketball shorts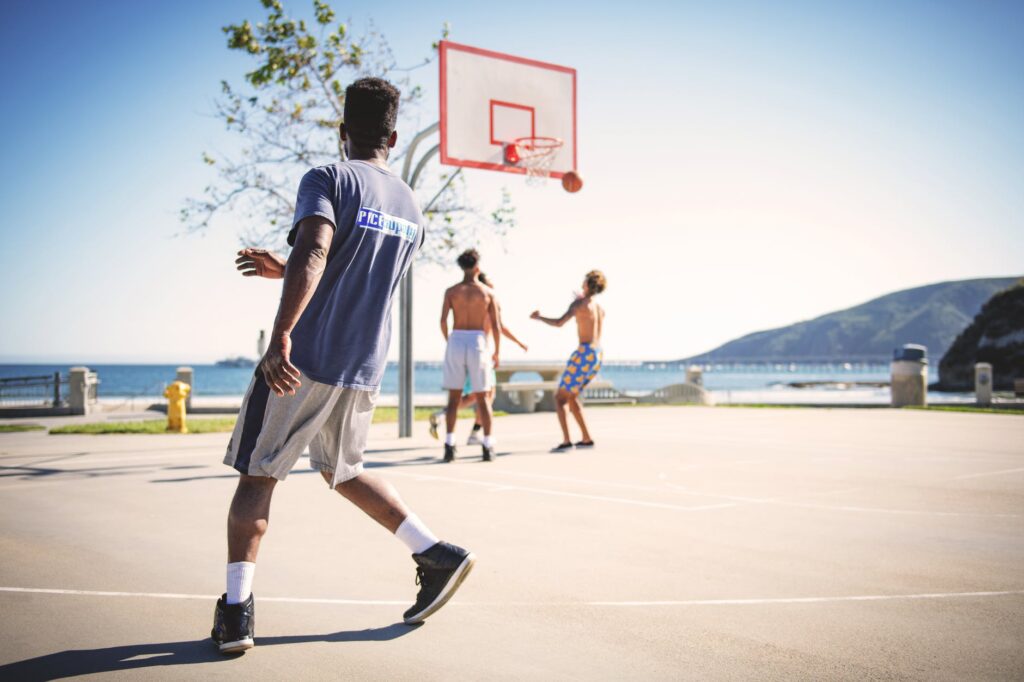 Liner vs. no liner
Basketball shorts do not usually have liners. It's very rare to find them with the interior liner, as they're in cases where having underwear is not optimal, such as swim shorts.
As uncommon as it might be, shorts with liner do have benefits when playing basketball. Due to not having to wear underwear, you will stay fresher and feel more agile, as underwear adds weight and more clothing layers means more heat. Not to mention that you'll have to wash fewer pieces of clothing after each play session.
Materials and breathability
It is important to stay fresh and comfortable in the court, and materials play a big part in this. You want to avoid whispy fabrics that stick to the skin or are rough on it. Basketball involves continuous leg movement in every direction, and if the materials are coarse and not breathable enough you won't have the best time out there.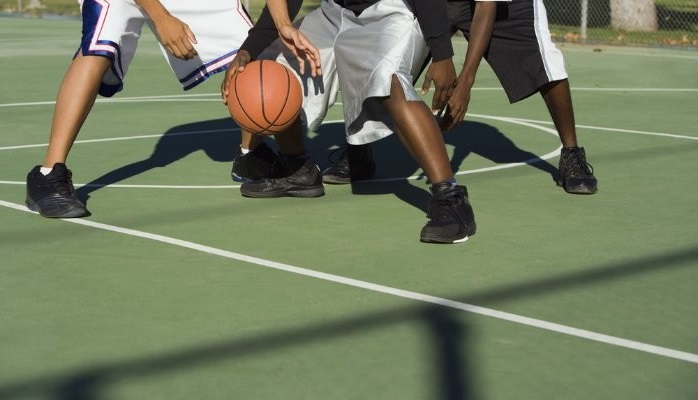 Choose synthetic materials as they have the best drying properties and will help you stay as fresh as possible out there. Cotton is soft and it looks nice, but it absorbs your body transpiration and you will feel bogged down by its weight and sweat.
Lightness
Weight is an enemy when playing basketball. You should opt for the lightest shorts possible to be as agile as you can at every moment. Bulky shorts add a ton of unneeded weight and this can put you at a big disadvantage as you're not performing at your best level.
If you have ever played basketball with bulky outfits, such as jeans or even cargo shorts, you probably noticed the enormous difference that light clothes make.
Pockets or no pockets?
It's all down to practicality. We all hate pants with no pockets as we're forced to carry items like our phone or wallet on our hands. Having shorts with pockets its always a plus, having our personal items on our pocket instead of leaving them on the ground somewhere always gives us peace of mind.
However, you have to take into account that carrying more items around in our pockets will slow us down. We all have experienced the feeling of having our phone almost fall out of a shorts pocket because we're either running too fast or moving too fast. The last thing we want is our phone falling when running and having to deal with a cracked screen.
Read more: Best outdoor basketball shoes
Final thoughts
Having the right shorts for basketball is important. Technically, any pair of shorts can be used for it, but for the best possible experience, there are many garments specially designed for players looking for the best performance.
We recommend the Champion Men's Long Mesh Shorts, as they're the product of a reputable manufacturer that over the years has demonstrated they can design excellent performing sportswear that doesn't compromise looks or fashion.