The knees are one of the most vulnerable parts of the body when playing basketball. Not only are players putting stress on their knees by running and jumping all game long, but there is a high risk of injury if the knee slams into another player, or the floor for that matter.
Knees can also tighten up on a player at any time. Sitting on the bench for too long can tighten up the muscles in the knee area, causing people to be more susceptible to injury.
First, let's take a look at the best basketball knee sleeves:
Best Knee Sleeves for Basketball – Top Picks
It should come as no surprise that knee sleeves are as popular as ever at all levels of basketball. The best basketball knee sleeves are going to provide an extra layer of protection to reduce the chance of injury, while also supporting muscles and encouraging proper blood flow. Some of the best options on the market today are these two from UFlex Athletics, Powerlix, and McDavis.
Related: Basketball Compression Pants with Knee Pads
Best Basketball Knee Sleeves
UFlex Athletics Knee Compression Sleeve
Over the last few years, UFlex has provided athletes in many different sports the proper knee support they need. It is a very lightweight option that helps with inflammation, swelling, soreness and the general stiffness in the knee.
For basketball players who don't want any additional padding or protection, this is perfect to keep the muscles ready to go for action. The best part is, each wrap is only going to run about $15. That's great value for a sleeve that can last for years.
UFlex Athletics knee compression sleeve is used to reducing discomfort such as swelling and soreness by optimal compression and facilitating muscle injury recovery by its heating effect. The pressure reduction features enable it to be used in different exercises including basketball. It also helps with pain relief and knee injury protection.
The sleeve is made with breathable and soft fabric by the 3D knitting technology, keeping it dry even during vigorous sports and enhancing its comfortability. Using professional-grade materials, the sleeve is ultra-lightweight as well as ultra-durable, further enhancing user experience. It is also designed with anti-slip silicone that ensures the sleeve is anchored in the right position, even during large movements such as dribbling in basketball.
Since the sleeve only covers the knee and nearby areas, it's a good choice to protecting your knee during basketball matches while not affecting movements. However, because of its moderate support, if you have a more serious injury, this may not be the optimal option.
POWERLIX Compression Knee Sleeve – Basketball Knee Brace
PowerLix knee compression sleeve protects your knee by applying a stable compression evenly across the joint, preventing or minimizing potential injuries. The ergonomic design hastens recovery and significantly relieves pain from relatively mild illnesses such as swelling, tendonitis, and muscle fatigue. The compression also offers optimal support to enhance your muscle endurance which is crucial to extend your performance in highly competitive exercises including basketball.
The sleeve is made of breathable compression fabric that helps improve blood circulation while swiftly absorb sweat, keeping your knee dry and odor-free. Made with quality smooth and soft fabric and produced by a unique knitted technique, it offers the most comfortable and close-fit wearing experience to everyone. The two silicone gel strips further help ensure the displacement of the brace will not happen during competitive moments.
It offers the best knee support for pain relief from ailments and injury prevention during physically demanding exercises such as basketball and soccer. However, if you are injured more seriously, additional support will be needed.
Mcdavid 429X Knee Brace with Knee Support & Compression for Stability
McDavid 429X knee brace provides high-level knees protection from over-extending. Built with two hinges that have teeth to link together, the knee brace provides great support and compression to boost recovery of ligament tear. Despite its strong support, you can still move swiftly and play basketball comfortably while wearing it. It also helps prevent re-injuries while facilitating healing and reducing pain.
The brace is designed and produced in good quality. Made with the neoprene material, the knee brace helps retain heat that can further promote recovery and reduce pain and swelling. Apart from protective functions, it's latex-free that suits everyone comfortably without the concern of getting irritation or latex allergy. Since its top and bottom straps are adjustable, it fits every basketball player's needs under different circumstances. Also, the seams are double-stitched and the pull tabs are reinforced to provide good and consistent support for every collision, falling on the court, jumping, and landing in each basketball game while being durable.
The McDavid 429X brace is slightly bulky because of its strong support. However, it will definitely be worthwhile if you are suffering from a serious knee injury. The added protection enables you to enjoy playing basketball safely during rehabilitation.
Shock Doctor Knee Brace Compression Sleeve Support
Shock Doctor knee brace has been one of the most prevalent braces for basketball players. Its popularity comes from the strong hinges, which are positioned at the calf and the thigh respectively. They provide ultra knee support such as protection from sharp impacts to users, especially basketball players who have countless jumping and landing in matches that put constant and significant pressure on their knees. Meanwhile, the advanced compression also improves blood circulation that helps recovery of knee problems.
Made with premium stitching and moisture and odor resistible soft fabric, the knee brace is in high quality that enables prolonged use without compromising the wearing experience or the support. The pre-curved anatomical design further improves fit and comfortability. In addition, the straps pull the hinges firmly and prevent displacement, ensuring the brace is in the right position to protect your knee.
Because of its strong support, It is perfect for basketball players who have chronic knee pain. However, it is made of standard sizes, which means that you will need to spend more time and do research on finding the right size for your own knee.
Nike Closed Patella Knee Sleeve
Nike also makes a very dependable knee sleeve that is very lightweight and breathable. Many Nike branded athletes wear this exact knee sleeve for great muscle support. It doesn't provide the strongest support but for users who care more about mobility, breathability and freedom of movement it is an ideal knee sleeve. There is no additional padding with the sleeve, so keep that in mind. What it does is offer a great amount of compression without breaking the bank.
It doesn't run as tight as the knee sleeves we previously recommended and some users report that it can slide off slightly during heavy movement and this put you at disadvantage during long sessions. However, if you don't need really strong support and are just looking for a very comfortable knee sleeve for casual training, the Nike Closed Patella Knee Sleeve is a solid alternative.
Some of the benefits of knee sleeves
Knee sleeves are used in a very similar manner to any type of compression on the body. They help with blood flow in the knee area, which helps during and after a basketball game. Staying warm and having active muscles will benefit any athlete.
They also help with reducing pain in the area. If there is general muscle soreness or some other minor issue, a brace can keep everything together without adding any noticeable bulk.
Considerations when looking for the best basketball knee sleeve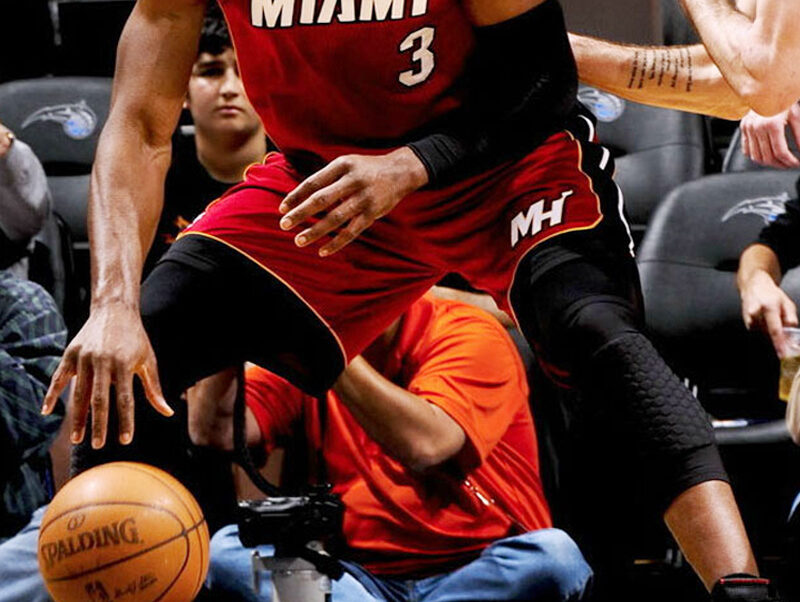 It might seem simple enough the search for a great basketball knee sleeve, but there are a growing number of options out there. Different brands offer slightly different options, so make sure you know exactly what you want.
Finding the right size
The right size when buying anything that counts on compression is very important. If between two sizes, always go with the smaller option. Even the best compression material is going to stretch out a little over time, so if it already feels slightly big, it might be unusable in a few months.
Sleeves vs. padded sleeves
A standard knee sleeve is used to help with previous minor injury support and blood flow. Once you add padding into the equation, the focus is also on providing protection against impact on the court.
Knees can slam into other players, the court itself, padding around the basket area and even fans. All it takes is one bad collision for a potentially serious injury to occur.
A lot of NBA and college players now play every single game with knee padding. It provides just the right amount of protection without limiting mobility.
Knee sleeves vs. knee braces
Knee sleeves are great to use when recovering from minor issues or wanting some lightweight support, but what if something much more serious happened in the past? This is where a full knee brace comes into play.
Major knee injuries such as a torn ACL or MCL needs a good amount of support, especially right after making a recovery. A brace is going to be pretty bulky, and some find them restrictive. With that said, a brace is needed so that the knee is not at nearly the same risk for another injury.
Some final thoughts
Knee sleeves by themselves serve a very specific purpose, and they do that very well. A standard sleeve is going to be relatively inexpensive, and it does provide some protection from cuts, bruises and more during play.
For additional support, a sleeve with some padding makes a lot of sense in basketball. Never overlook the need for a full brace as well when coming back from a major injury. The most important thing is to take care of both knees, because so many things can happen during a basketball game.