One of the most important assets a basketball player has is his feet. Taking care of them is important, and not just for the court performance but outside of court too. No point having a great game only to go back home with painful feet. A great investment to have as a player is basketball insoles. Read our guide on how to source for one that works well for you.
Why get shoe insoles for playing basketball?
Basketball is a sport that puts a ton of pressure on the legs and feet. The higher the level of play, the more susceptible players are to a serious injury.
Investing in a proper pair of basketball shoes is a great start, but insoles are going to make a huge difference. It makes every single shoe feel like a customized fit because the insoles can correct certain issues people might have.
There are insoles for flat feet and high arches. If someone is susceptible to plantar fasciitis, they can get insoles to help directly with that. Insoles can work for injury recovery or prevention.
Related: Basketball Shoes for Flat feet & Arch Support
It's not publicized much, but the best basketball players in the world all have insoles tailored for them. The stock options that come with every pair of shoes are only going to do so much.
Best Insoles for Basketball – Our Top Picks
Best Basketball Insoles Reviewed
Spenco GRF Basketball Maximum Performance Insoles
Pros
Designed with basketball usage in mind
Excellent hard impact softening
Perforated base to keep your feet cool and dry
Cons
The top layer might be slippery with certain socks
Spenco GRF Basketball Performance insoles are specially designed with basketball usage in mind. In contrast to other insoles that are not meant for any specific sport, these insoles are made with just one purpose: improve your basketball performance to the maximum level.
Spenco's Total Support Technology helps stabilize your feet to keep you planted at all times and play with increased confidence. The patent-pending 3-Pod Ground Reaction Force (GRF) system ensures that hard impacts are softened to avoid and sprained knees or ankles. This insoles GRF technology will also help you recover and return jump energy for a more explosive and agile playstyle.
Its perforated base aids with breathability, to help keep the bottom of your feet stay fresh and not feel sweat accumulating and making your feet feel heavy while you play.
Superfeet Black Premium Insoles
Pros
Slim design great for smaller shoes
Anti-microbial coating for controlling bad odors
Cons
Lower hard impact protection than other insoles
The Superfeet Black Premium insoles offer a slim profile that won't take up much space in your shoe. They're recommended for smaller shoes that won't fit a thicker insole without being tight and uncomfortable on your feet.
It's slim and lightweight design doesn't compromise the arch support given by these insoles. The very flexible and thin shape provides excellent stability and support, which helps reduce the fatigue and stress not only on your feet but also ankles and knees.
An anti-microbial odor-controlling coating virtually eliminates all bacteria that causes bad odor after sweaty play sessions.
Overall, these are great, versatile insoles that are great for basketball players looking for insoles that won't get on the way too much. Their thinness makes appropriate for almost any pair of shoes where thicker insoles wouldn't even fit.
Shock Doctor Active Ultra Insole
Pros
Arch section adapts to the shape of your foot
The anti-microbial layer helps keep bad odors controlled
Excellent for plantar fasciitis relief
ShockDome technology absorbs hard impacts
Cons
Some users find them too stiff
The Shock Doctor Active Ultra insoles have been built with any high-impact sport in mind, and are as effective for basketball as for other sports like rugby and tennis. They're built with impact protection in mind.
Its adaptative arch can adjust to any foot shape for perfect comfort, and it reduces the likeliness of injuries due to its shock absorption properties. The contoured design is great for providing good comfort, an excellent amount of cushioning while not making your shoe feel tight.
ShockDome technology helps reduce shocks transferring to your knees, hips, and back. On the mid-foot area, the ShockDome relaxes the foot to help relieve Plantar Fasciitis symptoms.
The top layer reduces unwanted friction than can be uncomfortable during long periods and features a piece of anti-microbial fabric to reduce unwanted odors and keep your shoes as hygienic as possible.
Overall, the ShockDoctor Active Ultra insoles are all around some of the best insoles for any high impact sports, such as basketball. Plus, if you suffer from Plantar Fasciitis, they're great for relieving its symptoms.
Powerstep Pinnacle Maxx Orthotic Shoe Insoles
Pros
Medical-grade orthotic insoles
Two cushioning layers for improved shock absorption
Arch with improved lateral support, ideal for flat feet
Squared heel design for maximum stability
Cons
More costly than the alternatives
Powerstep is recognized as one of the leading orthotic insole manufacturers. They specialize in orthotic shoe insoles that increase foot stability and decrease foot pain caused by plantar fasciitis, flat feet or fatigue in general.
The Pinnacle Maxx insoles go a step beyond the traditional Orthotic Insoles in two major ways. First, the new arch design incorporates improved lateral resistance to keep the arch well positioned and supported. The second important improvement is a new squared heel design that helps the insole stay in place in your shoes and not roll to any side.
It contains two cushioning layers for maximum comfort. The top layer is soft due to the HyPUR-cel foaming and the bottom layer is a low-density EVA foam with great internal strength and shock absorption properties.
Despite the higher cost of these insoles when compared to other offerings, they are a medical-level product, great for users looking to relieve foot pain while increased stability and support while they play basketball.
Superfeet GREEN Insoles, Professional-Grade High Arch Orthotic Insert for Maximum Support
Pros
Deep heel cup for increased support and shock absorption
High-profile, ideal for larger shoes
Cons
Doesn't feature an anti-odor coating
Might not fit comfortably in tight shoes
The Superfeet Green are high-profile insoles that are great for shoes that are relatively large internally. Due to basketball shoes being relatively roomy in nature, these insoles are great for almost any basketball player.
Its heel cup is wide and deep, assuring that it adjusts and provides the best support possible even for users with bigger than average feet. The deep heel cup also aids in absorbing shock energy and preventing injuries and sprains to the rest of your leg.
A stabilizer cap a the base of the insole supports the rear section of the foot and further stabilizes the foam layer, providing one of the most stable profiles of any insole.
Sof Sole AIRR Orthotic Gel Shoe Insert
Pros
Air bubbles in the heel and arch sections for improved comfort
Coolmax fabric helps keep your feet cool and dry
Excellent arch support
Cons
Limited color and size variations
The Sof Sole AIRR's are athletic orthotic insoles, ideal for low arches and flat feet relief. Skydex air bubbles in the heel and arch not only absorb hard shocks but also helps keep the foot arch supported, this is crucial for players with fallen arches.
A crucial factor to take into account when looking for the best basketball insoles good breathability. The Sof Sole AIRR insoles feature a Coolmax fabric top cover that helps wick away moisture to keep your feet as cool as dry as your shoe allows. This top fabric also features anti-bacterial properties to minimize the growth of odor-causing bacteria.
A reinforced stability plate further enhances control and stability, and this makes it one of the most solid orthotic shoe insoles we've reviewed.
SmartSole Exercise Insoles for Plantar Fasciitis, Flat Feet Relief
Pros
Short design to fit in any shoe
Gel cushioning for comfortable shock absorption
Cons
In bigger shoes, these may slide around the inside
The SmartSole Excercise insoles feature a medical-grade gel insert, excellent at absorbing hard impacts by redistributing the energy more evenly and providing an optimal energy return, great for quick, fast players.
Its design is somewhat shorter than what we see in most insoles but equally as effective at treating and preventing foot injuries. The short profile also ensures that these accommodate easily in any of your shoes.
The inclusion of an anti-microbial cover is essential to reduce bad odors and keep you as comfortable and fresh as possible.
Spenco Polysorb Cross Trainer Athletic Insoles
Pros
EVA forefoot cushion provides increased energy return
SpenCore material is great for shock absorption
Cons
Not the best arch support.
A powerful combination of energy return and shock absorption makes the Polysorb Cross Trainer insoles one of the best sports insoles in the market.
The EVA forefoot cushion at the bottom of the insoles is the key for improved energy return and a 5/32 inch layer of Spencore material further improves cushioning, making these some of the most comfortable insoles for athletes.
Overall, these are some of the best insoles you can get if your priority is hard shock absorption. If you frequently experience joint pain after a game of basketballs, you might want to consider a pair of insoles that are excellent at reducing the strength of hard impacts, and the Polysorb Cross trainer athletic insoles do exactly that.
Sof Sole High Arch Performance Insoles
Pros
Excellent arch support
Provides relief of flat feet symptoms
Deep heel cup adjusts to any type of feet easily
Cons
Relatively low impact protection
The Sof Sole High Arch Performance Insoles are built with high arch support for high and medium performance athletes in mind as its name implies.
A deep heel cup combined with a strong supporting base for high arches makes these a very comfortable pair to wear when needing additional arch support apart from the support provided by your shoes.
These are versatile insoles, apt for almost any athletic activity, and even casual use such as prolonged walks and quick workouts.
We strongly liked the warranty the manufacturer provides against any defects or problems you might experience. The peace of mind of knowing that your insoles are covered by a warranty is well worth it, especially taking into account the relatively low price of these insoles.
Rx Sorbo Sorbothane Ultra Work Sport Insole
Pros
Sorbothane material helps provide excellent shock absorption
Cambrelle lining that prevents bad odors
Cons
Heavier than most offerings
These heavy-duty insoles provide outstanding shock absorption, essential for users who experience strong impacts day after day.
The internal structure of these insoles is made with Sorbothane, an advanced visco-elastic material that isolates hard impacts and vibrations and is widely used in applications where durability and reliability are vital, such as NASA and Nascar hardware.
For something as simple as a shoe insole this material is just as effective. The material reacts to each impact and adjusts to be as hard or as soft as needed, providing excellent shock absorption while still being extraordinarily comfortable to wear.
The top layer helps keep feet cool and sweat accumulation to a minimum. Cambrelle antimicrobial also helps reduce bacteria formation to keep bad odors under control.
What to look for in the best basketball insoles
It is tricky at times to figure out exactly what works best for basketball insoles. Consider all the factors below before making a purchase.
Shock absorption
Basketball players run and jump all game long, so a good pair of basketball insoles are going to have great shock absorption. That extra bit of padding is going to protect the heel in particular. One awkward landing can do some serious damage to the heel area if it is not properly protected.
Arch support – for players with flat feet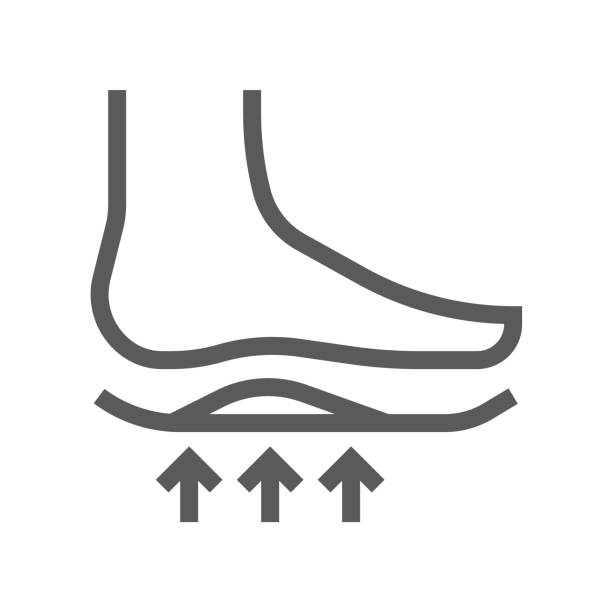 Without proper arch support, basketball can turn into a painful sport in a hurry. Running up and down the court with just minimal pain is going to lead to something a little more serious later on.
Arch support is particularly important for players who have flat feet. A standard basketball shoe is just not going to provide enough support for this uniquely shaped foot.
Get to know your arch type. Whether you are high arch type, low or neutral. Knowledge of this will help in determining the type of support an insole has. Each type has different arch support. These supports are not compatible. Needless to say, you should look for insoles that support your arch type. Selecting the insole with a different arch type support to yours can lead to painful experiences on the court.
Pain type
There is a wealth of information online these days for people to shop depending on what is ailing them. Insoles for arthritis, high arches, plantar fasciitis, and really any issue imaginable is available. The best basketball insoles for comfort and flat feet are out there as long as a person researches.
Consider the pain and look into putting an end to it sooner rather than later. Playing through a minor foot injury might seem admirable at first, but it could lead to some serious downtime in the future.
Foot pains affect different parts of the foot. They vary in terms of intensity and effects. They can be classified depending on the location it occurs on the foot. Some like Plantar Fasciitis, arch pain, shin splints and ball-of-foot-pain are increasingly common with players. Depending on where the pain is located, there are different insoles that can greatly help. The right one for the pain offers a special kind of support to that area of the feet suffering, making for a comfortable time on the court. Look out for extra padding, a form of rigidity on the footbed and a type of arch support. Others still may have a low profile to help fit the shoe without crowding it.
Durability and usage
A good pair of insoles should last at least a couple of months for basketball players. Those who play at a high-level, or almost every day, might not get quite that much usage out of them. Once the cushioning noticeably decreases, it is time to make a replacement.
Foot width and sizing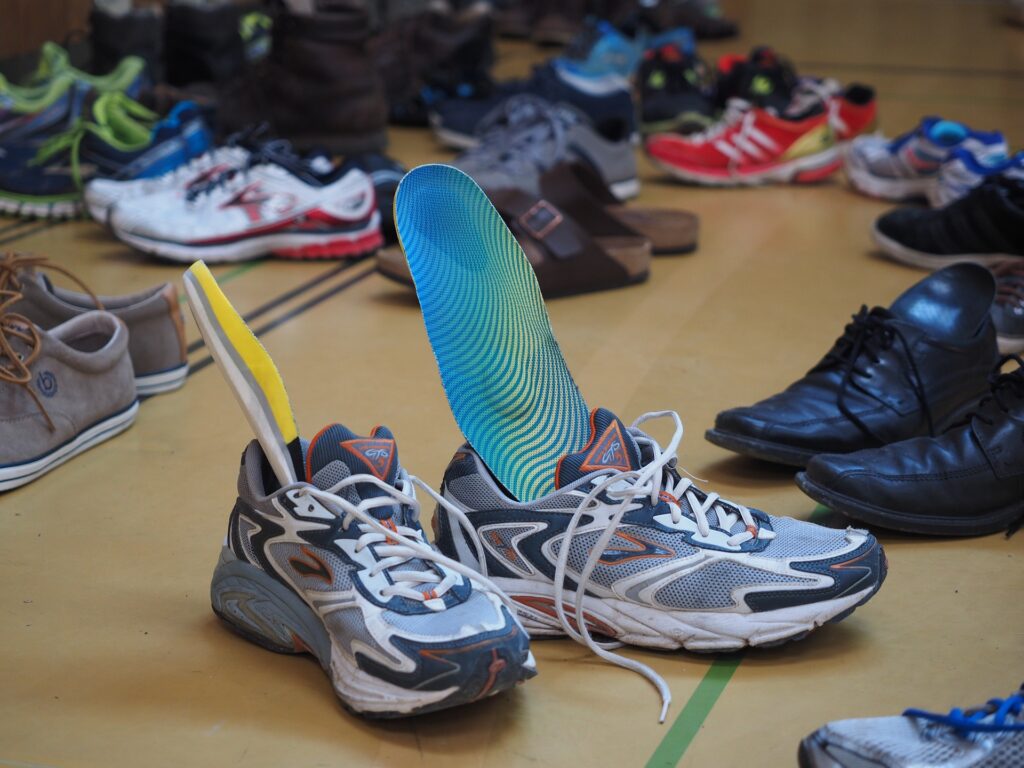 The wider the foot, the more the risk of injuring it when playing. This is because there is an increased area where pressure is applied when playing. The shoes also may not provide adequate protection to the feet. Looking for the insole, the important thing to look out for is how well the insole keeps the foot in place. The insole should be as wide as your foot. There should be some type of arch support to prevent foot pain.
Insoles can come as either full-length or not. Full-length insoles are meant to be used for all shoe sizes. It is up to the wearer to trim the excess. Others are sized in close batches. Not much exists in terms of differences in performance between the two types. This, therefore, boils down to one's preference. If you go with full length, take note, though, of how it is done. Not doing it correctly can result in foot pain.
Materials
Great insoles tend to cost a decent amount of money, so it is important to look for quality options. The best inserts are usually made up of some combination of foam, gel foam, and latex. The material is durable, but also lightweight.
Extremely breathable material is also a must for any athlete. No one wants to have extremely sweaty feet during play. Look for a little bit of perforation in the material so that the feet do not become overheated.
Bacterial protection
We sweat while playing basketball, so shoes and insoles are going to get smelly after a while. It's impossible to keep insoles smelling as good as new, but the best options will have antibacterial properties in place. This is going to help extend the life of the shoe and insole, as no one wants to walk around with smelly feet.
Value
Basketball insoles are undoubtedly not cheap. As a player, the right one should also give value for a period of time. They should last long and retain their properties over the entire period. Look for that extra the insole provides apart from foot support. Some cool your feet. Others prevent odor or give you springy shoes. The choice will be up to you on the specifics you want. Clarify what is most important first and go on from there.
How to wash shoe insoles
Basketball insoles with anti-microbial properties significantly reduce the bad odors from our footwear after those long sweaty sessions, but they're not magical and in most cases, our insoles can start smelling after a few weeks of use.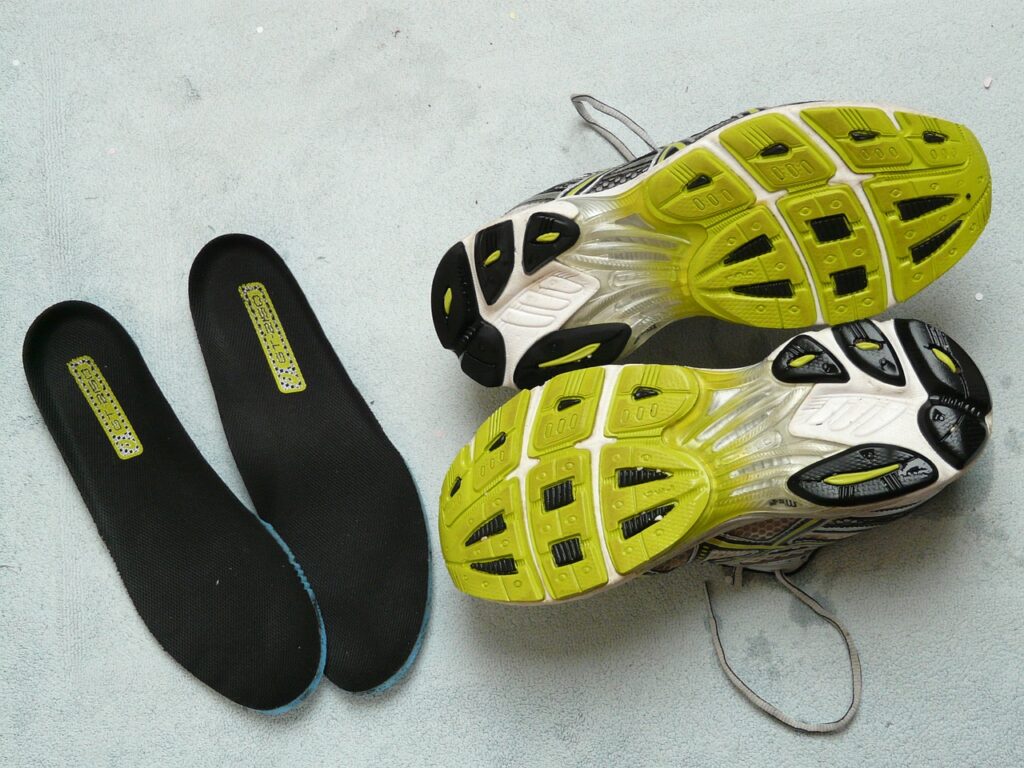 To wash, first clean thoroughly with a mild detergent and a light brush or cleaning implement. Air dry only. Do not immerse in water.
Conclusion
A small investment in basketball insoles can make a huge difference in keeping players healthy. It's better staying proactive about injury prevention instead of reacting to issues once they pop up.
Once the initial shopping is done, buying insoles is easy. It's as simple as ordering the same option every time a new pair of basketball shoes are introduced.