Parents should always be looking for ways to expose their children to different activities during the early years. With basketball being one of the most popular sports in the world, it could be the start of a lifelong passion for the game.
Obviously, no child is ready for an official size ball and hoop until they are much older. What should parents look for when shopping for basketball hoops for toddlers and kids?
Basketball Hoops for Toddlers and Kids – Top 3 Picks
Little Tikes EasyScore Basketball Set
Height: 2 to 4 feet
Includes 3 basketballs
Ideal first hoop for toddlers
Little Tikes Adjust and Jam Basketball Hoop
Height: 4 to 6 feet
Breakaway rim for slam dunks
Recommended for ages 2 to 8.
Considerations Regarding Basketball Hoops For Kids
Safety First
Any new piece of equipment introduced to a young child should be very safe to use. Even a miniature basketball hoop is going to be at least the same height as the child, and often times significantly taller. That means the goal needs to be sturdy, made of durable materials and virtually indestructible. Otherwise, parents are just going to be stuck living in constant fear that they are going to find their kid stuck underneath a hoop that has tipped over.
For a first basketball hoop, opt for something lightweight. A basketball hoop that is made of plastic won't do much damage even if it accidentally tips over. They are also usually cheaper, so it's easier to upgrade once a child grows out of that hoop.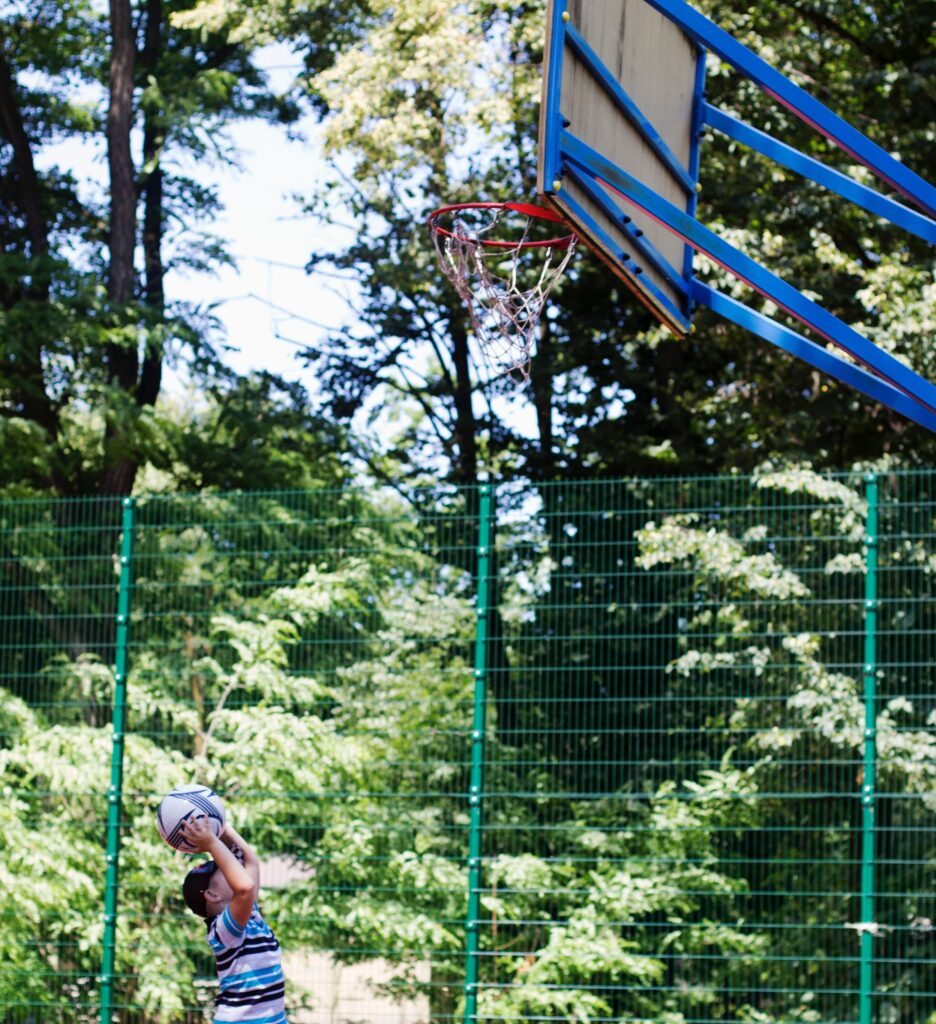 The materials used for the backboard, rim and ball all need to be kid-friendly. Even at a young age, kids love to dunk. That means a lot of close contact with the rim and backboard. Soft, giving material can prevent cuts, bruises and other injuries.
Once a toddler ages, they can start to graduate to sturdier basketball hoops that are much closer to standard goals. Metal is used for the rim, while fiberglass is used for the backboard. Just make sure the child is old enough to understand that the goal can tip over if anchored to the ground, or ripped off if attached to a door or wall. They should know what could potentially cause this to happen, and how to handle the situation if it does.
Indoor vs. Outdoor use
Indoor basketball hoops for children are almost always made of plastic, and they come with a soft ball. This is to prevent the house from having too much damage done after a hoops session.
They are usually either anchored to the ground by a stand or attached to a wall or door. It's not necessary to spend that much money on an indoor hoop for kids, mainly because the materials don't have to withstand the outdoor weather each and every day. As long as they stay indoors and are not completely abused by play, they can last longer than outdoor hoops.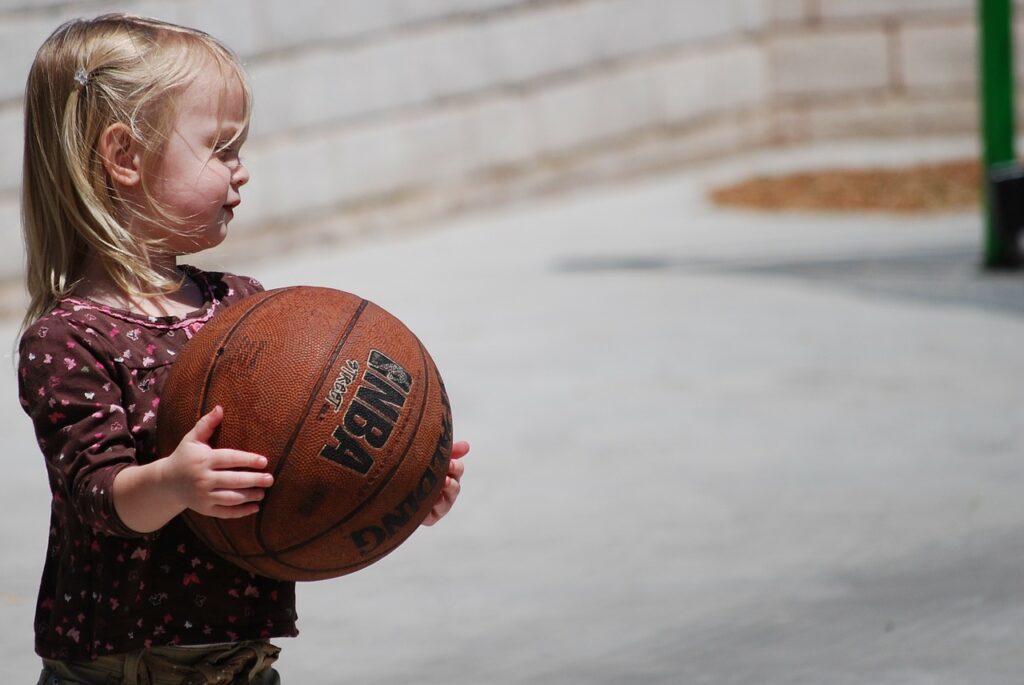 For younger players, the plastic basketball sets can be used indoors or outdoors. Once a child gets older, most portable sets are designed to be put up on a patio or driveway. Some parents will fill the base with water or sand to keep it anchored to the ground. Make sure to use something heavy, especially if it is going to be outdoors in an area with a lot of wind.
Outdoor basketball hoops usually require a rubber or composite basketball that comes close to mimicking a real basketball. That is because some of the lighter indoor models simply won't bounce on cement.
Challenge Level and difficulty
A good basketball hoop is going to present a decent challenge for a kid, and be appropriate for their height. As soon as a child is staring down at the rim, it's time to invest in something a little more challenging.
There are a decent amount of basketball hoops out there that can be adjusted in height. This is the perfect investment for families on a budget. It also allows a child to customize the challenge. If the child just feels like dunking, a lower height can be used. If they are looking to step their game up to a new level, the highest height is the way to go.
Finally, make sure to consider the size of the rim. Some younger basketball hoops have oversized rims and undersized balls. This is less of a challenge than something that is much closer to regulation sizes.
Why get a basketball hoop for young children?
The odds of a toddler turning into a NBA player down the road slim. That doesn't mean a basketball hoop doesn't have a ton of benefits. Basketball helps to develop hand-eye coordination, motor skills, balance and more. If a child shows an interest enough to play basketball in a league, that eventually helps develop social skills as well.
The Best Basketball Hoops for Children and Toddlers
Little Tikes EasyScore Basketball Set
Quick Overview
Adjusts between 2.5 and 4 feet
Easy to put together
Oversized rim for easy scoring
Includes 3 junior-sized basketballs
Excellent for toddlers and small children
Base can be weighted with sand for improved stability
Recommended age: 1 to 5 years
Designed for kids aged one through five, the Little Tikes EasyScore basketball set will help your kid develop social, motor skills and increased coordination from a very young age.
Another plus of this accessory is its versatility. Due to the materials, it can be used both indoor and outdoors, so if your little guy gets tired of being inside and wants to play outdoors, the accessory can withstand rain and sun without degrading. Versatility is also aided by the hoop's adjustable height between two and four feet. As your kid ages or if he or she wants an increased challenge, the hoop can be moved upwards.
For improved stability, the base can be filled partially with sand or small rocks to keep it weighted and planted to the floor. If sand is not used, the hoop is still stable and firm as it is designed with kid's safety in mind. If for one reason or another, the hoops tips, it won't cause any damage or injuries due to its small size and lightweight.
Overall, the Little Tikes Easy Score Set is a great, rewarding hoop for toddlers and small children. The oversized goal is great for easy buckets and the three ball set will get your kid hooked as he scores ball after ball after ball.
Lifetime Youth Basketball Hoop
Quick Overview
32″ shatter-proof impact backboard with folding rim
Telescoping height adjustment. 5.5 feet to 7.5 feet
5-year manufacturer warranty
Base can be filled with a substantial amount of water or sand for unparalleled portability
The Lifetime Youth Basketball hoop is a slightly smaller model, similar to the taller, larger Lifetime Portable Basketball Hoop (44″). Its 32″ impact backboard is made with shatter-proof materials designed for use and abuse. The frame is with 0.5-inch thick metal for increased durability.
It adjusts from 5.5 feet up to 7.5 feet, height ideal for kids between 5 and 10 years old. Due to its minimum height, you could opt for this hoop instead of opting for one of the toddler-sized ones if your kid is nearing 5 years of age. Long-term it is a better investment as it can be adjusted up to relatively high height.
This Lifetime hoop does not include a ball like other kits, but thanks to its relatively wide hoop, even professional-sized balls can be used with it giving your kid a wide arrange of ball options that could be used.
Little Tikes Adjust and Jam Pro Toy Basketball Hoop
Quick Overview
5 height adjustments, ranging from 4 to 6 feet tall
Breakaway rim for slam dunk practice
For improved stability, sand or water can be added to the base
Rugged design for indoor or outdoor use
Includes one junior-sized basketball
Recommended for children aged 2 years and up
Little Tikes provides another alternative Basketball Hoop alternative and its minimum height matches exactly where the Easy Score hoop tops out. This basketball hoop can be adjusted from 4 feet, up to 6 feet, height ideal for children between 2 and 8 years of age.
Its durable plastic build makes it suitable for outdoor use all year-round. It can be used indoors as well if adjusted close to the minimum height setting or if you're using it in an area with high ceilings.
The breakaway rim let children practice slam dunk without worrying about damaging the hoop or bringing the whole assembly down to the ground. Adding sand or water to the base is recommended for improved stability, especially if children are dunking the ball frequently.
The large backboard offers great rebound play but due to its plastic build, rebounds are not as realistic as with other hoops. We find this to be the weak spot of this hoop, but it is as best as it gets with such portable and light materials.
SKLZ Pro Mini Basketball Hoop with Ball – Glow in the Dark
Quick Overview
Fixed door mount
Protective foam padding to protect the door
Excellent for indoor use year-round
Glow in the dark ball, backboard, and hoop
Shatterproof fiberglass for maximum durability
Spring-Action breakaway steel rim for practicing dunks
Excellent for older children
The Pro Mini Basketball Hoop with Ball is the perfect room addition for children and teenagers who are starting to become passionate about basketball.
It is obviously intended for older children due to having to be mounted on a door. A younger kid might find it difficult to make a basket due to the height and quickly lose interest in it.
The assembly is very attractive as a bedroom addition in the winter or during months where playing outside wouldn't be pleasant and comfortable for anymore. Of course, it is a great addition year-round as well. It's an excellent entertainment.
Its rim's diameter is on the smaller side and unforgiving, so scoring is difficult for children who are just getting started in the sport. We consider this a plus as it stimulates constant improvement and will make playing with it more interesting.
Lifetime Portable Basketball Hoop with 44in Impact Backboard
Quick Overview
Adjusts from 7.5 ft to 10 ft tall
Rim folds away for easy storage and portability
Base can be weighted with sand or water for improved stability
Durable 44-inch backboard
Suitable for all-year-round outdoor use
Backboard provides solid bounce-back for a realistic rebound
Adjustable between 7.5 feet, up to 10 feet which is the official regulation size for basketball hoops, the Lifetime Portable Basketball Hoop is an excellent hoop that any young children will enjoy having in their driveway. It's a great hoop even for adults due to its relatively high height.
The backboard measures 44 inches diagonally and provides a realistic rebound feeling due to its solid structure. It's not a professional grade hoop but it does an incredible job considering its affordability and versatility.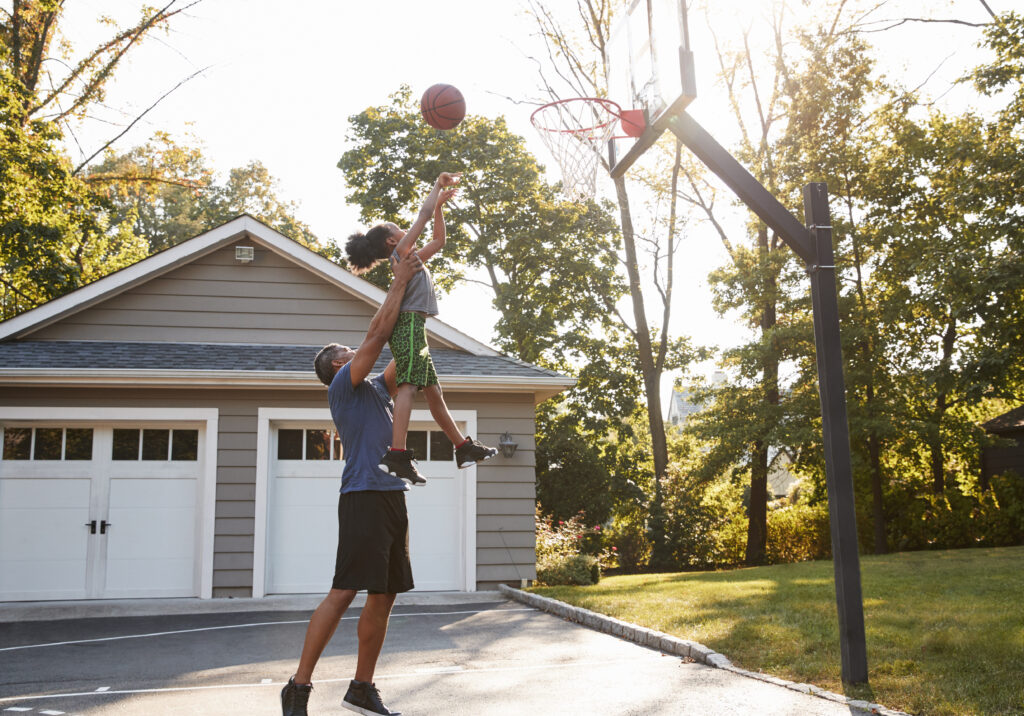 It doesn't require a concrete foundation, therefore portability is excellent if you'd prefer to move it indoors at the end of each playing session. With the Lifetime Portable hoop, relax and see how you kid transforms into a full-fledged player one height adjustment at a time.
Overall, we consider this one of the best basketball hoops for older children and teenagers. If you are looking for a basket for younger children, such as 6 years old or younger, we recommend looking at the smaller alternatives.
Kiddie Play Kids Basketball Hoop Arcade Game
Quick Overview
Easy assembly. No tools required.
2 balls included
Air pump included for easy ball inflation
Storage basket at the bottom for balls or toys
Especially designed for young children to play and practice
Recommended for kids 5 to 10 years old
This arcade game-style basketball hoop is an excellent alternative that emulates the feeling of basketball games found in arcades. The relatively small frame size and junior-sized balls make it an entertainment area for children to practice.
It consists of tight-fitting tubes and connectors that make the structure solid and stable. No tools are needed for assembly or disassembly. The kit includes 2 medium-sized balls.
Its design is incredibly practical. Children can enjoy an endless stream of throws as there will always be a ball available to grab and throw unless the throw is badly missed and it ends outside the mesh. With no need to constantly walk around to find the ball, kid's precision and skills will rapidly improve with the rapid rate of throws, as practice makes perfect.
The downside of this product is that it's only suitable for medium-distance throws, as walking close to the net isn't possible due to the nature of this accessory. Its design also makes it suitable only for indoor use. Rain and sun exposure can deteriorate the fabric and a strong wind will easily blow it away.
Beebeerun Basketball Hoop Set, 3-in-1 Sports Activity Center
Quick Overview
3-in-1 activity center. Basketball hoop, football net and ring toss game
Develops social, motor skills and hand-eye coordination
Recommended for kids between 1 and 10 years of age.
Suitable for indoor and outdoor use
A 3-in-1 sports zone, which includes a basketball hoop is something we're pleased it exists and has been executed wonderfully by toys and accessories manufacturer Beebeerun. The basketball hoop can be adjusted between 2 and 4 feet, and it has 7 distinct height adjustments, making it suitable for kids within a wide age range.
This sports activity center can be assembled and disassembled with ease, and adding to its versatility it can be utilized both indoors and outdoors. Its base is weighted down with water or sand for added stability and peace of mind. The sand is not included.
Due to its 3-in-1 design, this product will not only help your kids develop the coordination and motor skills of basketball but also their lower body coordination and precision due to the included soccer goal and ring-toss game.
It includes everything your children needs to effectively use it: One basketball, one soccer ball, four rings, and a ball inflator.
Paw Patrol Basketball Set for Kids – Adjustable Stand and Ball
Quick Overview
Stand features 9 height settings.
Can be adjusted between 3 feet and 5 feet
Promotes exercising and develops hand-eye coordination in young children
Recommended for kids ages 2 and up
This Basketball set for kids is an excellent gift for kids to help them learn the basics of basketball. Its adjustable stand can be adjusted between a minimum of 3 feet up to a maximum of 5 feet, excellent for young children up to 6 years of age.
The Paw Patrol Basketball set is not only a source of entertainment for your children but it's also a developmental aid for children's physical movement, hand-eye movement, and motor skills. The younger your kid is exposed to these kinds of activities, the more effective it will be on his or her long term development.
A soft foam basketball ball is included with the set, which is on the smaller size of things. A bigger ball can also be used due to the wide hoop. Overall, this is a great first exposure to basketball and constant entertainment for toddlers and young children.
Little Tikes Easy Score Basketball Set (Pink)
Quick Overview
Adjusts between 2.5 and 4 feet
Simple assembly
Oversized rim for easy scoring
Includes 3 basketballs
Excellent for small children who'd prefer pink over blue
Base can be weighted to further improve stability
Recommended age: 1 to 5 years
The Pink Easy Score Basketball features the exact same design as the blue Easy Score set we reviewed earlier. It provides a great first basketball exposure for toddlers and young children. Its oversized rim will is great for frustration-free play to keep kids encouraged and entertained.
This color offering makes it attractive for girls that at this age, may have other toys with a similar color palette. Its durable plastic build is suitable for both indoor and outdoor usage. If you are going to leave it in the same spot for a long period of time, it is recommended that you fill the base with sand for improved stability and safety. If for any reason the hoop falls, its lightweight build won't cause any harm and this makes it incredibly safe for young children.
The Pink Little Tikes EasyScore set is a great hoop to develop not only basic basketball skills from a young age but also motor skills, coordination, social interaction, and teamwork.
Conclusion
It's crucial for parents to expose their children to different activities during the early years of their lives. Basketball is a versatile sport, and all is needed is a ball and a hoop.
Playing basketball won't only develop kids motor skills, but also hand-eye coordination, discipline, and social skills. A basketball hoop is a small investment that pays off as increased development.