Over the last few years, more and more basketball players at the highest level have started layering up on the court. Compression pants have been around for years, but only a few players opted to wear them. Some players returning from injury also temporarily put them on.
Now? It's becoming hard to find players who don't have an added layer on the bottom half of their body. Are they worth investing in? Do they work? Basketball players at all levels are noticing the difference.
Compression Pants with Padding for Basketball – Top Picks
Why use compression pants?
There are a few reasons why players are starting to wear compression pants on a more consistent basis. For starters, it adds another layer of protection out on the court. Basketball is a physical game, and it's easy to pick up bruises, cuts and small injuries. Without adding much weight at all, pants can have strategic padding on them for added protection.
Players also enjoy the muscle benefits of compression pants with pads. They can help with muscle soreness or general blood circulation. When a player subs in and out of the game, the body can cool down in a hurry, especially in the colder months. Compression pants help the legs stay ready.
Scientifically proven benefits of using compression pants for basketball
According to research, these are some of the benefits of wearing compression sportswear:
Keeps muscle temperature stable to prevent muscle strain
Wicks away sweat to reduce rashes
Aids to relieve muscle soreness and stiffness
Reduces muscle recovery time
Improves venous return and oxygenation to working muscles
Stabilizes joints
The importance of padding
Padding should be strategically placed depending on each basketball player. Some people are more prone to injuries in certain locations than others, and the good news is that compression pants can be customized a bit.
In basketball, the knees, hips and thighs area need the most padding. Some people also like a bit of padding near the tailbone in case there is a fall backward. All it takes is one hard collision to do some serious damage on the court.
Padding used to be relatively heavy, and that was one of the major reasons why basketball players avoided it unless they absolutely needed to wear it. These days, padding is so lightweight that a lot of players use it as a preventative measure. Movement will not be limited by the right options in any way.
Basketball Compression Pants With Knee Pads – Reviews
Below are the best basketball compression pants with knee pads, along with the advantages and disadvantages of each. Take a look:
McDavid 3/4 Length Compression Padded Pants for Basketball
Available in white and black, the McDavid Padded Compression Pants provides excellent protection uniquely suited to the needs of sports that demand a lot from your legs such as Basketball and Football.
TEFLX technology provides durable resistance that can withstand repeated scuffs and harsh contact with any kind of surface. This makes these compression pants very resistant and assures us it will stand to use and abuse.
The built-in knee pads feature 9mm Hex technology that not only absorbs impacts really well but is also lightweight, flexible and doesn't impede any breathability. To further keep your legs dry and cool, McDavid also utilizes HDC moisture management technology.
Compression is essential for top basketball performance, and these tight compressions provide excellent muscle stabilization and warmth.
Adidas Men's Basketball Padded Three-Quarter Tights
When looking for any type of sportswear, Adidas comes to mind. The Adidas Men's Padded Compression Pants for Basketball offer excellent durability, comfort and a good amount of protection due to the padding around the knees and other critical areas.
The compression fit helps reduce muscle vibration, which isn't ideal when playing competitively. When playing outdoor in colder months the compression can also aid keeping our muscles warmed up and blood circulating optimally. The mesh inserts aids in keeping your legs ventilated properly and this helps to reduce exhaustion and fatigue from overheating.
Overall, this set of padded compression pants with padding from Adidas is a great choice for athletes and basketball enthusiasts looking for quality gear to improve their game performance.
Jellybro Men's Compression Pants with Knee Pads
Jellybro's Compression Pants with Knew pads are made with ultra-light and highly flexible materials to provide you with an excellent combination of protection and flexibility.
The most important feature of these pants is the high level of padding they provide. The manufacturer specializes in protective equipment for high-impact sports such as paintball so its not surprising that these compression pants come with an elevated level of protection when compared to offerings by other manufacturers.
10mm thick pads do an excellent job when protecting your knee, side of your legs and hip from hard impacts with hard surfaces such as the floor, poles, and other players. Comfort is enhanced due to breathable and quick dry material to help keep you as fresh as possible.
Overall, these are great protective pants for players focused on the best impact protection and moderate compression performance.
TOPWISE Body Safe Guard Padded Compression Pants
These padded compression pads by Topwise provide excellent protection in high impact sports for players wanting to reduce the chances of injuries and painful impacts with the ground and other players.
It not only includes padding on the knee area but also moderate protection on the femur and hip areas for cushioning when slipping and falling on your back.
The high-density Pro-Opti material reduces strong shocks significantly when playing hard-impact sports such as basketball and football and it is a great investment if trying to protect your body from injuries and enhance the performance of the leg muscles due to the compression mechanism.
COOLOMG Basketball Pants with Knee Pads for Kids
When looking for basketball compression pants for kids, the options are limited as these items are usually made with adult users in mind. The COOLOMG Basketball Pants with knee pads allows your kids to be active, protected and comfortable while playing basketball and other sports such as football.
Made of 85% polyester and 15% spandex, these pants are breathable and have great flexibility to endure they endure daily use and abuse.
In terms of protection, the padding stays in its place, ready to relieve any impacts. If effectively protects the knee, patella and the tibia, which is very much needed when recovering and preventing injuries.
Overall, these are the best basketball compression pants for kids if you're looking for padded protection around the knee and other vital areas.
Related: Ankle Braces for Basketball
Considerations when looking for the best basketball compression pants with pads
There are not too many options out there when shopping for compression pants with pads, but there are a few factors people need to consider before spending a decent amount of money. The goal should be to get at least a season of use out of them, but what makes the perfect pair of pants?
Compression
The amount of compression and the overall width of the pants make a big difference. Loose-fitting compression pants are not very beneficial at all. At the same time, no one wants to feel super restricted when they put them on.
If between two sizes, always go for the smaller option. Compression pants will stretch out very slightly over time, so keep that in mind when initially trying them on.
Length
There are different lengths of compression pants out there for people to consider. In fact, there are even compression shorts for people who don't want anything past their knee.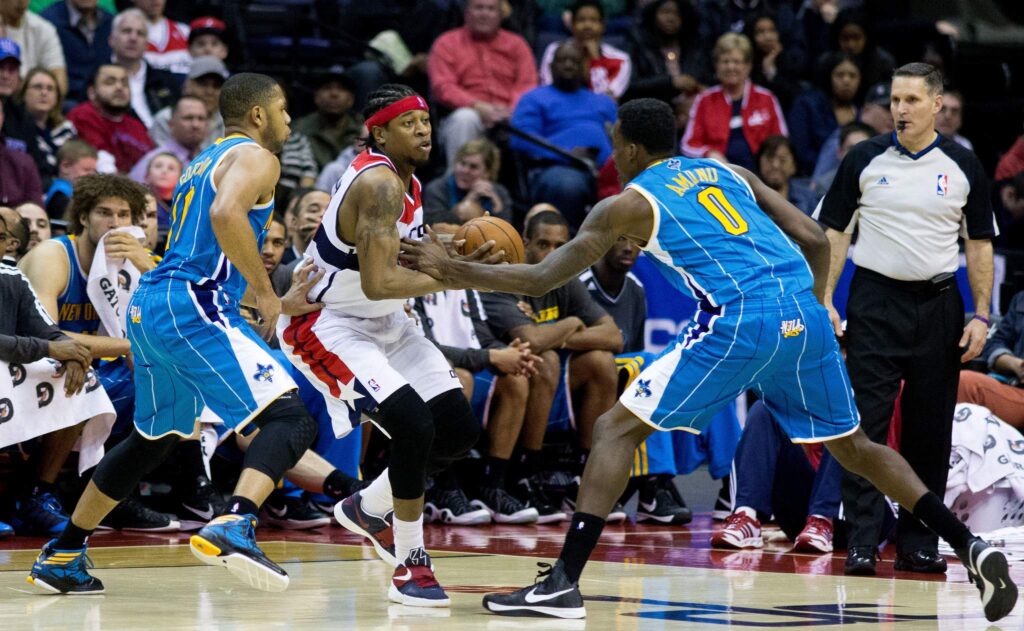 As far as compression pants are concerned, there are full length and 3/4 length options. The full-length compression pants provide the most amount of coverage, so people who want their ankles and shins taken care of should look into them.
The 3/4 pants are a little more popular, simply because it does allow for space to wear longer socks. Most basketball players tend to wear longer socks, so there is still some protection offered. They are also slightly lighter, which plays a bit of a factor.
Padding
If all that is needed is compression, there is no need to add extra weight with padding. However, a lot of players are realizing the benefits of padding in certain areas. It helps with injury prevention, and it also protects existing injuries.
Make sure that when trying pants on, the padding lines up in the right area. It can't be restrictive at all. The knees need padding the most, but the thighs, hips, and tailbone are all prone to injury as well. There are different levels of protection, so pick accordingly based on the level of play, injury history, and more
Tips for taking care of your compression tights for basketball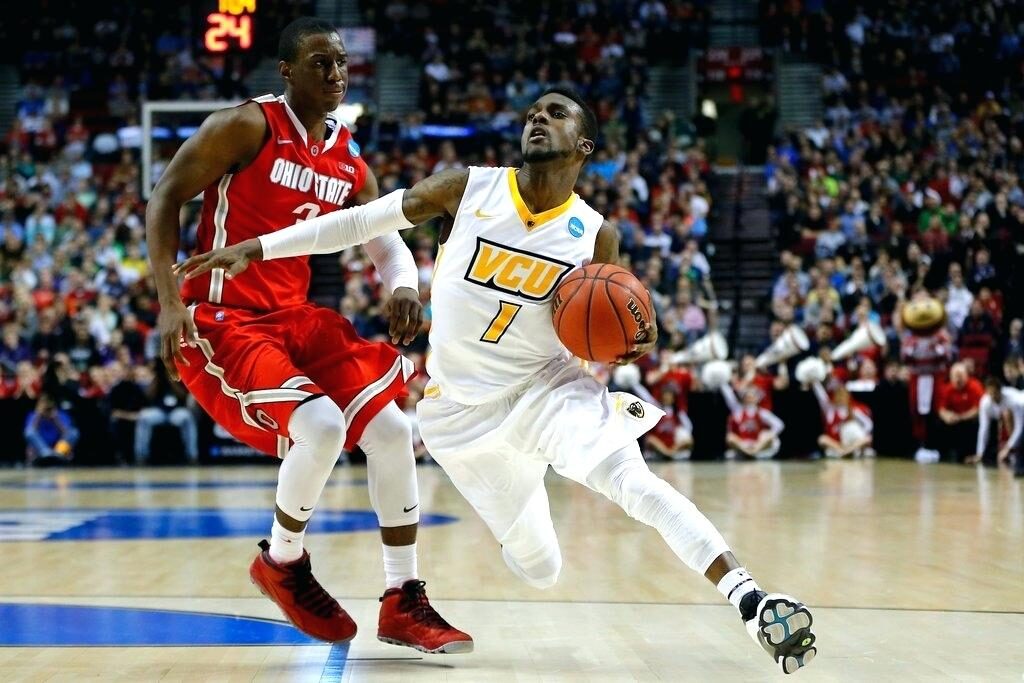 Compression tights are not any regular piece of clothing. They're made from especial fabrics to allow compression, protection, and increase of performance in the court.
With padded compression tights, you have to be even more careful. The padding inserts are unique as they're not found in almost any other clothing accessory so extra washing care is needed.
When washing
While handwashing is recommended for this product, you can also machine-wash them inside a laundry mesh. This will prevent the tights from expanding and the padding from possibly ripping from getting stuck with other pieces of clothing.
Detergent to use
Use soft detergents. Do not use any kind of bleach or chlorine when washing them. This might seem like a good idea to get rid of bad odors from sweat but chlorine can be harmful to the spandex materials that compression pants are made with.
Drying
Do not use a laundry dryer or exposure to strong direct sunlight. The fabrics and the padding used in padded compression pants can shrink or deteriorate when dried exposed to strong heat.
Place indoors in a well-ventilated place with the knee pads facing upwards. For best results, place a towel under them to help with water and humidity absorption.
Final thoughts
Players at the highest level are showing that compression pants are more than just a fashion statement. Basketball compression pants with pads can help with injury prevention and recovery. If they are sized properly, it is a great investment for players at any level.
If possible, try some different options before fully committing. It's a bit difficult to figure out sizing in the beginning, but a great fit makes a huge difference with this accessory.